This is a complete guide to hosting the coolest dinosaur birthday party ever!
The party includes: 9 unique dinosaur party activities, DIY invitations, a dinosaur-themed party menu, dino goody bags, party favors, dramatic DIY decorations, and an awesome dinosaur cake with a steaming volcano on top! Best of all, it's inexpensive to host, but it's exciting and memorable for the kids. I created this party for Max when he was 4 years old. There's just something about 4 year old boys and dinosaurs; however, it would work well for ages, 3-8, boys or girls, as long as they love dinosaurs.
Max's 4th birthday party was a blast, and the dinosaur party theme was so much fun.  Here's how it all came together.
Dinosaur Party Goody Bags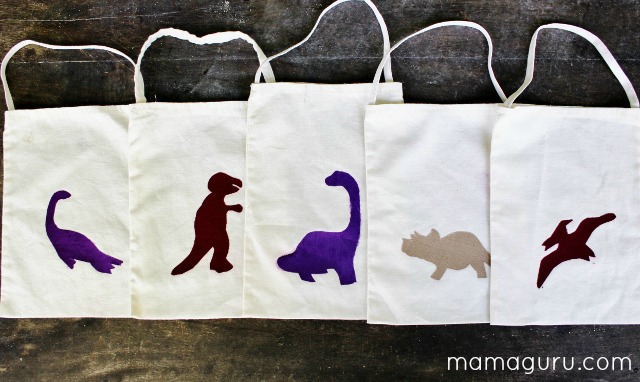 When the children arrived, they were given these adorable bags Nana made. She used muslin fabric and ironed on dinosaur shapes. Great work, Nana!
Their bags contained one item at the start of the party: tiny dinosaurs that grow in water.  I got a slew of them from Oriental Trading Company, but they looked cheap and had no directions.  Using computer clip art and orange card stock, I repackaged them into a much nicer gift.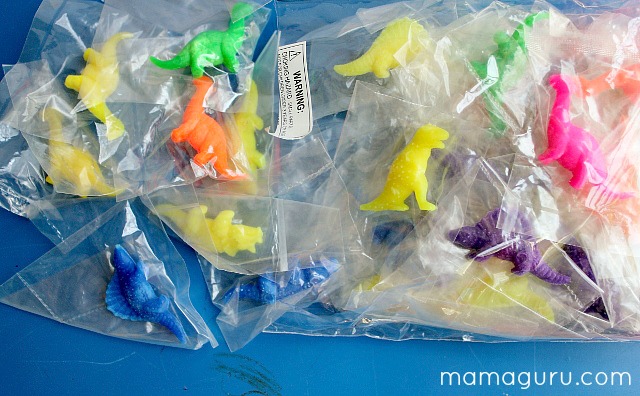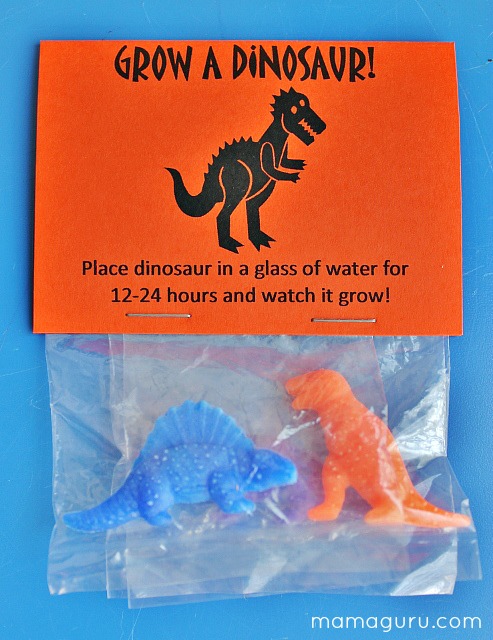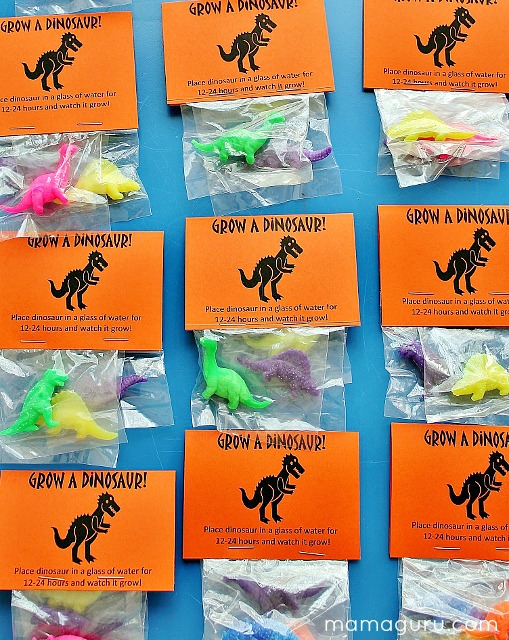 Throughout the party, children visited different stations and picked up toy dinosaurs to put their dinosaur goody bags. They had so much fun with this scavenger hunt style of collecting prizes.
Party Passports
The children were also given a Paleontologist Passport depicting all the activities. Upon completion of the activities, they were given a dinosaur sticker, just like a real passport. This helped parents understand how the party worked. My favorite line was, Don't forget to party like a Paleontologist! Words to live by, don't you think?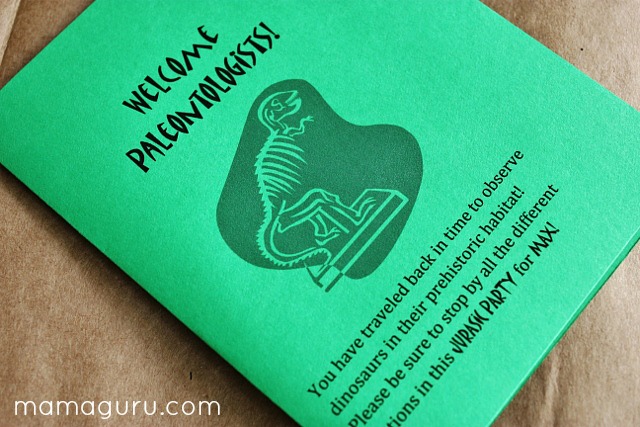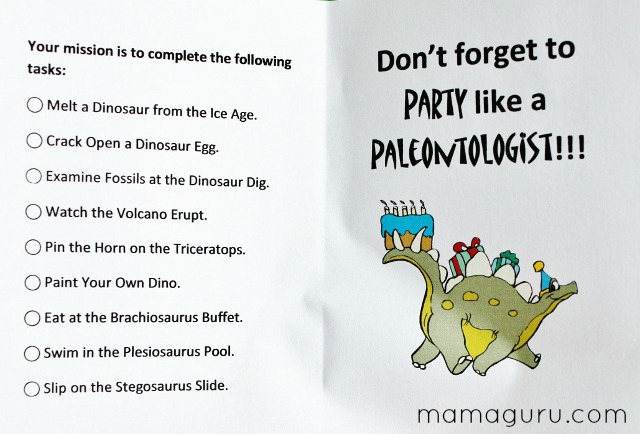 Party like a Paleontologist! Words to live by.
Click To Tweet
Dinosaur Party Menu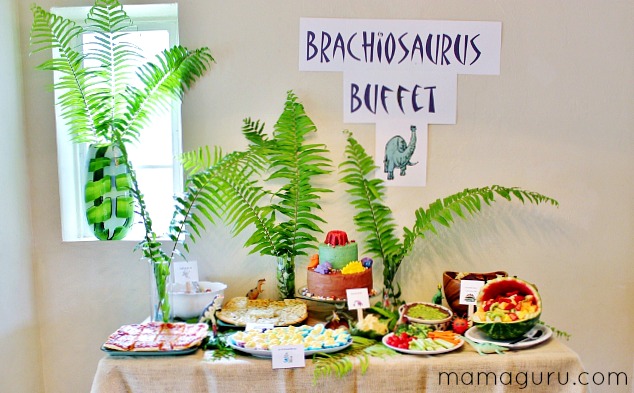 The centerpiece of all my parties is the food.  I always make an effort to keep to the theme.  It's fun and creates a party atmosphere without much cost.  I decorated the table with outrageous ferns from our overgrown garden and the burlap cloth left-over from Max's Zoo Party.
Here's what we devoured: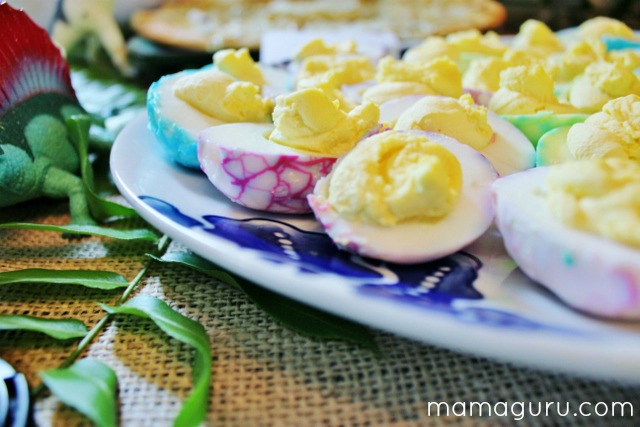 Watermelon T-Rex (Our watermelon was overripe and fell apart a bit, which is why his mouth is so wide.)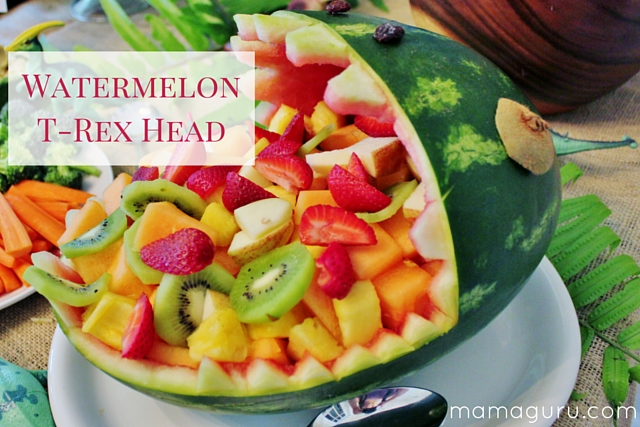 Swamp Dip and Stegosaurus Spikes (Green Goddess Guacamole and Black Bean Dip with tortilla chips)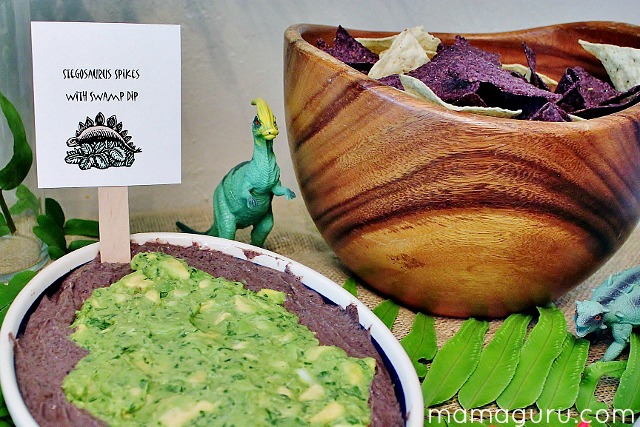 Prehistoric Pizza (homemade cheese pizza)
Herbivore's Delight (hummus and veggies)
Pterodactyl Trail Mix (dried fruit and nuts)
Dinosaur Party Decorations
The various activity stations around the party provided most of the decor, but my husband and I also painted three muslin banners as a backdrop to our fun. We just used acrylic paint. Better artist could do a better job, but what works here is the large size. It makes such an impact!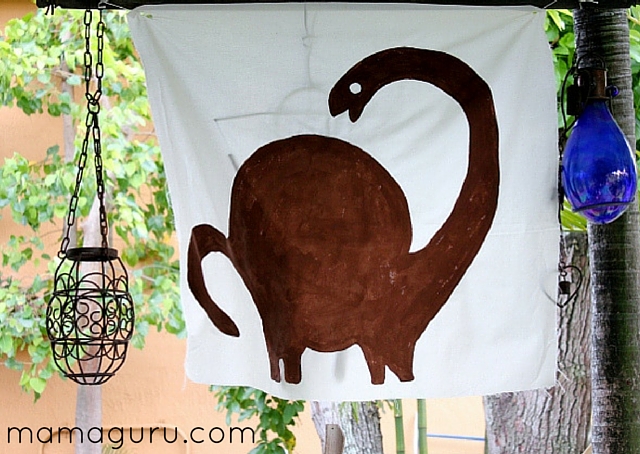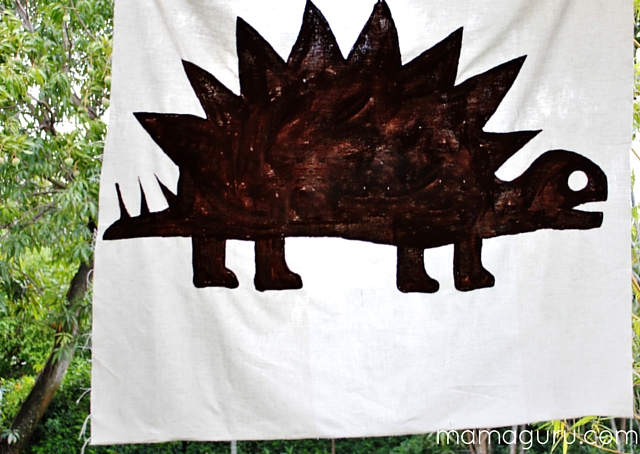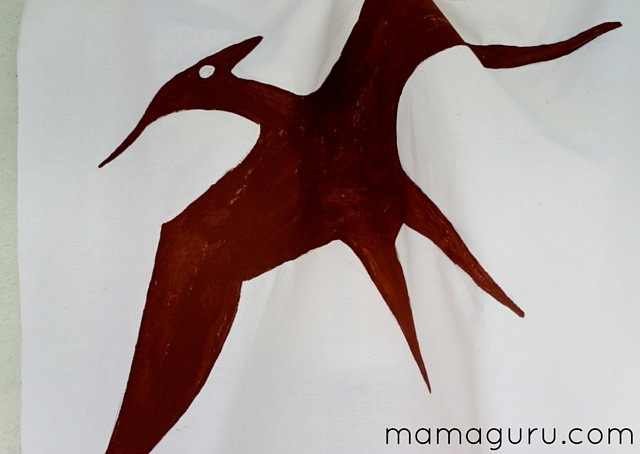 The birthday boy contributed artwork as well. Love it!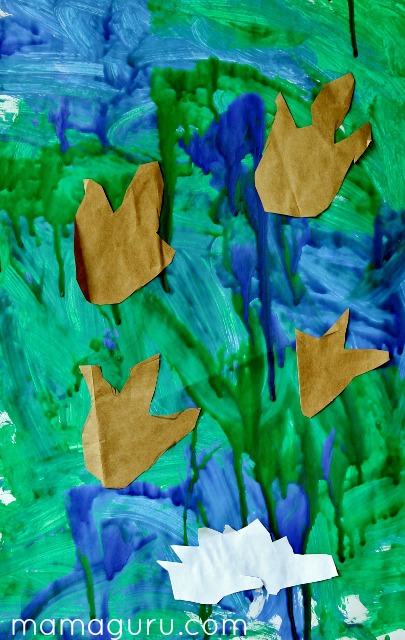 Dinosaur Party Activities
This was the most activities we'd ever had. There are actually 9 listed on the Paleontologist Passport! There are just so many cool things to do with dinosaurs. Here's the rundown: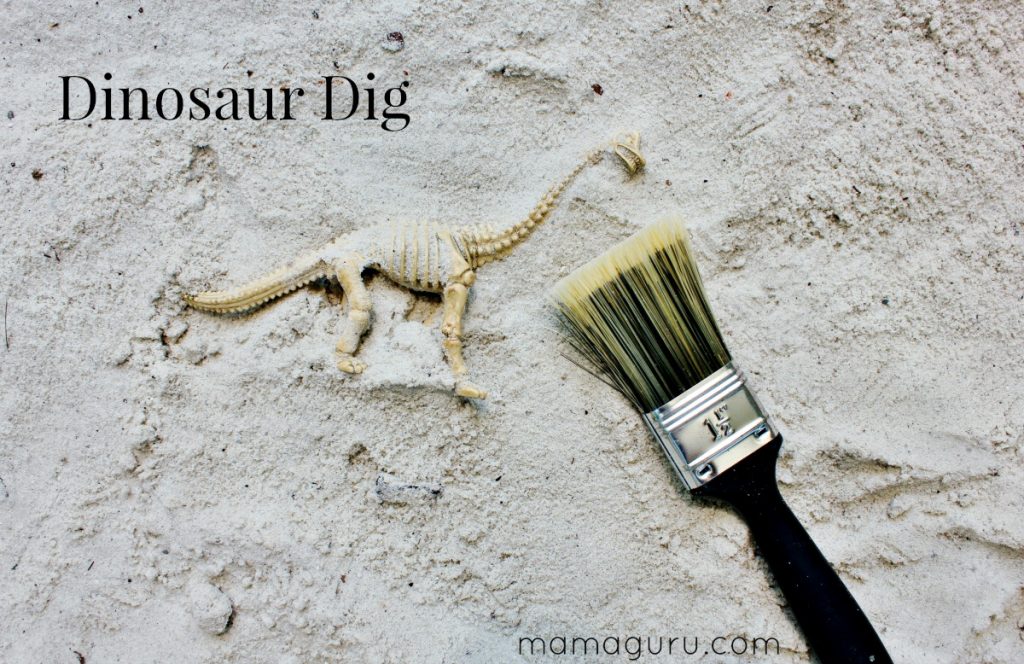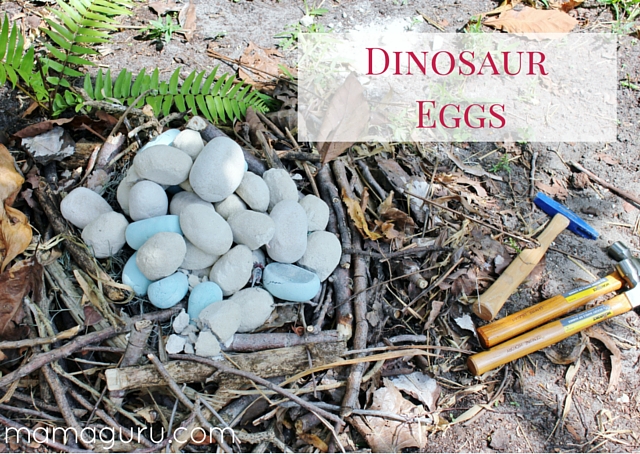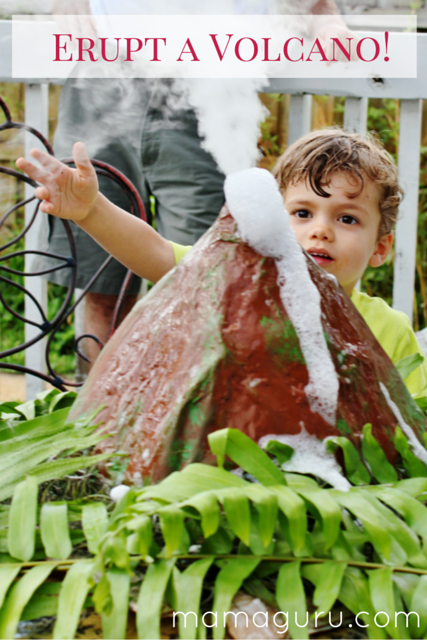 Pin the Horn on the Triceratops (Hey, three chances to win!)
Stegosaurus Slide (regular slip and slide)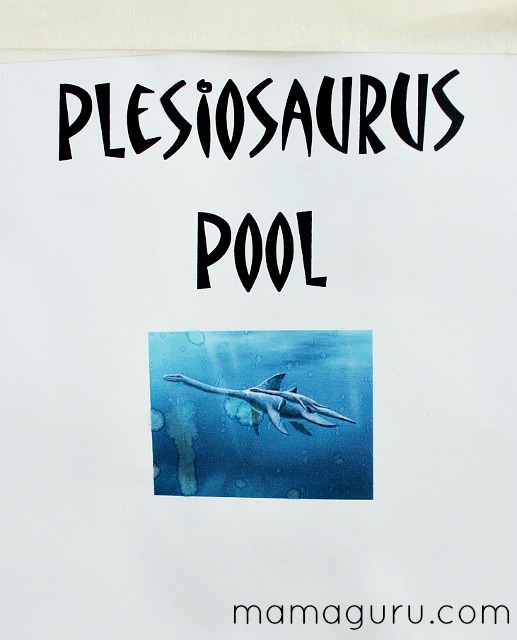 Plesiosaurus Pool (our backyard kiddie pool)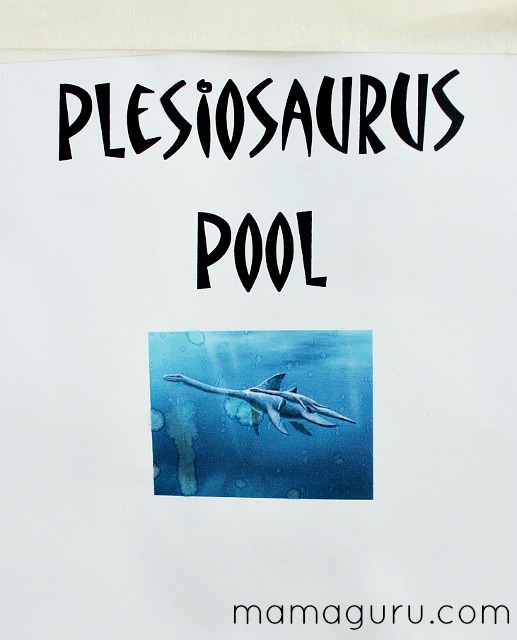 Paint a Dinosaur (I always include a craft.)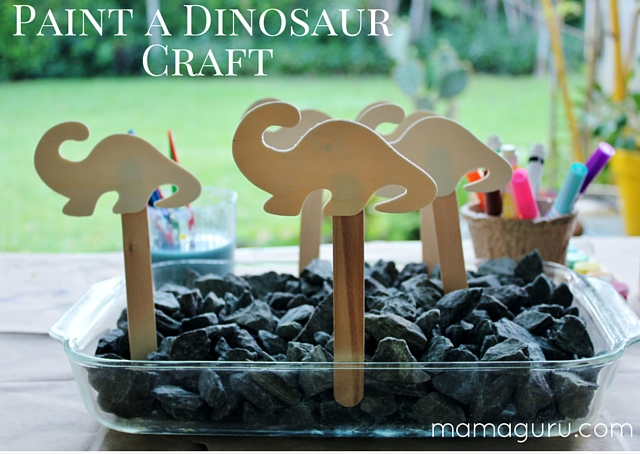 Birthday Video
Before the cake, I always invite our guests to watch a video slide show of the past year. Because of musical copyright issues, I can't post it for you.  This year it was put to the tune of Walking on Sunshine. I was struck by how little growth and change there was compared to his past years. A two year old looks so different than a one year old, but four isn't that much bigger than three. Instead of showing how much Max had grown, this year's video captured how much fun we had! These videos take me a few weeks to put together, but in the end they make a great keepsake.
The Ultimate Dinosaur Cake
Of course all good parties center around cake. Here is the coolest dinosaur cake made with marzipan dinosaurs, chocolate pebbles, and topped with a steaming volcano.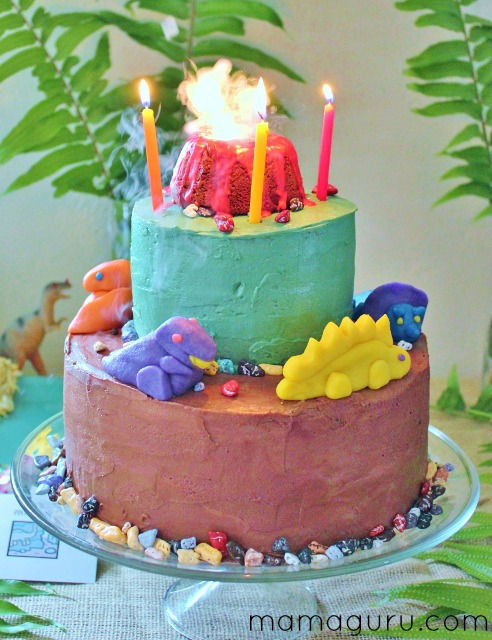 Of course, all good parties center around cake! Words to live by.
Click To Tweet