Create the most gorgeous boat party invitations for your boat-themed party!
Wow your guests with a spectacular 3D paper boat that lists party details on its sails. All you need is paper, a bamboo skewers and a little glue. It takes some time to make these, but the payoff is huge. Your guests will be so excited to come to a party with an invitation this cool.
Best of all, they were very inexpensive to make. You just need paper and skewers. I already had both on hand.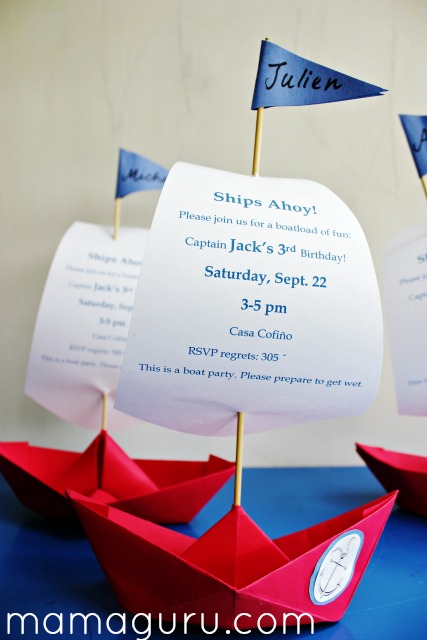 Boat Party Invitations Tutorial
Make traditional paper boats out of cardstock. (See video below)
Print the party information on regular computer paper.
Poke a bamboo skewer through it all.
Glue a paper flag with your guest's name on the top.
Add a sticker or print a clipart anchor to the side of the boat.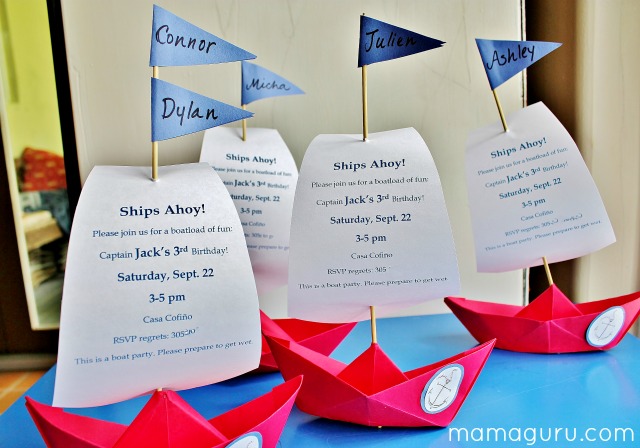 I shudder to think of the postage cost.  We hand-delivered ours.
How to Make a Paper Boat
Here's a handy paper boat tutorial.