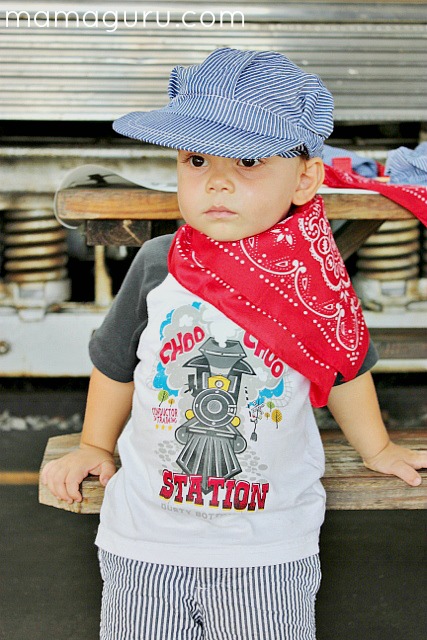 This is a complete guide to hosting the coolest train birthday party ever! You can throw the best party on the block without racking your brain or blowing your budget. This party includes: an outstanding train themed party menu, fun decorations, a jaw-dropping Candy Express Birthday Cake you can make yourself, party activities, train party favors, arts and crafts, and plans for 4 different train table settings! It is just one of those special parties that everyone remembers. A train theme the perfect party for little boys, ages 1-4.
Two sons means whipping through boy party themes at lightening speed around these parts. I had to save the train theme for Jack, because he is my little choo choo lover. I love planning a party around what grabs my little one's heart. So far Max has had puppies, trucks and a zoo party.  Jack had a fish party and his latest:
Choo Choo!  Jack is 2! 
It was just so adorable, I wanted to share my ideas with you.
We held the party at the Gold Coast Railroad Museum. It's a local place not many people in Miami know about. They have four train tracks with retired trains you can climb aboard to explore. They also have a model train room and a huge train play room, as well as a covered sandbox with Tonka trucks galore and locomotive rides.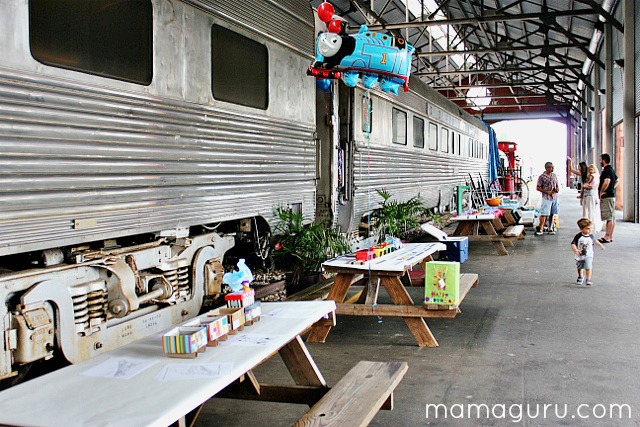 Train Birthday Cake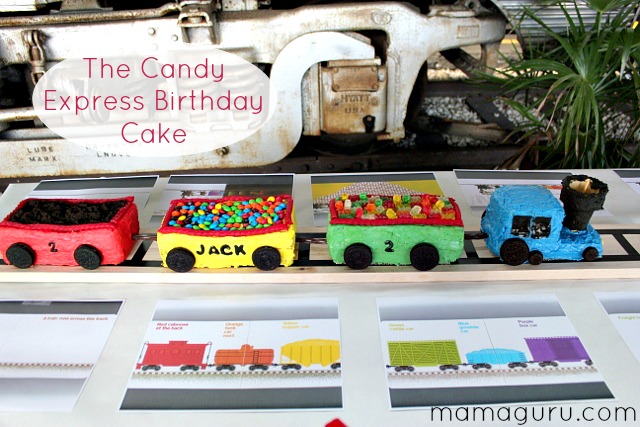 The inspiration for the Candy Express Birthday Cake comes directly from my childhood. Even though I was a very feminine little girl, I had a train cake for one of my birthdays. It was my very favorite! My mom fill each car with candy and I dreamed about that delicious cake for years. When it was time to throw Jack a party, I copied my own mother's great idea.
Make 3 oblong (9 x 13) cakes. Cut them thirds and layer them to make 4 rectangles. Cut out the top half of one of the cakes to make the engine.
Frost the cakes in whatever colors you fancy. Make sure there is a red caboose.
Line the box cars with licorice. Fill with various candies. I used crushed chocolate cookies for dirt, gummy bears and m & m's.
Use Oreos and mini- Oreos for train wheels.
Cut windows and letters out of black fondant.
Connect the train using chocolate licorice.
Frost an ice cream cone in black icing. Cotton candy makes great steam. (If you live in a humid area, wait to add this until you are close to serving.)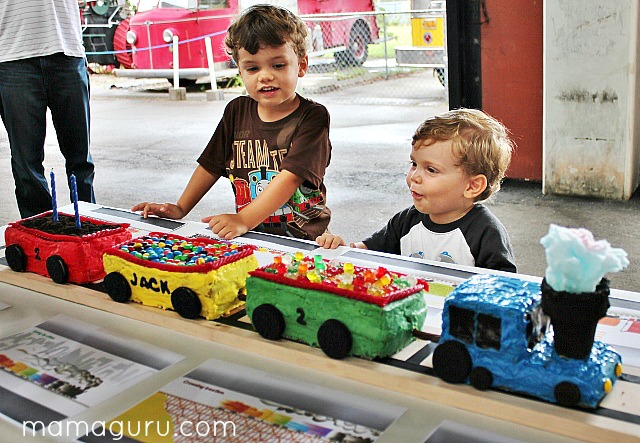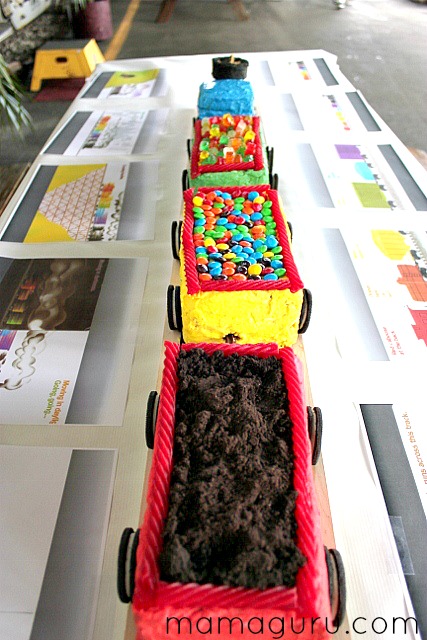 Choo Choo Menu: Food for a Train Party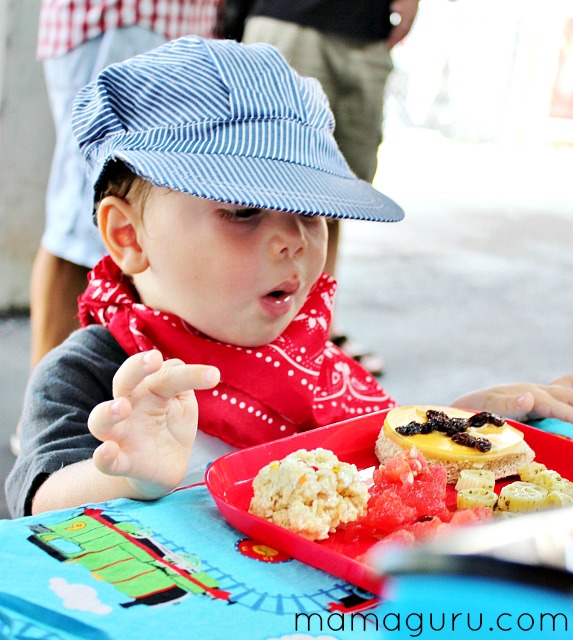 Luckily, The Gold Coast Railroad Museum allowed me to bring in my own food for the party. I had so much fun creating a train menu. Themed food can really go a long way in creating a fun party atmosphere. Of course, deliciousness is always the first priority when making food.
Railroad Crossing Pizza: Homemade cheese pizza with black olives makes an adorable railroad sign pizza!
Open-Faced Train Sandwiches: Use a cookie cutter to cut bread into a simple train shape. Spread with hummus and decorate with bell pepper train wheels and a carrot window.
Railroad Crossing Sandwiches: Cut bread into circles. Spread Tuscan White Bean Puree on it, and place a large apple slice and a piece of cheddar cheese on top. Pipe a bit of bean puree in an X across the sandwich and cover with raisins. Yummy!
Spare Choo Choo Wheels: Make a Caprese pasta salad with wheel-shaped pasta, cherry tomatoes, fresh mozzarella and basil.
Snack Train: Create a train using toys and toy bins. The first car is the Crispy Train Box Car (Rice Krispie treats). The second car is the Pretzel Log Car, and finally comes the Little Red Fruit Caboose (watermelon, strawberries, raspberries and cherries).
Railroad Crossing Pizza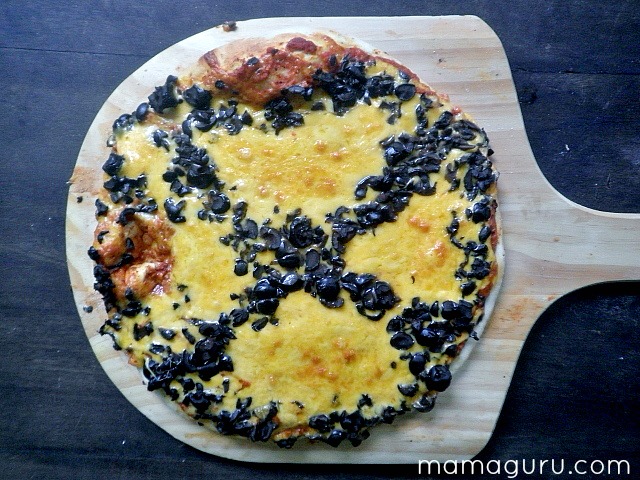 Open-Faced Train Sandwiches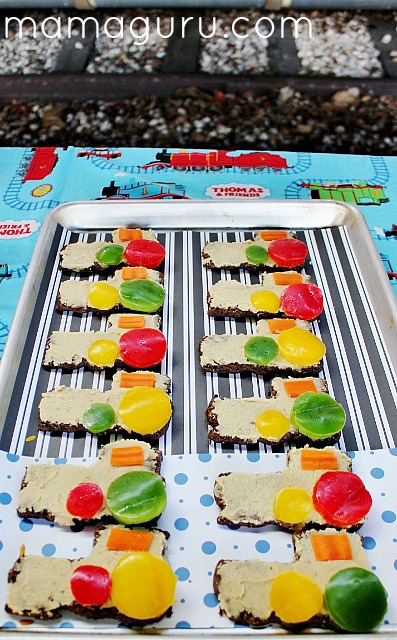 Railroad Crossing Sandwiches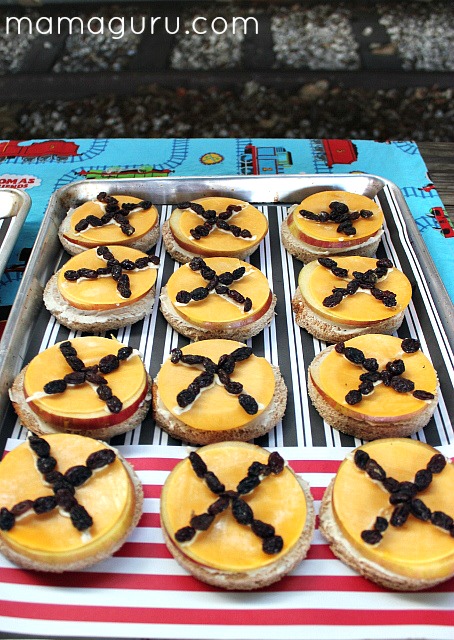 Spare Choo Choo Wheels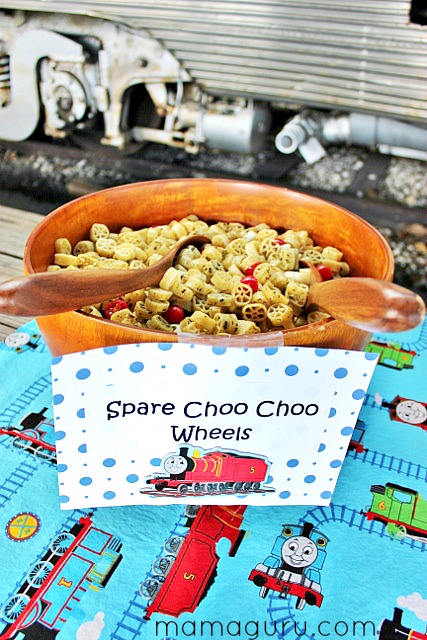 Snack Train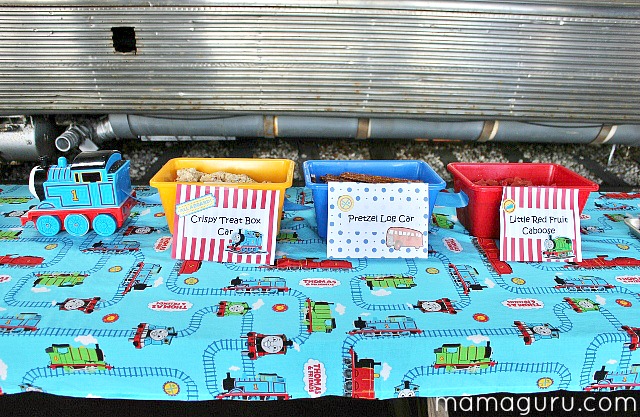 Train Party Decorations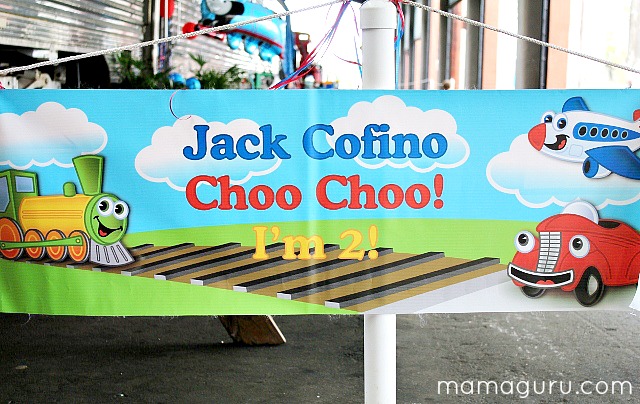 Being at the Gold Coast Rail Road Museum meant that I didn't need to do much for atmosphere, but that didn't stop me from making lots of fun decorations.
Choo Choo Jack is 2! Sign: I ordered a custom banner to greet our party guests when they walked in.
Thomas the Train balloons and primary colored balloons are perfect.
The themed food table really pushed the theme. I lined sheet pans with gorgeous craft paper with line and polka dot patterns in red, blue, black and white. Train stickers and crafts decorated custom-designed signs.
Party Favors included engineer hats and red handkerchiefs, so party-goers were part of the design scheme too.
We had four picnic tables and each had a different theme. (See below.)
4 Train Party Table Settings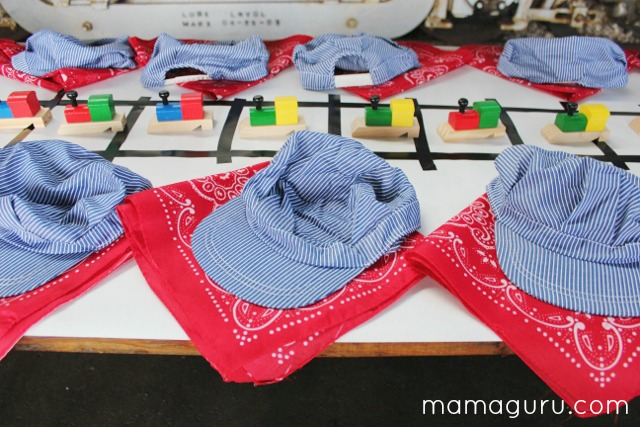 Each of our tables was decorated differently. You can choose your favorite or borrow all of these ideas for your party.
Food Table: The food table had a Thomas the Train tablecloth I made from fabric I found in a discount bin. I just hemmed the cut edges and was done. The snack train used a toy engine and toy bins (connected with blue painter's tape). It really made the table pop!
Favor Table: I used white butcher paper as a tablecloth. Black electrical tape formed the railroad ties running down the center. Wooden train whistles waited for guests on the rails. An adorable engineer hat and red handkerchief lined each place setting.
Cake Table: White butcher paper lined the picnic table. The cake was placed on a long board which had electrical tape as rail road tracks. This table was decorated with copies of Donald Crew's Freight Train, a favorite book.
Arts and Crafts Express Table:  I made a train out of recyclables and filled it with art supplies. I also spread out coloring pages and word searches with a train theme.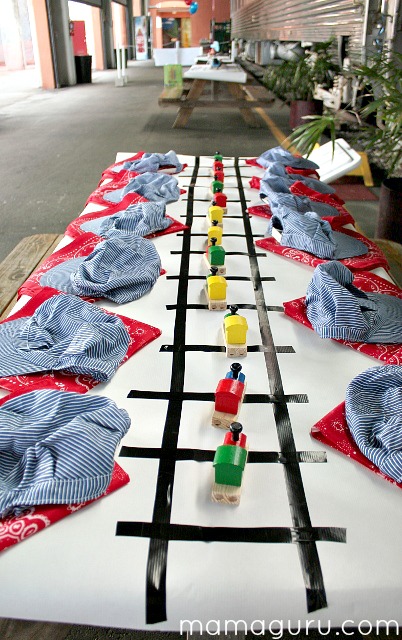 Train Party Activities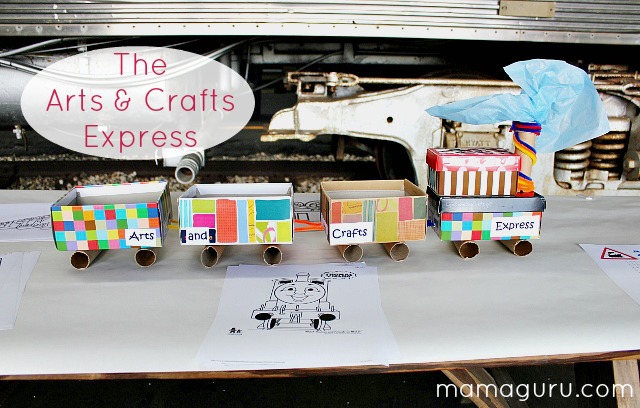 Much of our fun was location specific, but many of those ideas can be duplicated at home.
Thomas the Train Tables: The museum has a large room full of Thomas the Train tables. You can set up your own table using your child's train sets at home. This was a favorite activity for the toddlers.
Arts and Crafts Express Table: I find that no matter how much fun a party is, some kids just like to quietly color, so it's nice to give them a space to do that.
Ride the Rails: A highlight of our party was a 30 minute ride on a locomotive! At home you can rent a train ride to come to your party, or plan your party to meet at a commuter train stop and ride a train to a pizza parlor.
Tour the Trains: We loved climbing aboard all the old trains at the museum! My favorite was the only presidential train in the US. Think of it as Air Force One before the Wright Brothers opened up the sky. For a home party, you can hang lots of pictures of old trains around your party. Use large cardboard boxes to make a train outside or in a large room. Line up small chairs in rows so it looks like a real train, and let the kids play!
This is what Heaven looks like to little boys: a room full of Thomas the Train and his friends.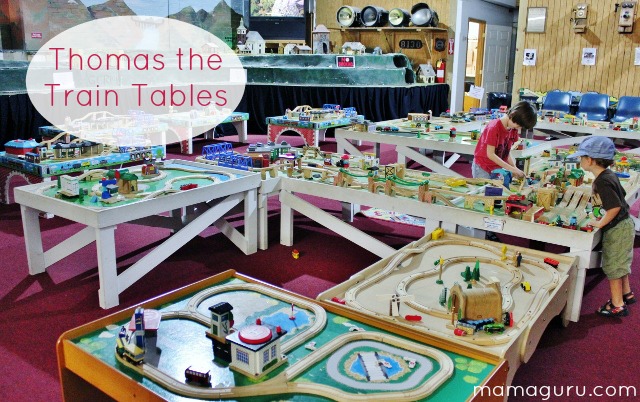 This was the train we rode with a little red caboose to boot. The party was held right next to the track.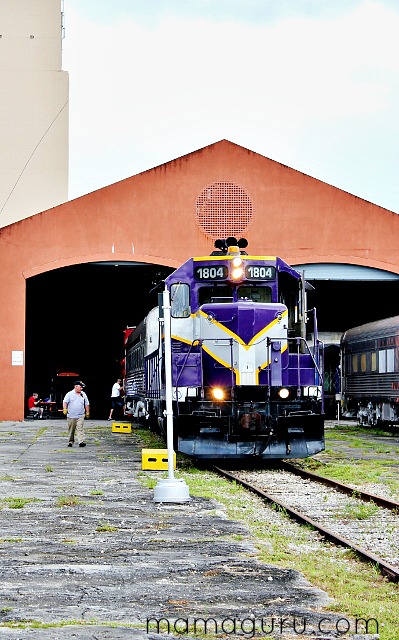 This was the best family portrait we could get on the train.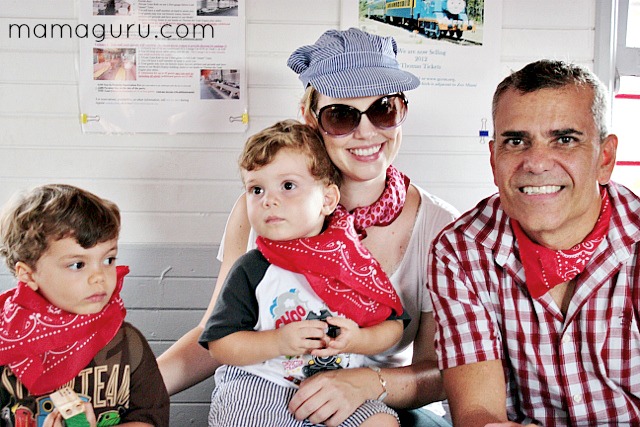 Look how happy the birthday boy is on the train! Max isn't upset. He was loving the train so much that he took it seriously, absorbing every minute.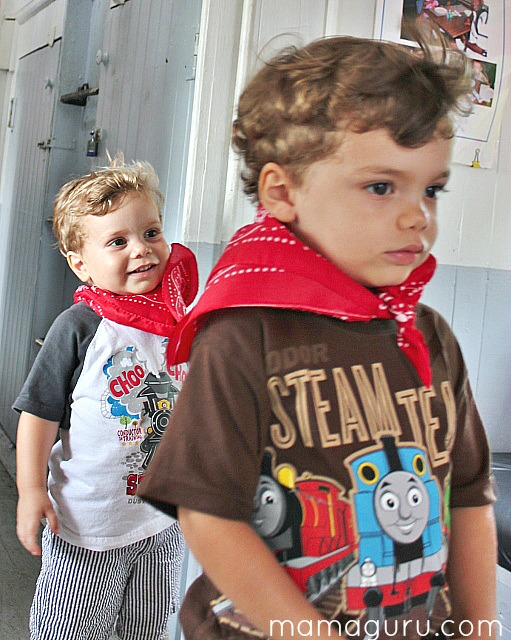 I love these vintage trains!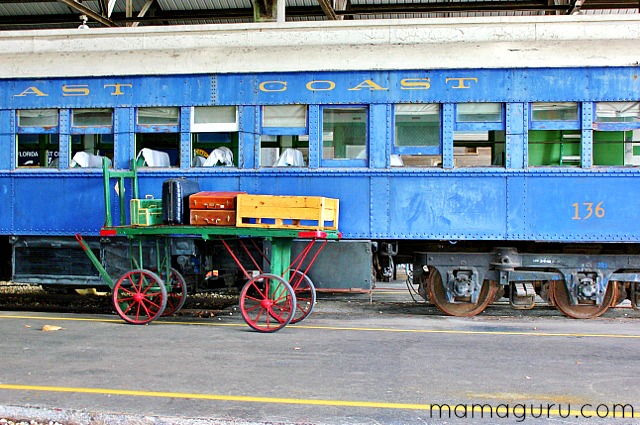 This is the Presidential Train. It has an Oval Office and everything! We also went on an old army train.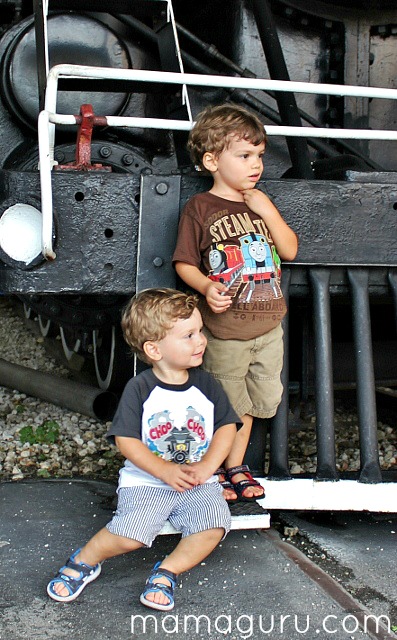 Jack would spend his whole party eating if we didn't pull him away to play. He's such a little foodie!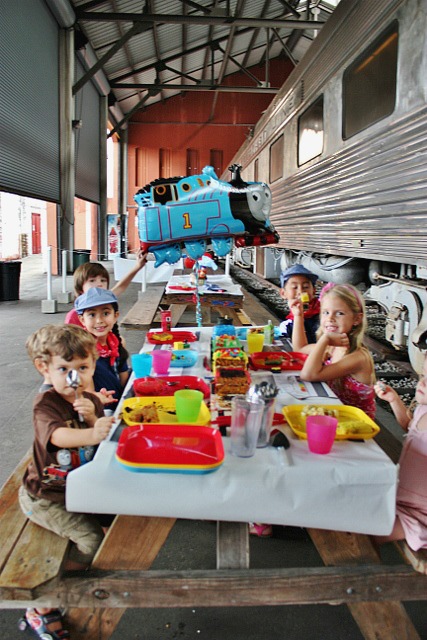 Train Party Favors
As I mentioned earlier, guests received a hat, a bandana and a train whistle. As they were leaving, there was one more surprise: homemade train cookies! It's always nice to hand a child a sweet treat when they are sad to say good-bye.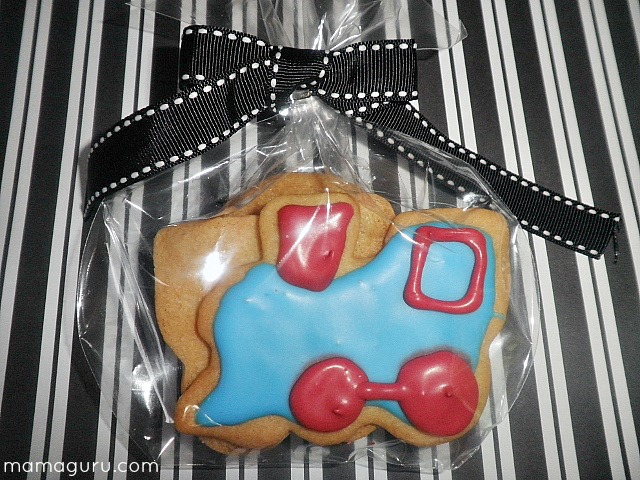 At the end of the a very fun day, I took these two hobos home and gave them a bath.