Sublime is the only word that can possibly describe this simplest of dishes.  I like to serve this puree on a piece of good crusty bread along side a green vegetable like roasted asparagus or sauteed broccoli rabe for a meal that nourishes body and soul.
This recipe will not have exact measurements, because you can decide how many beans you would like.  It's more about the method than the measurements.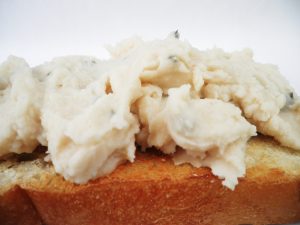 1/2 package of dried cannellini beans (or more)
sea salt
a few springs of fresh rosemary, finely chopped (dried will not work)
a few tablespoons of olive oil
1.  Sort the beans, discarding any pebbles or broken beans.  Wash them.  Cover them in five inches of filtered water and let them soak overnight.
2.  In the morning thoroughly rinse the beans.  This batch of water contains the gas-producing enzymes, so do a good job with your rinse. 
3.  Cover the beans in 2 inches of filtered water.  Bring to a boil.  Place a lid slightly ajar on top of the pot and simmer for an hour.  After an hour has passed, check beans to see if they are tender.  If they are, add about a teaspoon of sea salt and cook for 10 more minutes.  If they need more time, add the salt but give the beans up to 30 more minutes. 
4.  Drain beans, reserving their cooking liquid.  Place beans in a food processor and puree.  If beans are hot, be sure to allow an escape hatch for the steam.  Add about 1/4 c of the reserved cooking liquid to help the puree come together.  Add rosemary.  Add olive oil a tablespoon at a time, tasting along the way.  This is where your judgement must be used.  Add cooking liquid, olive oil and sea salt to bring the puree to perfect smoothness and seasoning.  I tend to add more cooking liquid than olive oil.  Give your food processor time to work.
5.  To serve, drizzle olive oil on a freshly toasted piece of crusty bread.  Spread a generous amount of puree on top.  You can add chopped garden tomatoes or parsley if you wish.  I like to do that with the leftovers the next day.  The first day I like it best plain and simply sublime. 
Note: Don't throw out the leftover cooking liquid; it's too delicious to waste.  Keep it in the fridge and use it like stock when making soup, rice or sauces during the next week.