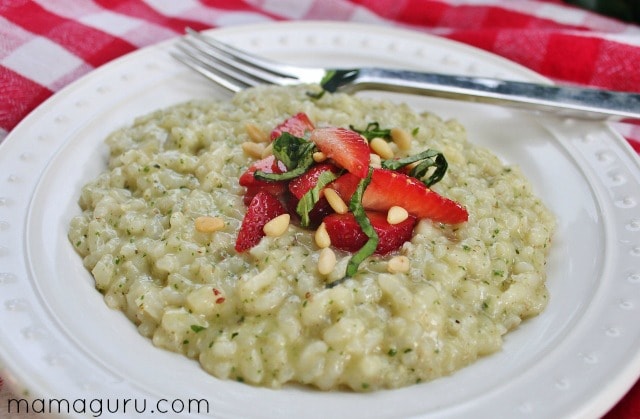 Pesto Risotto with Balsamic Strawberries is a lovely twist on the classic Caprese flavors. I developed this recipe during a sad summer when I couldn't eat nightshade vegetables (which includes tomatoes-gasp!). The elimination diet was tough, but it also prompted me to stretch my culinary muscles.
I adore the classic Caprese flavor profile and craved it deeply that I started experimenting with the savory side of strawberries. I just wanted something red to go with the green. This oven-baked risotto is one of the best dishes to come out of my nightshade-free diet. The fresh basil and strawberries speak of the garden's harvest. This is an elegant dish, worthy of entertaining.
For best results, make your own pesto! It only take a few minutes and it saves money too.

Pesto Risotto with Balsamic Strawberries
Ingredients
2 T olive oil
1 small yellow onion, finely diced
2 cloves of garlic, minced
1½ c arborio rice
⅓ c white wine
6 c vegetable broth
1½ c sliced strawberries
1½ t balsamic vinegar
¼ c Parmesan cheese
2 T butter
squirt of fresh lemon
½ c pesto
optional toasted pine nuts and basil for garnish
Instructions
Preheat oven to 425°. Place a dutch oven* over a medium flame and heat olive oil. Add onions. Season with sea salt and pepper and saute for about 4 minutes, until they become soft and translucent. Stir often to avoid browning. Add garlic and saute for another minute, until you can just smell it. Add the rice and stir for about 3 minutes, until rice is toasty. Add wine. Stir. Add 5½ cups of broth and continue stirring for another minute.
Place the lid on your dutch oven and put it in the oven for 18 minutes. No peeking. In the meantime, slice the strawberries and macerate them in vinegar with a hint of sea salt as well. If using pine nuts, toast them now and set aside.
Take risotto out of the oven and place it over a medium flame. Remove the lid. Stir in the remaining broth, butter and cheese. Stir and cook another 3-5 minutes, until risotto is cooked through and has reached the desired creaminess. Turn off heat. Add lemon juice and pesto. Stir until well-combined. Taste and adjust seasoning if needed. Serve immediately, spooning strawberries as a garnish and sprinkling with pine nuts and basil if you have them. Enjoy
Notes
* You don't need a dutch oven for this recipe; you can also make it stove top. To do that, heat your broth until simmering. Add it ladle by ladle to the rice, stirring and waiting for the rice to absorb the broth before adding more. Adjust your temperature so that this will take 22 minutes. If you try to bake this without a dutch oven, the heat will not distribute properly and you probably won't be happy with the results.