After years of dormancy our mango tree rewarded our faith with an abundant harvest this summer.  We had mangos out our ears!  This is one of the resulting recipes and it's just lovely!  It takes almost no time to prepare.  It's basically assembly, so it's perfect for a summer night when you want something tropical, but effortless.  Eating it feels decadent, but it has almost perfect nutrition, so there's no guilt.  I hope you like it.
Black Bean and Mango Quesadilla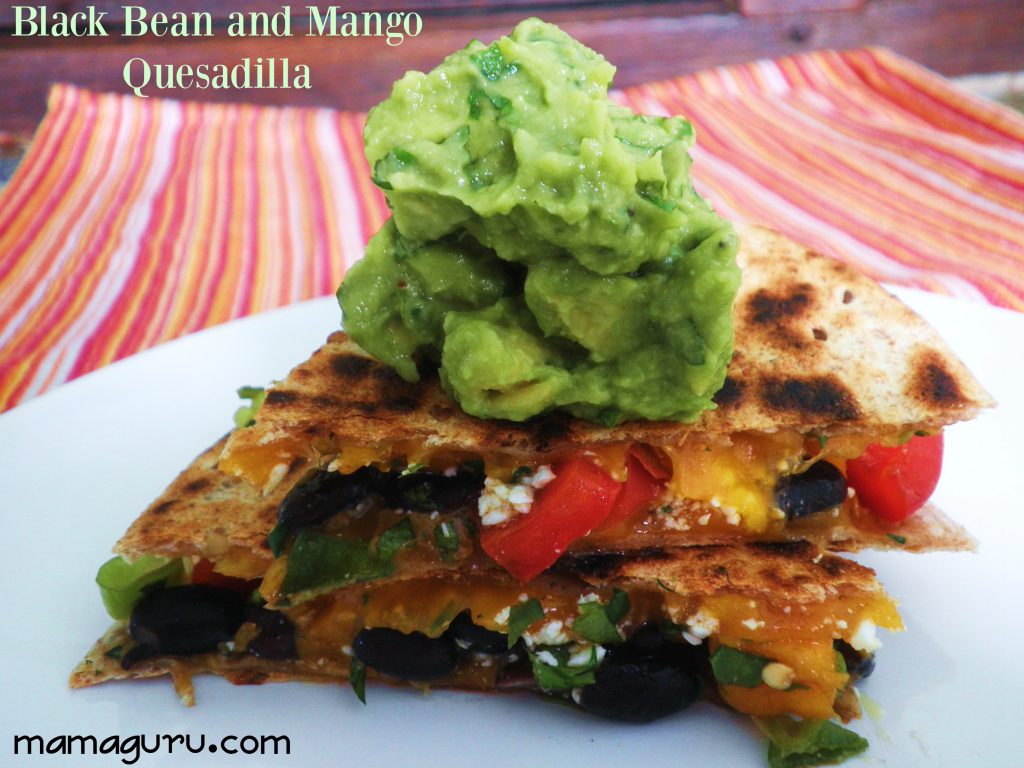 2 mangoes, peeled and diced
1 1/2 c black beans
4 scallions, sliced
1 red bell pepper, diced
zest and juice of 1 lime
1-2 cloves of garlic, minced
1 jalapeno, minced (for less heat, remove seeds and membrane)
3 T chopped cilantro
1 t red pepper flakes (optional)
1 lb of cheese, grated (cheddar, jack, cojito…whatever you like)
8 whole wheat tortillas
1.  Combine all ingredients except the cheese and tortillas.  Season generously with sea salt and black pepper.  Set aside for 30 minutes to 3 hours to allow flavors to meld.
2.  Heat  grill pan or griddle over a medium high flame.  Once pan is hot, place a tortilla on it.  Sprinkle with cheese.  Generously spoon filling over cheese.  Cook until cheese has melted and tortilla is brown.  Remove from heat.
3.  Place a fresh tortilla on the pan.  Sprinkle with cheese.  Let cheese melt and tortilla brown.  Remove from heat and flip it over, placing it on top of the filled tortilla.  Using this method assures for a crisp tortilla, a gooey filling and no flying mess over your stove.
4.  Repeat technique with remaining tortillas and filling.  Use a sharp kitchen knife or a pizza cutter to cut into wedges.  Serve immediately with Green Goddess Guacamole.
Green Goddess Guacamole
I invented this recipe when I first moved to Miami and hands down, everyone who has tasted it has declared it the best guacamole ever!  I think that's because rather than competing with the avocado, this recipe elevates it and lets it take center stage.  It's easy to adjust this recipe for larger parties, but it's impossible to make enough.  This is always the first bowl empty.
2 ripe Haas avocados, peeled, pitted and diced
1 large clove of garlic (or 2 small)
3 scallions, sliced
zest and juice of 1 lime
3 T chopped cilantro
1.  Place all ingredients into bowl except the garlic.
2.  Make a pulp out of the garlic by grating it with a micro-plane or mincing, salting and mashing it with the flat edge of a chef's knife.  Add garlic to bowl.  Season generously with sea salt and pepper.  Mash everything together aiming for a half chunky, half creamy texture.
3.  If not gobbling right away, place a plastic wrap directly on the guacamole to prevent browning.  Enjoy!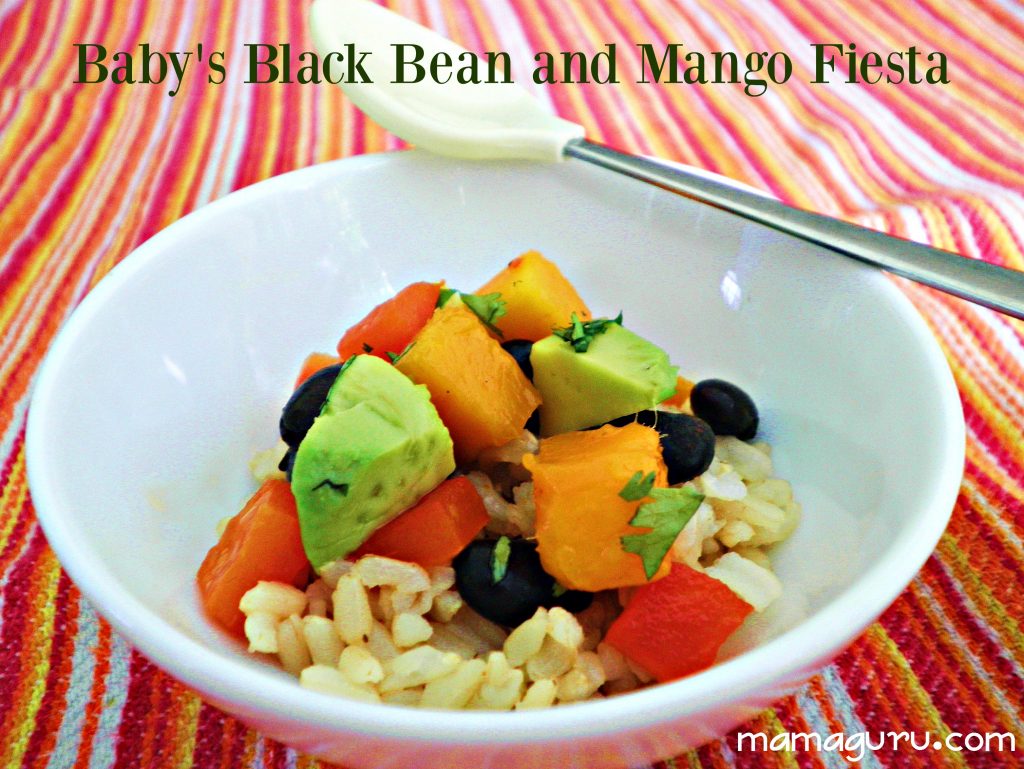 Baby's Black Bean and Mango Fiesta
This is baby's first foray into Latin cuisine.  Bursting with color, flavor and nutrition, it's a hit with babies.  Acquainting baby with diverse and savory flavors early on will create a global pallet for your little one.  Mangoes are full of vitamins, particularly A & C.  Avocados provide healthy fat to support growing brains.  Black beans are a vitamin and fiber rich protein source.  This dish is the baby of Black Bean and Mango Quesadilla, but it would satisfy an adult as is.  Serve to babies 9 months or older.  Leftovers can be stored for up to 2 days.
2 T cooked brown rice
1 T diced avocado
1 T cooked black beans (If using canned, rinse well.)
1 T diced roasted red pepper
1/2 t minced cilantro
pinch of finely minced garlic
squirt of lime juice
pinch of sea salt and black pepper
1.  Dice veggies to the size your baby can handle.  Babies who are being fed by a spoon need a smaller dice.  Babies who are self-feeding with hands need larger chunks to grasp.  Be mindful of baby's gumming ability and mash beans slightly if they aren't soft enough.
2.  Combine all ingredients except rice.  Allow flavors to meld for about a half an hour if you have the time.
3.  Spoon first mixture over well-cooked brown rice and serve.  Bon appetite, mon petite!