A Deliberate Life: Mindful Steps Towards Happiness
Learn how to use mindfulness to create happiness in your life. We live in a culture of busyness, jumping from task to task, feeling stressed and rushed all day long until we collapse in front of the screen at night. Years can pass this way, until we wake up and suddenly realize we are not living the life we imagined or intended. A Deliberate Life provides proven tools and mindfulness techniques to enable you to break away from this cultural trend.
ON SALE MARCH 15, 2017!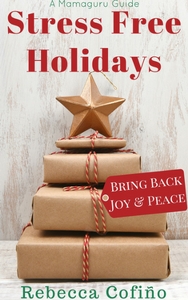 Recapture the joy of the holidays! The holidays have turned into a season of stress which maxes out our credit cards, monopolizes our time, and drains our energy. Let's bring back joy and peace! Stress Free Holidays teaches you how to apply mindfulness into your holiday celebrations, and offers a host of practical tips and holiday hacks to make your celebrations run smoothly.
Free Mindfulness Challenge
Take 1 week to learn simple mindfulness techniques to find your joy and peace. For seven days, you will receive an email containing a short lesson and a mindfulness exercise you can perform right away to help you cultivate mindfulness in your body, spirit, mind and relationships. Get a fresh new perspective on life. It's our gift to you!