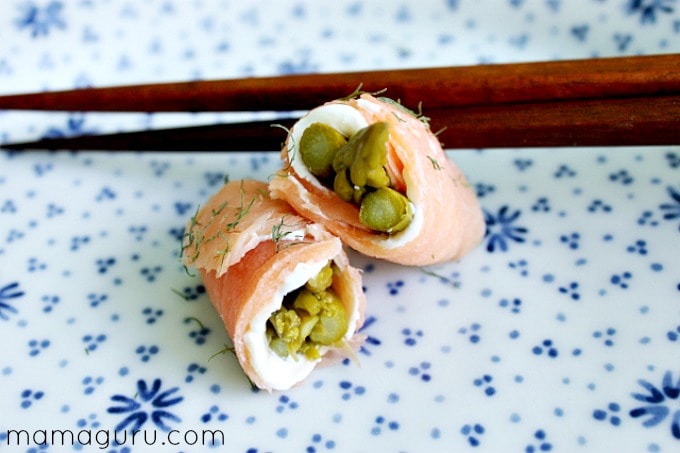 Smoked Salmon and Pickled Asparagus Sushi is a perfect spring time appetizer or side dish at brunch. It's easy to make: just spread, roll and voilà you have a perfect briny, bright bite of goodness! The rich and creamy flavors of the smoked salmon and cream cheese are foiled by the salty and tart pickled asparagus. A sprinkling of fresh dill ties all the flavors together. And doesn't it just look darling on the plate?
Where to Find Pickled Asparagus
Most of these ingredients can be found in a regular grocery store, but you will probably have to make Homemade Picked Asparagus yourself. Don't worry; it's easy. It's such a lovely little pickle and takes less effort than jam to make. To get the full flavors, let it sit for three weeks, but you can enjoy them in a week if you need to.
Of course, I know this is not sushi. There's no rice and the salmon is cooked, but it has the same shape and is a playful addition to any menu. It's so much fun to have a new recipe that will surprise and delight your guests. It's also happens to be low-carb and gluten-free, so if you have any guests with restricted diets, this recipe works! I hope you love it.

Smoked Salmon and Pickled Asparagus Sushi
Author:
Rebecca Cofiño for Mamaguru
This is a fantastic appetizer recipe or even a wonderful brunch dish. It is more of a method than an actual recipe, so no ingredients amounts are listed. make as much or as little as you please.
Ingredients
smoked salmon
cream cheese
pickled asparagus
fresh dill
Instructions
Carefully spread salmon with cream cheese.
Cut asparagus spear in thirds and place it on the cream cheese. Gently roll into a little bundle that looks like sushi. Sprinkle with dill. Serve and enjoy.