Here's a recipe to change your life!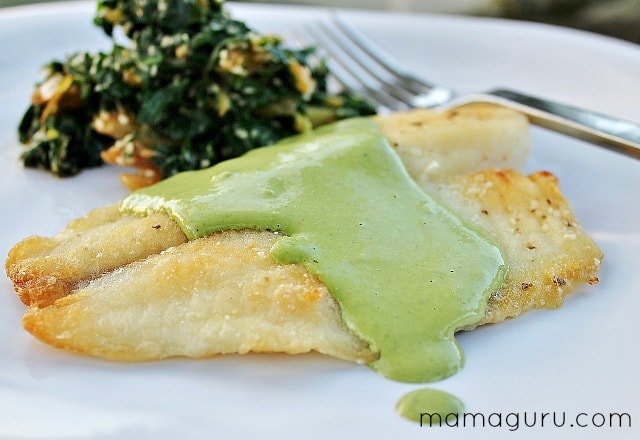 Mamaguru's Great Green Sauce is so versatile you can pair it with seafood, grilled veggies, quinoa, salads and even french fries. It is a superfood in and of itself, packed full of vitamins, healthy omega 3 fats, essential minerals and a good dose of fiber. It takes minutes to make.
Most importantly, it is absolutely delicious.
I created this recipe on a recent health kick. My normal diet is pretty healthy, but every once in a while, I get a little obsessive. I start searching for ways to incorporate more and more wonderful foods into our diet.
You could call Mamaguru's Great Green Sauce a creamy sort of pesto. It's loosely based on a traditional recipe, but I combined inexpensive and nutrient-dense ingredients that have become a sauce all on its own.  This recipe can easily be doubled and you can store it in your fridge for a week and use it in all sorts of ways.
For best results, use homemade coconut milk!

Mamaguru's Great Green Sauce
Ingredients
¼ c walnuts
2 c fresh spinach
1 clove of garlic, minced
1 T extra virgin olive oil or coconut oil (a fruity, high quality EVOO is my favorite)
squirt of fresh lime juice (about a teaspoon)
⅓ c coconut milk
Instructions
Toast the nuts by placing them in pan over a medium flame. Stir occasionally and stand by, so they don't burn. Once they become fragrant, remove from heat. This step brings out their flavor.
Combine all ingredients except the coconut milk into a blender or a small food processor.  Season with sea salt and black pepper. Blitz it all. Slowly drizzle in the coconut milk while the blender is running. Scrape down the sides, so everything has a chance to blend together.  Keep blitzing until it is smooth and creamy. Depending on your appliance's power, this may take a few minutes. Trust and allow it to work its magic.
Taste and adjust seasonings. You may add a teaspoon of honey if you absolutely need to. You can also add more coconut milk to loosen it up if you'd like.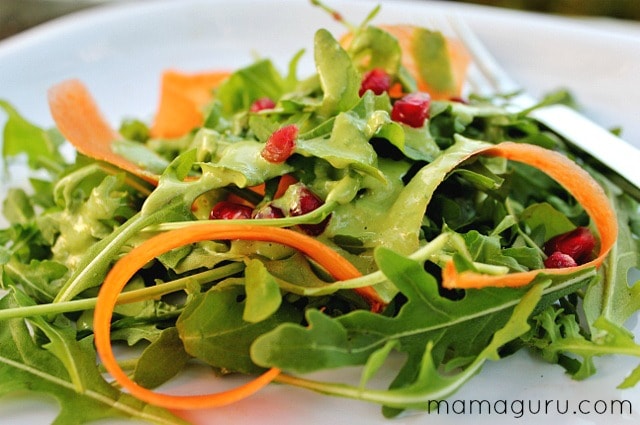 Serving Suggestions
over sauteed or baked fish
over steamed clams or mussels
over grilled shrimp
as a salad dressing (Spinach on spinach!)
as a dipping sauce for grilled veggies or baked sweet potato fries
as a sandwich spread
over cooked quinoa or another grain
stirred into a bowl of fresh corn, red pepper and black beans
The possibilities are endless!  This tastes so yummy and is ridiculously easy to prepare.  It is definitely a recipe to make once a week and use as a go to sauce for any meal.
Enjoy and share with your friends.