Poor potato; nobody likes him anymore.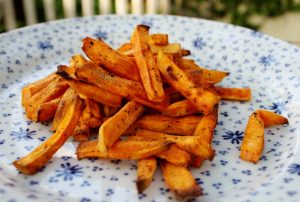 The nutrient powerhouse, sweet potato, keeps making inroads in what used to be the Idaho potato's most dependable strongholds.  Traditional spuds still make the crispiest chips, but fries have been left in the dust.  Sweet potato fries are delicious, nutritious and easy to make yourself.
It's a wonder they're sold in bags in the frozen food section.
I live in the vegetable tricky land of toddlerhood with my two little boys.  I make these fries one to three times a week, as my kiddos consistently devour them.  I find myself snitching so many off the pan while cooking, I need to make extra to cover the loss.  They are baked, so everything about them is healthy.  They're also ideal for young children who don't have the molars to crunch raw veggies yet, but have moved out of the purees of babyhood.
Treat them like a snack, a veggie or a side dish of grains.  These guys can play many parts.
Sweet Potato Fries
1 large sweet potato
1 1/2 T olive oil (grapeseed oil also works)
1 t herbs de Provence
1.  Preheat oven to 425°.  Lightly oil a large baking sheet.  (A misto spray with olive oil is ideal.  This is just to prevent sticking.)
2.  Peel potato (optional).  Cut it in half lengthwise.  Slice each half into small rectangles.  Place them on the baking sheet.
3.  Drizzle fries with olive oil.  Season with generous pinches of sea salt and freshly cracked black pepper.  Sprinkle with herbs de Provence.  Toss fries with your hands, coating each one well.  Spread evenly across the pan.  Don't allow fries to touch much or they might steam and get mushy.
4.  Bake for about 30-35 minutes.  Half-way through cooking, briefly take them out and turn them.  They are ready when they're a bit golden with crisp edges.
These are best served immediately, but for convenience's sake, I frequently make extras and just microwave for 30 seconds before eating.  If you want to make a larger batch, use two baking sheets on two oven racks.  Increase cooking time by about 15 minutes and rotate pans when you flip fries at the halfway mark.
The Bottom Line
Fries don't need to be an occasional treat if they're healthy.  You can eat these everyday if you want.  Because they are baked, not fried, they have only a bit of added fat, and that fat is heart-healthy olive oil.  The frozen fries have much more fat, oil and preservatives.  The real reason we eat these is that they taste great!  Even if they weren't healthy, we would eat them on a regular basis, because they're that good.
In terms of value, these rock.  A package of frozen sweet potato fries cost $3.97 for 15 oz.  Sweet potaotes vary in price, but are usually $0.89 to $0.99 for a pound (16 oz).  The minuscule amount of oil and seasonings only add a few pennies to the cost.  That is roughly a 75% savings!  Huge!
The only effort required is peeling and chopping the sweet potato, tasks which take two minutes to complete.  Oh yes, and your hands get oily and messy from tossing them, so there is that extra hand-washing to account for.  The only real drawback to making your own is the time.   These are not instant.  It takes time to preheat the oven and for the fries to bake.  On the other hand, the frozen variety also take about 20 minutes to bake, so I'm not sure you save much time by choosing them.
The after-thought in processed food is always the packaging and environmental costs.  Think of what a sweet potato goes through at a factory: the power washing, the energy used chop, fry, convey, package and ship it frozen to the store.  The energy that keeps it fresh and frozen until it is finally eaten.  What about the energy used to reheat it?
Consider the waste of the actual potato.  I peel mine, but just a little bit.  Machines chuck huge amounts because they need uniformity.  Nature is not uniform and sweet potatoes are odd, kidney shapes.  Think about how much lost to that alone.
It is always good to choose the most direct path possible from farm to table.  Each extra step costs energy and produces waste.  Was it Ben Frank who said, Waste not, want not?
I have yummy fries and I don't want anything else.