Halloween food is so much fun, why not start the merrymaking at breakfast with Ghost Toast? You'll be the coolest mom on the block! Simply make some toast with wholewheat bread, spread some room temperature cream cheese on it, and cut out a ghost shape with a cookie cutter. Place three raisins on it for the eyes and mouth. Serve with a glass of orange juice (a Halloween color). Bonus points if you have a Halloween straw.
Kids love this fun Halloween breakfast and it's a great balance to the sugar they will be eating later. It's funny how much delight they take in simple tricks like this. If you do enough Halloween-themed food, it's easier to cut back on the sweets and the kids don't even notice. To them, it's just Halloween fun. You can also serve this with Spiderweb Soup for a healthy and spooky Halloween dinner.
Happy Halloween!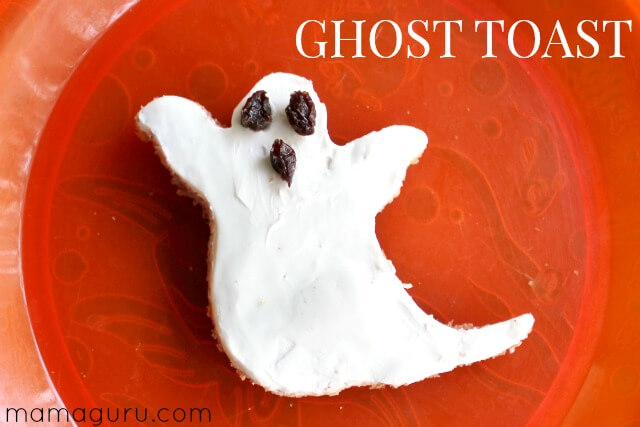 Ghost Toast Recipe Notes
Cream cheese spreads much easier at room temperature. If you don't have the time, place some in a bowl in the microwave and zap for 5-10 seconds.
For best results, spread the cream cheese before you cut out the ghost shape because it's really hard to get the cream cheese to spread all the way to the edge of the bread which looks better for the ghost.