Pumpkin Spice Cream Cheese smeared on toast is a delicious breakfast to welcome fall! It gives you a hint of the pumpkin pie and pumpkin cheesecake to come. Flavored cream cheeses are so much fun to make and you really get a bang for your buck. They take just a minute or two to mix together, but the small effort not only saves you a lot of money, it also saves you from eating a lot of chemicals. Processed versions of favored cream cheese have all sorts of chemicals and artificial flavors. Who wants to eat that?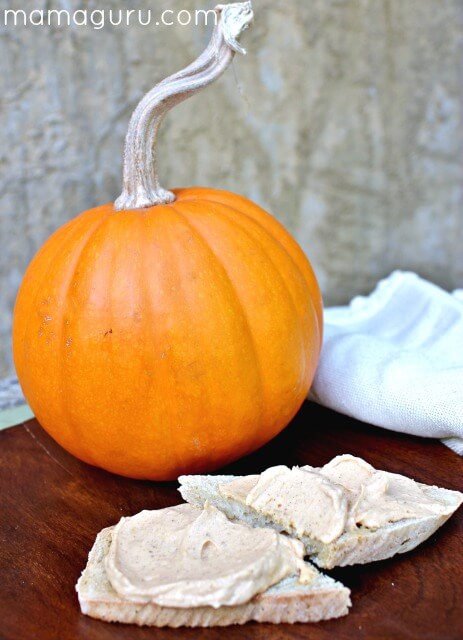 I know, I know, there are a million pumpkin spice recipes these days, as well as a backlash against the flavor.
Phooey!
It's a magnificent flavor and this recipe is special because it combines creaminess with pumpkin spice, just like the whipped cream that goes on top of the pie.  Another great thing is that this recipe is super easy to make.  It's an excellent snack for grown-ups or kiddos.  Smear some on delicious toasted artisan bread or top off a multigrain mini bagel for breakfast.  It is absolutely delectable.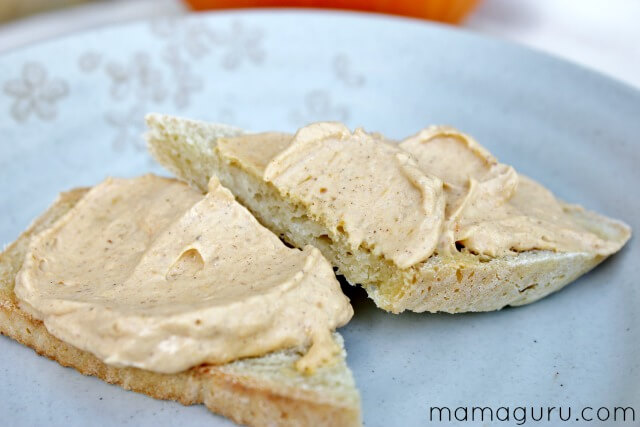 If you can't get enough pumpkin spice, try pairing it with a delicious homemade pumpkin spice latte.
If you can't get enough favored cream cheese, try our strawberry cream cheese. It's incredible.

Combine all ingredients in a bowl.

Blend with a mixer until everything is well combined. Smear and enjoy!
Cream cheese must be at room temperature. Microwave it for 10 seconds if you want to hurry things along.
Orange is my secret ingredient that I add to all of my pumpkin recipes, but it is important not to add too much, just a hint. A small amount of orange brings out the pumpkin flavor from behind all those deep rich spices, but if you add too much, it can easily take over. It is best to go small and add more if you need it.