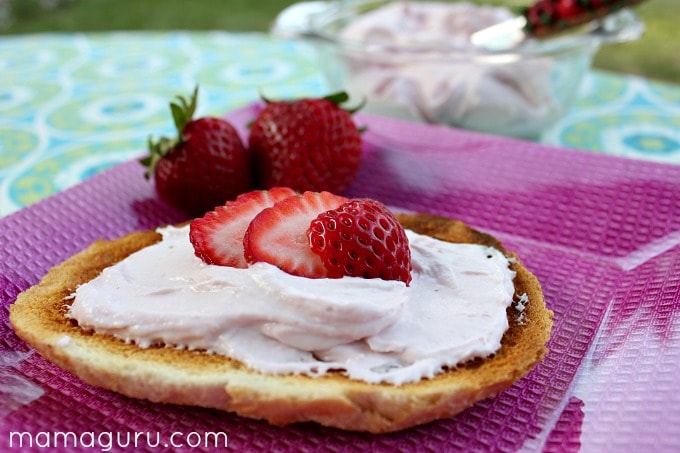 This week's edition of Making Groceries is super simple and super yummy: Homemade Strawberry Cream Cheese. Have you noticed that food manufacturers keep coming up with more and more whipped items? The whole idea is that by adding air, they cut their costs. We stupid consumers end up paying for air when we think we are paying for spreadability. Hmm, many of us have also been duped into paying for water for the past 15 years. Grandmothers everywhere must be rolling over in their graves.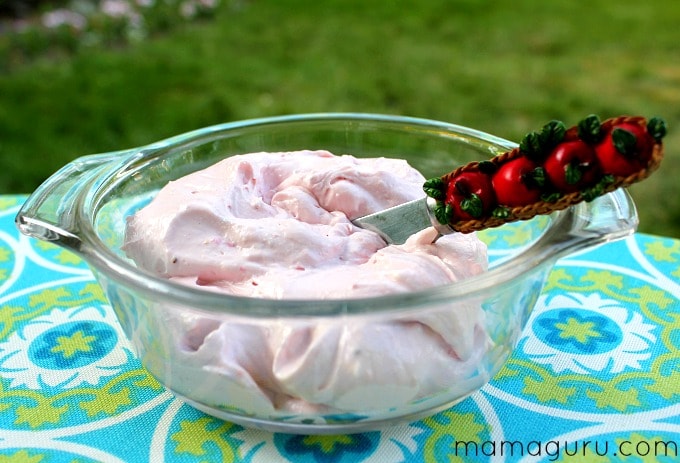 Whipped Technique
This is the simple technique for whipping butter or cream cheese.  I love whipped spreads because it saves bread from tearing and allows you to store food in the refrigerator.
It is very easy to do, but will require you to wash a bowl, mixer paddle and spatula.  Other than that, there is virtually no effort involved.
1.  Allow butter or cream cheese to sit on the counter for an hour or two, until it reaches room temperature.
2.  Using a hand-held mixer, mix it for a minute, until all the product is smooth and spreadable.
3.  Transfer to a container with a lid.  You can spread some now, but the rest should be stored in the refrigerator.  Use whenever you like, it'll spread like, well, butter.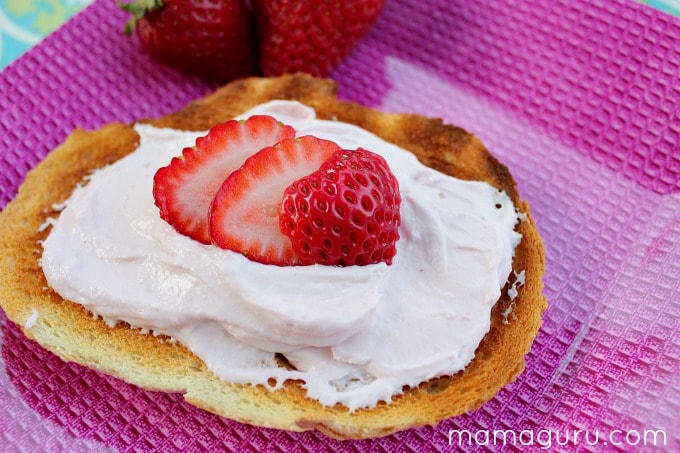 Making Groceries: Whipped Strawberry Cream Cheese
Recipe type:
Rebecca Cofiño for Mamaguru
Ingredients
3-4 strawberries
8 oz cream cheese, at room temperature
Instructions
Pulverize strawberries in a food processor or blender.
Add room-temp cream cheese and blend completely.
Enjoy now or use within a week.
Notes
There are many different flavors of cream cheese, so have fun experimenting! You can use the processed brand for inspiration or dream up your own.
Just about any fruit will work, or try sun-dried tomatoes, caramelized onions or freshly snipped herbs.
The Bottom Line
Nobody should pay for air.  Nobody should be selling it either.  By taking the slight inconvenience of creating a convenient texture to butter or cream cheese you can have the same product the food manufactures create, but you'll save about 60¢ a pop.
As far as the strawberry cream cheese is concerned, fresh flavor trumps the processed every time.  This is truly amazing.  Smoked salmon would also be nice, but if I have some, I'd probably just add a schmear of plain, whipped cream cheese to a bagel, then pile on the lox and capers whole.  But that's just me.  Experiment, then share with a comment.
Bon appetite!