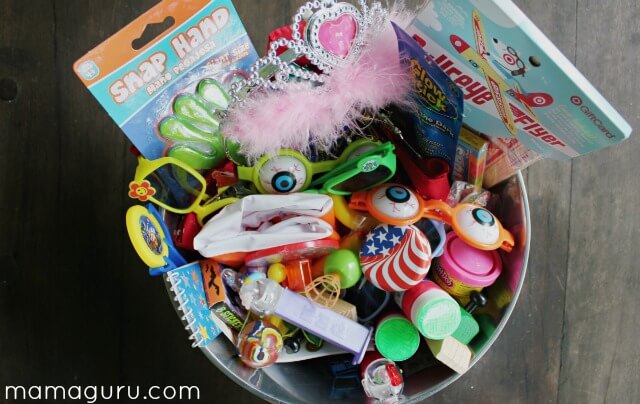 A few years ago I experimented not giving our candy for Halloween (Gasp! Shock! Horror!) and instead I gave out an alternative to Halloween candy: small treasures. I wasn't sure how it would go over, but it was s smashing success! I've done it for the past few years. Instead of buying expensive bags of candy, I give away the extra party favors and prizes that we've collected from birthday parties and our own leftover party favors. The kids love this, and I'm glad not to be wasting my money and eating candy myself. Below is my original post where I explain how it works.
Tricks, Not Treats: The Alternative to Halloween Candy
Trick or treat is a question, isn't it?
OK, maybe it's a demand, but there are two choices given, and this year–PREPARE FOR A FRIGHTFUL SHOCK!–
WE ARE NOT GIVING OUT CANDY!!!!
This is what happens most years:
I buy candy to give away. I eat most of it. It doesn't matter if I buy a candy I don't like; I am weak. Additionally, we take our kids trick-or-treating around our block. Because they are toddlers in very cute costumes, people drop handfuls of candy into their little pumpkins. They are not allowed to eat candy. Half of it is a choking hazard. This year they will probably be allowed to eat one or two pieces of chocolate.
Guess who eats the rest?
I don't need the calories, torment, or price tag Halloween candy brings; however, I do have a junk drawer full of never used party favors that needs to go. We are going to give away our leftover favors and the favors we received in birthday goody bags over the past two years. Most of these toys are choking hazards, redundant or made for bigger kids. I've kept them stashed in a just-in-case drawer for little guests because it seemed wasteful to throw them out.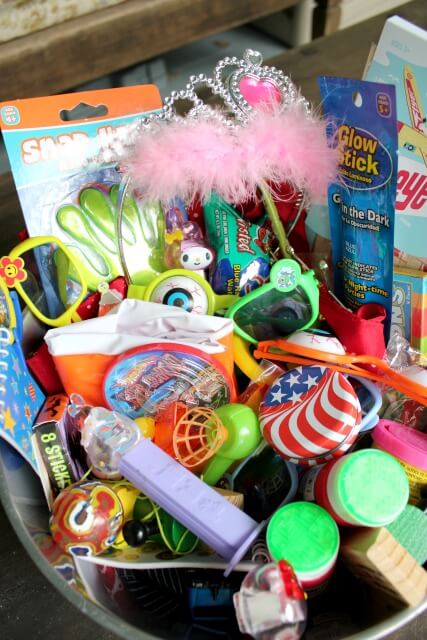 I think it's brilliant. I always love it when my kids get something they can play with in their little pumpkins. Some little boy will be thrilled to get a choo-choo whistle, a little girl: a tiara. By the time the older children ding-dong our door, we will have sleeping children and pumpkins of candy to raid.
Happy Halloween!