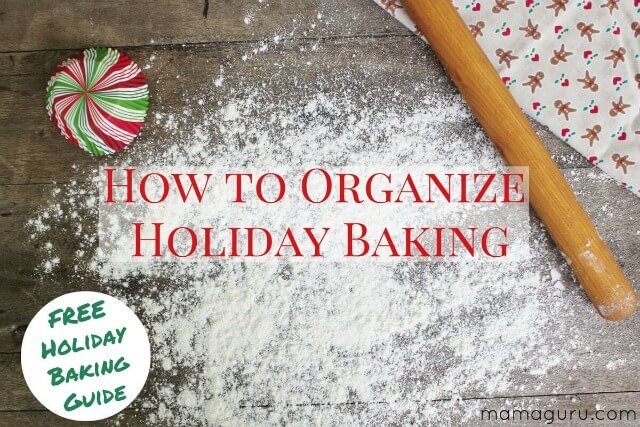 Everybody loves holiday baking, but it can be a chore to organize. If you're not careful, you'll find your entire kitchen dusted with flour while you cry over sprinkles at 1 o'clock in the morning. Christmas cookies are the best cookies of the year, but they do require a bit of extra work, especially if you are giving them out as gifts. Here is a list of my top ten tips to organize your holiday baking. By following these simple suggestions, your entire baking process will be much easier and more fun! In fact, your kitchen will run as smoothly as Mrs. Claus'!
There's a lot of information here, so I've made a FREE Holiday Baking Guide for you to download and print. Keep it close by when you get ready to bake!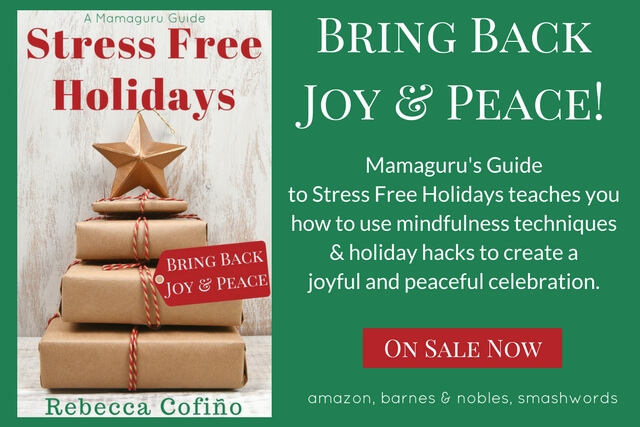 Top 10 Holiday Baking Tips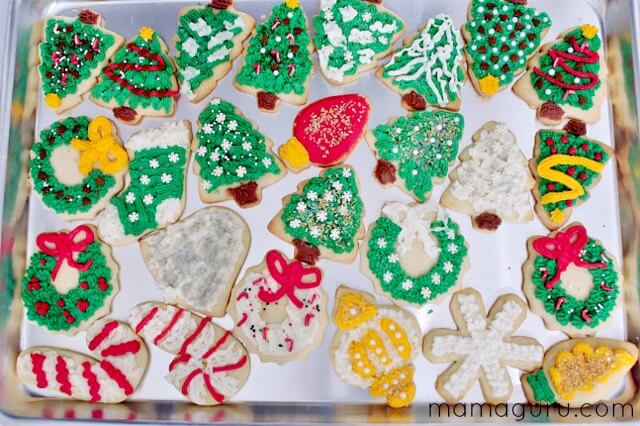 1.  The first step is always: THINK AHEAD. 
Are you planning on giving cookies as a gift, serving them at a party or keeping a plate on hand for your own little elves?  If the baking is just for yourself, you can do it whenever you want.  If  it's for a specific occasion, it is best to start three days back from your serve date.  Almost every recipe says that cookies sealed in an airtight container will keep for a week or two, but they really lose their freshness and flavor.  Also, your friends probably won't eat them all in one sitting, so make sure you don't give them cookies that will expire immediately.
I like to give cookies as gifts, so I wait until very close to Christmas.  I also like to have them on hand, so I'll choose one or two recipes just for us and bake them throughout the season.  Mini gingerbread boys are great for this, because they're easy to make and when they get a little dry, they make wonderful dunkers.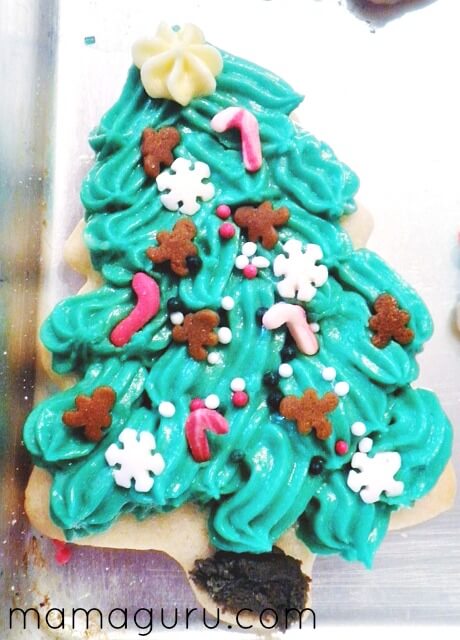 2.  Make cookies in 3 steps: mixing, baking and decorating.
The first step is dough making. Most cookies need to chill, so this is the perfect do-ahead step. Freeze the dough if it will be more than a week before you bake it.  Otherwise, wrap it tightly in plastic wrap and keep in ready in the fridge.
If you are doing a lot of baking, it's easiest and most energy efficient to bake all the cookies on one day and decorate them on the next. That gives the cookies time to cool before frosting and prevents baker burn out. Cute cookies take time and effort to decorate, so start fresh the day before you plan to serve/give them.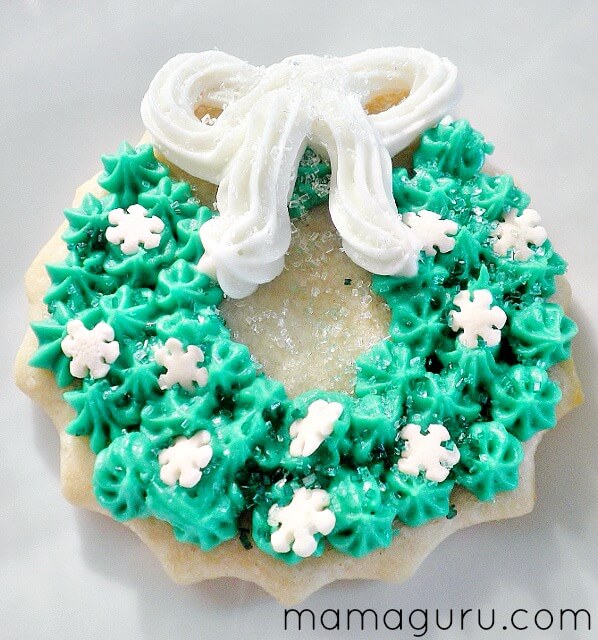 3.  Bring all ingredients to room temperature before baking.
Dough mixes better when all of the ingredients are at room temperature. Leave butter and eggs on the counter in the morning if you plan on cooking them that night, or leave them out overnight if you bake early. Eggs are hermetically sealed and safe to leave on the counter for a week.
4.  Plan tasks for little helpers.
Take into account your kids' ages and interests when choosing how they will help. Are they looking forward to frosting and adding sprinkles? Is mixing fun? Do they like to cut out the shapes? If you need to make a lot for gifts, you may want to limit their involvement so you don't get frustrated.  You can plan a batch or two just for your family and let the kids take over.
Young children benefit from getting everything set up before they are invited to help. Prep bowls of ingredients like you were on a cooking show, so you don't have to scurry around. They will be excited and don't like to wait, so this keeps things positive. For frosting, get all the bowls, spreaders and sprinkles ready before you call them in to help. Stop the clock during this time. Grab the camera and cherish the moment. It'll be yummier than the cookies.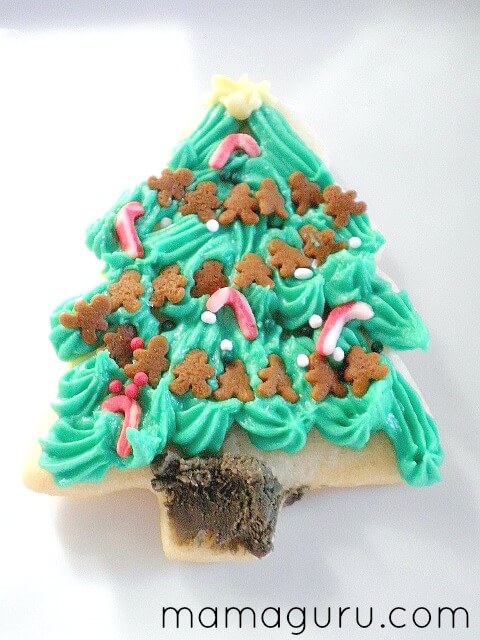 5.  Cut down on clean-up.
When making your doughs, use one mixer and make them from lightest to darkest. You don't need to wash the bowl and beaters in between each dough. (Of course, if you are baking for someone with an allergy, everything must be scrupulously clean to avoid cross-contamination.)
Use liquid measuring cups and a liquid measuring shot glass for your wet ingredients. Use your dry measuring cups and spoons for your dry ingredients. You won't have to wash any of them in between dough if you use them properly.
Again, if you divide your days into mixing, baking and decorating, you will only clean up after each task once!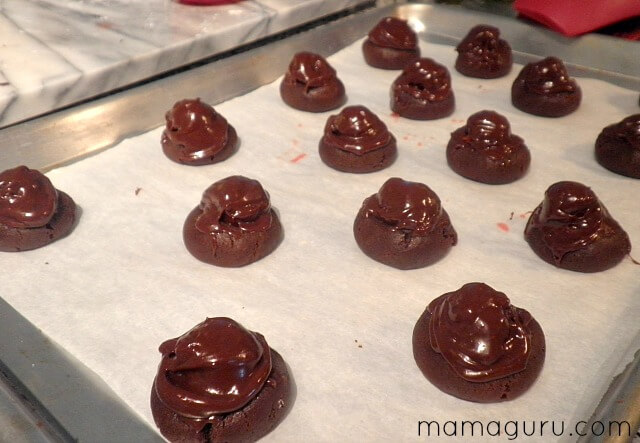 6.  Exercise cookie -cutter smarts.
Not all cookie cutters are created equal! Many of the cutest cutters turn into boring blobs once baked. The best choices have very straight-forward shapes and no special details. Think about what is fun to decorate. You don't have to make every shape in your set. I always make at least one batch of just Christmas trees, because they are my favorite.
BEST SHAPES: Christmas trees, stockings, wreathes, snowmen, ornaments and mittens
WORST SHAPES: Santa, sleighs, wreathes with candles, elves, intricate snowflakes
BEST EXTRAS: A few stars and bells are great for decorating burn-out. They can use whatever frosting color is left. Also, I like something not as cute to nibble on first, so I can eat while I admire my work.
LAST SHAPE TIP: Reindeer are really cute when made out of gingerbread. Add a red dot for Rudolf.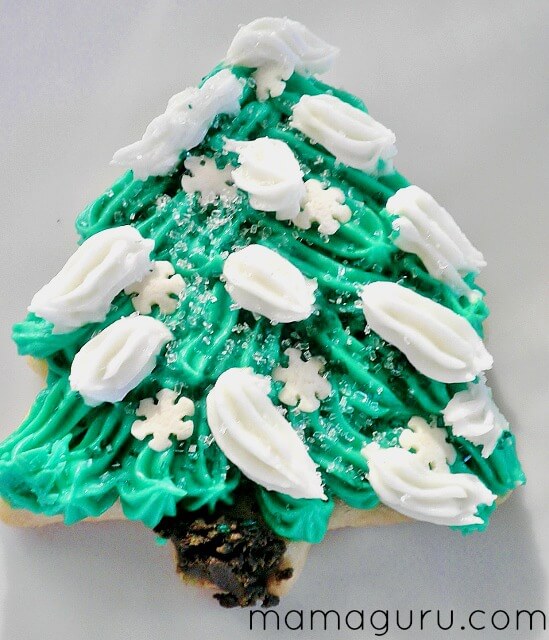 7.  Know your icing.
Buttercream tastes best, but never completely hardens. I use it on sugar cookies. Royal icing hardens to a perfect glaze which makes it best for a cookie that will be stacked in a tin, but it's not as delicious. Add a bit of lemon juice to improve the taste. I use royal icing for gingerbread people.
If any icing gets too runny, add more powdered sugar.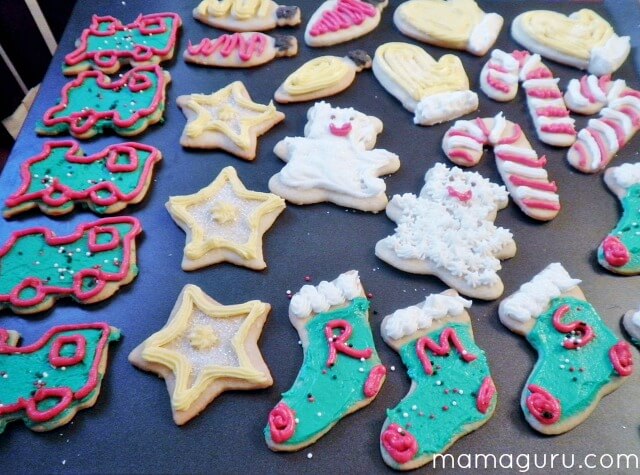 8.  Decorate cookies factory-style.
Triple the amount of frosting your recipe suggests. Leftover frosting can be sandwiched between graham crackers and frozen for a treat. However, you probably won't have any leftovers.
Color your frosting with gel colorings (widely available at craft stores), rather than the liquid food dyes found at the grocery store. You'll get true colors that way. It's the only way to get a real red or black. Add cocoa powder for brown; it's yummy and the right color.
Use piping bags. Apply all the green, then all the white and so on. Trees get the green first, because if you run out, it is better to have a pink mitten than a pink Christmas tree. Your technique will improve as you go along. Stars and bells are last.
Use tweezers to apply sprinkles in just the right place. Do it while the frosting is wet or it will never stick.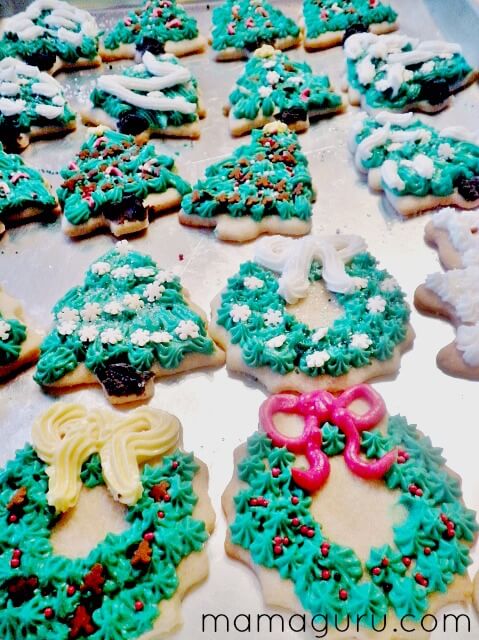 9.  Buy this pan!
Baking sheets with lids are an amazing tool that let you store your frosted cookies flat. This keeps them cute, because tins and tupperware always smash them. It's important to have completed all your baking the previous day, so you don't tie up your baking sheet with storage. If you don't have a lidded pan, you can store cookies on cooled cookie sheets wrapped tightly with plastic wrap and stacked perpendicularly (so they don't smash each other.)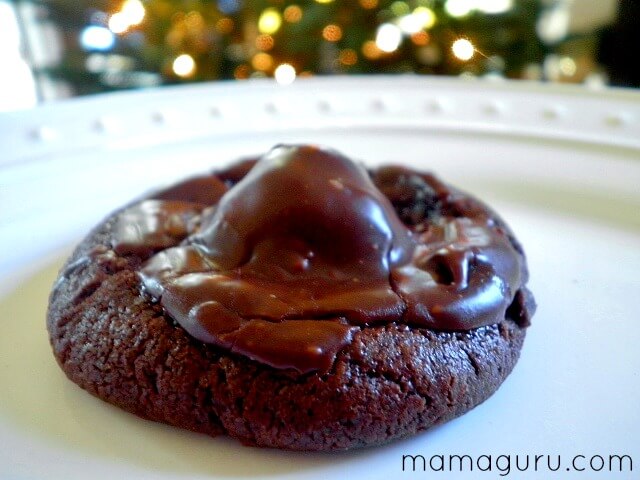 10.  Take pictures.
Cookies are deeply appreciated, but quickly gobbled. Capture the cuteness, and then insist they be eaten. I hate it when people say they're too cute to eat. If it was meant to last, I would've used clay.
Holiday Baking Guide Cheat Sheet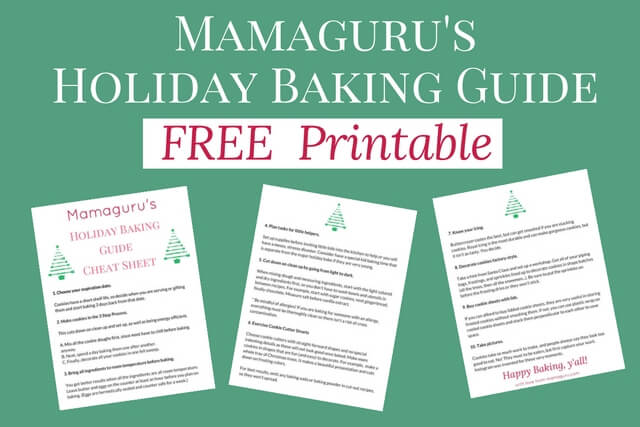 There's a lot of information in this post, so I've created a handy Holiday Baking Guide Cheat Sheet for you containing all 10 Tips to help your holiday baking run smoothly. My motto is: Make it easy! Keep it Fun! Download your printable and post it in your kitchen so you don't forget to use it. Happy Baking y'all!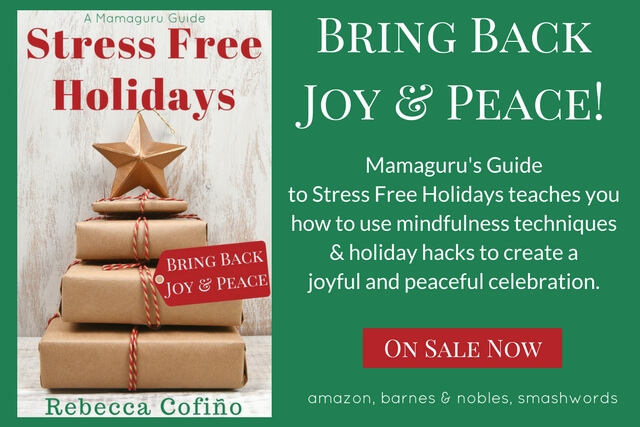 I am grateful that his post was included in the Mom Life Monday Link Up.