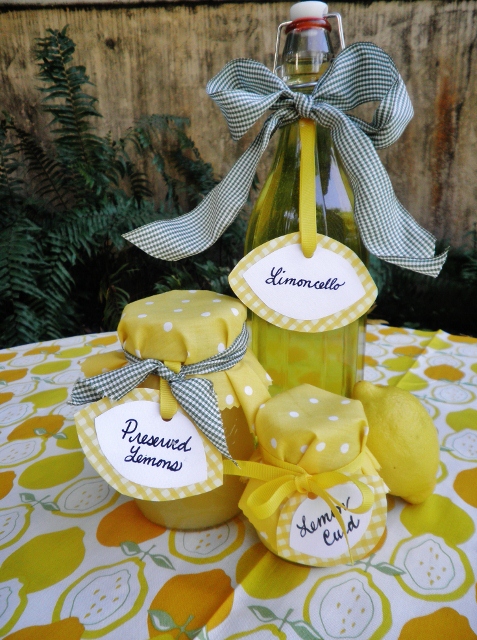 Isn't it funny that just when the snow hits the ground, the produce section gets flooded with citrus fruit?  The sweet and tart juices echo the tropical climates from whence they came.  And lemons, well aren't they just sunshine itself?  This year bottle some of their cheer and give it to a friend.  Here are three simple, but elegant gift ideas anyone can easily make.  All you need are lemons, salt, sugar, vodka, butter and eggs.  Does this mean you're Christmas shopping at the grocery store this year?  You bet.
Limoncello: An Italian Delicacy

I first indulged in limoncello when I was dating the man who would become my husband.  We used to frequent a seafood restaurant on the Miami River for lazy weekend lunches.  We enjoyed the food and the relaxed atmosphere created the romance that blossomed into our family.  The first time I ordered a limoncello, I had no idea what it was.  It just sounded divine.  It is, but also strong.  Those small digestives we ordered cost a ridiculous $14 a piece, so I quickly learned how to make my own.  Now for the price of a round of drinks you can have a couple of gifts (and chef nips) yourself.
12 lemons
4 c vodka (medium quality)
4 c filtered water
3 c sugar
1.  Using a vegetable peeler, gently peel only the yellow part of the lemon peel from the fruit.  Scrape off any excess white part with a sharp knife.  This is a great TV watching activity and husband involvement is required appreciated.
2.  Put peels in a large pitcher and pour vodka over them.  Cover top.  Allow to sit at room temperature for 4 days, giving them a small swirl once a day.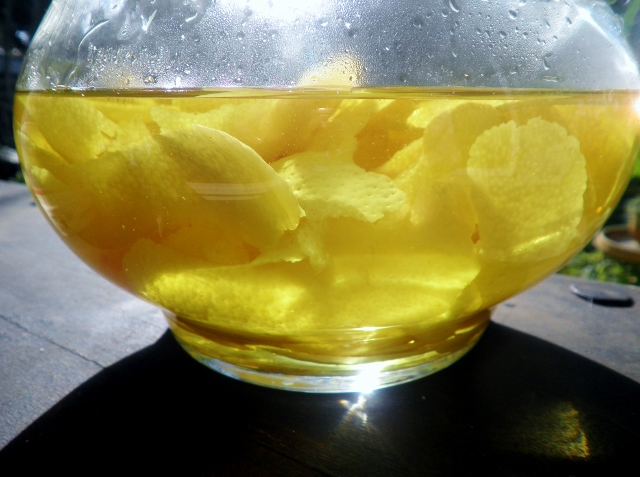 3.  Make a simple sugar syrup by combining the sugar and water in a small sauce pan over a medium flame.  Stir and gently warm until sugar is dissolved, about 7 minutes.  Cool to room temperature.  Pour over lemon peels and vodka.  Allow to rest at room temperature for 1 day.
4.  Strain the lemon peels and pour into sterilized containers.*   Chill.  Best consumed within 2 months.
Serving Suggestions:
Limoncello is traditionally served as a digestive, after a meal.  It is also delicious as a champagne cocktail when served with a crisp prosecco.  I also like a splash of it with amaretto over ice.  Enjoy!
Lemon Curd: An English Delicacy

My sister introduced me to this treat during my High Tea Phase.  In my early twenties, I became drawn not to the bar scene, but the old-fashioned ladies tea scene.  Blame Jane Austin.  I hosted tea parties for my friends and delighted in cucumber sandwiches and scones.  My sister and I lived a few states apart, but when we saw each other, we went for tea at grand hotels.  Kate has a knack for always finding the best stationary shops, breakfast joints and cute, girly stores.  One year she bought a tiny jar of lemon curd for my annual Christmas tea party and it was love at first bite.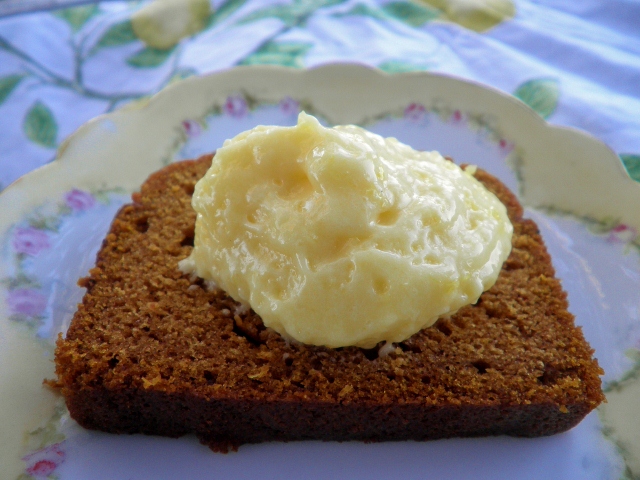 6 egg yolks
1 c sugar
zest of 2 lemons
juice of 4 lemons
pinch of sea salt
1 stick of butter, cut into tiny bits
1.  Fill a medium sized saucepan with about an inch of water and bring to a boil.  Place a glass bowl over it and egg the yolks, sugar, salt, juice and zest.  Stir and cook until mixture thickens and coats the back of a spoon.  This will take about 10-15 minutes.  It's important to keep stirring.
2.  Remove from heat and put it through a strainer.  You will need to use your rubber spatula to help it along.  Allow it to cool slightly.
3.  Bit by bit whisk in the cold butter.  It will become nice and fluffy.  Put in sterilized jars* and refrigerate.  Good for a week.  You can also freeze it for a month, just place plastic wrap directly on the curd and leave space for a slight expansion.
Serving Suggestions:
Scones are the classic choice, but any baked good will appreciate a dollop.  Blueberry muffins, pound cake, and pumpkin bread go particularly well.  You can also pipe it into mini fillo cups and sprinkle berries on top for a last minute dessert.  Enjoy!
Preserved Lemons: A Moroccan Delicacy

This is a more recent discovery, initiated by my study of yoga in India. I ate meals with my teacher, Master-ji, and his family.  We ate in the kitchen and just behind the table was a shelf full of colorful pickles.  Well, I didn't know they were picked at first, because they were all sorts odd shapes and vibrant hues.  I only knew of green dill pickles.  These were hot and spicy, made of mangoes, lemons and other exotic Indian fruits.  I was too afraid to try them until just before leaving.  On my last night, Master-ji coaxed me to try one.  It was amazing!  That got me started on my hunt for (what should I call it?) global pickles.  These preserved lemons are a foodie's dream: a new, but faintly familiar ingredient that can be added to just about any recipe.
lemons
fine sea salt
lots of fresh lemon juice
1.  The ingredient list is non-specific, because the quanity really depends on the size and shape of your sterilized* jars.  For each lemon that will fit in your jar, it will take about 1 1/2 T sea salt.  You want your lemons to be tightly packed in the jar, so think of that when your shopping.  You will use a lot of lemon juice, so using the left-over peeled lemons from the limoncello is an excellent idea.
2.  Place about a tablespoon of sea salt in the bottom of the jar.  Wash and dry your lemons.  Slice them in quarters, lengthwise being careful to leave them in tact at the top.  Carefully remove seeds.
3.  Take about 1 1/2 T salt and thoroughly coat the flesh of the lemon.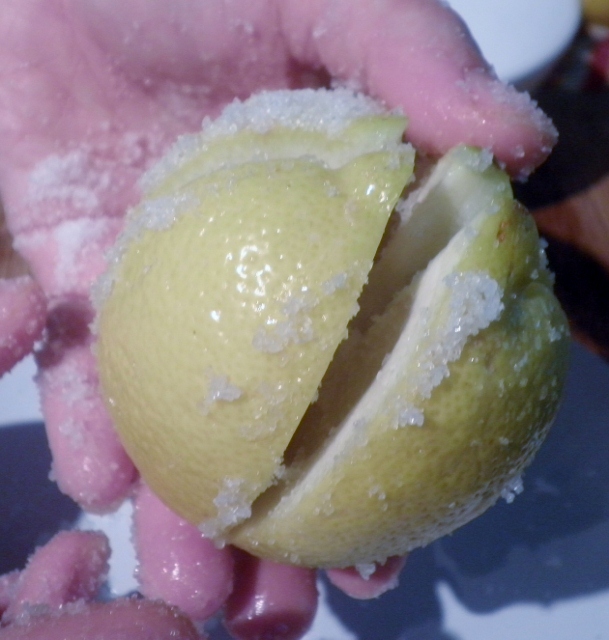 4.  Push lemon back into it's original shape and place it in the jar.  Repeat the process, filling the jar as tightly as you can.  Pour fresh lemon juice over the top until lemons are covered completely.
5.  Place jar on a sunny window sill for 21 days.  Once a day, say hello and give it a nice shake.  (If you don't have 21 days before gift giving, simply include a note instructing the recipient of this for whatever number of days is left.)
6.  After 21 days, the lemons are ready.  They'll be good for 6 months.
Serving Suggestions:
The peels and flesh can both be used in cooking.  They can be added to sauces, soups and sautes.  This is a great gift for a foodie or cook.  Tell them to explore Moroccan and Persian recipes or they can create their own.  Enjoy!
*To sterilize jars either fill a large pot with water and boil them for 5 minutes or run your dishwasher without soap.