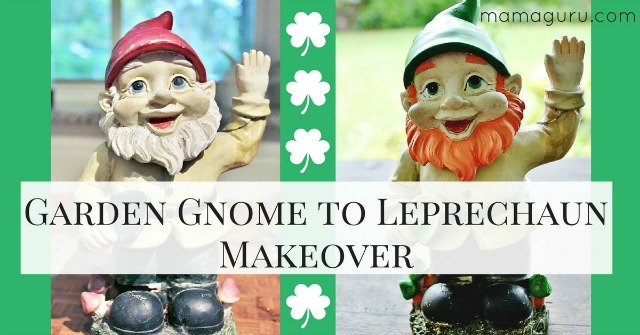 Give your garden gnome a St. Patrick's Day makeover by turning him into a little leprechaun. It makes the perfect St. Patrick's Day decoration! Gnomes and leprechauns have a lot in common: they are both short, magical creatures with long beards, so the switch-a-roo isn't all that crazy. (OK, maybe it it a little crazy, but it's still so much fun!) All you need it s bit of paint and a touch of gold glitter to turn your ordinary gnome into the most sought after guy on St. Patrick's Day.
Kids LOVE this craft!
Personally, I'm not that into gnomes. When I got married, one of my students surprised me by giving me a bobble-headed garden gnome. He wasn't really my style, but I was so touched that I treasured it. Our gnome was the first casualty of parenthood when Max smashed it as a baby. My husband glued it back together and it survived another year with most of his parts. Isn't it strange what odd objects end up holding so much history?
Well, gnome, today is your lucky day: you get your very own head-to-toe makeover!
In honor of St. Patrick's Day I cleaned him up, painted his hat, belt and buttons green, and gave his hair a much needed color job. He put on some green- colored contacts and his transformation was complete! A bit of gold glitter around his spade and shoes gives a clue as to what he's been up to.
BEFORE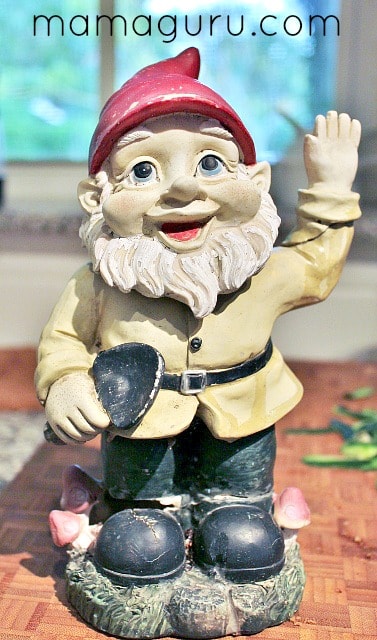 AFTER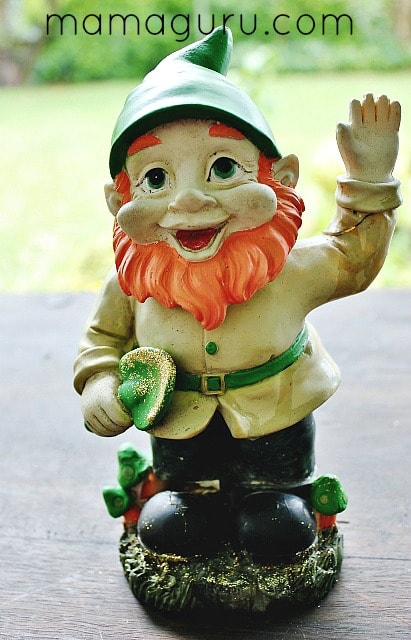 Doesn't he look grand? He will be hidden along with pots of gold in our backyard for St. Patrick's Day.
If you have a garden gnome, go ahead and give him a makeover. If you need to get one, here's a darling gnome with a shovel like mine that would make a fine leprechaun. You could even go wild and make a bunch of them and hide them and pots of gold all around your yard for St. Patty's Day!
May the luck of the Irish be with you!