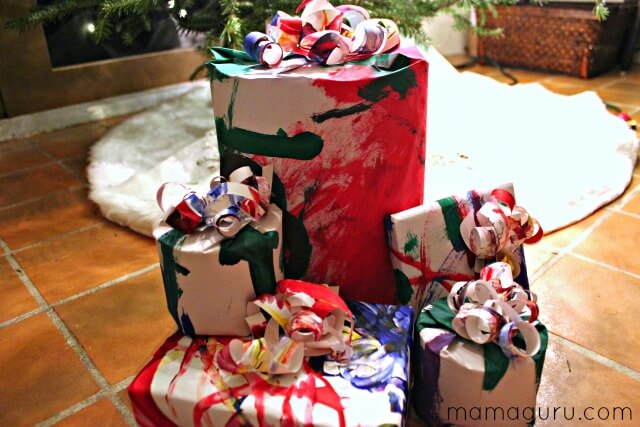 Presents are wonderful, but the wrapping paper they come in is so bad for the environment. Here is an eco-friendly way to wrap presents: use children's artwork! If you have young children, chances are you are drowning in reams of paper that your kids use for their creations. My mom always jokes that it takes each kid at least an entire tree to learn how to write. Some of their artwork is archived for memories, but the sheer volume of coloring, painting, cutting and pasting pages most families produce on a weekly basis is staggering. You can put it to good use, by repurposing it into wrapping paper.
The holidays are approaching, which means a lot of us are about to go to the shops to buy several rolls of wrapping paper. The irony of having too much of one kind of paper (my kids' artwork), and yet still needing to purchase a different kind of paper (wrapping) created a light bulb moment for me. Why not just use what I've got? That's always the best way to approach life. Besides, most wrapping paper can't be recycled. That shiny surface is actually a laminate that isn't biodegradable.
Repurpose Children's Artwork into Eco- Friendly Wrapping Paper
Materials Needed
Heaps of paintings and drawings
Scissors
Hole punch
String
Tape
Instructions
For the most part, simply wrap presents the way you normally would. Big easel paintings are best for larger gifts. Small drawings and scribbles make lovely tiny packages.
For ribbons, cut finger paintings can be cut into long strips and curled with scissors, just like a regular curling ribbon.
For tags,  cut Christmas tree shapes (or stars, or ornaments…) out of paintings. Punch a hole through it an attach it with string. you can write a message on the back.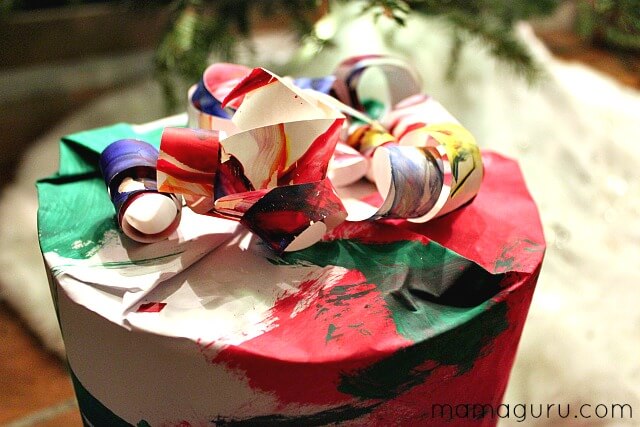 These turned out just fabulous! People oohed and ahhed over the wrapping. My children basked in the praise their artwork received. Something I didn't expect was how beautifully our gifts reflected where our family is at this point in time. There won't always be finger paintings lying around the house creating clutter. Under our tree, our presents looked like us.
It was beautiful. (And did I mention, it's also free?)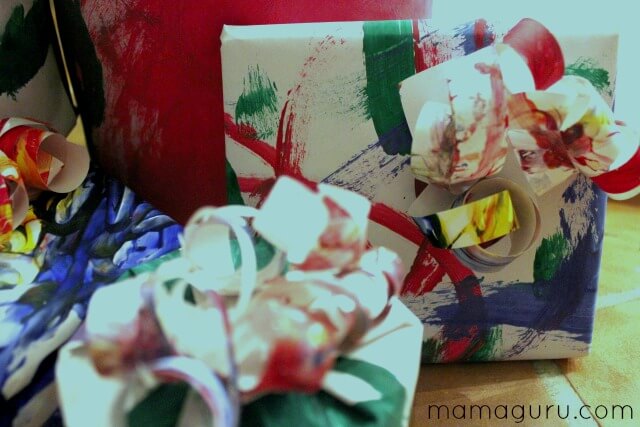 Want More Fun and Inspiring Holiday Tips?
Pick up a copy of my book, Stress Free Holidays: Bring Back Joy & Peace! It's full of holiday tips and hacks to help you organize and streamline the entire holiday season. But it also goes deeper to help you use a bit of mindfulness so that you can feel peaceful and joyful, rather than overwhelmed. I hope you check it out, not just because book sales help me, but because I know that this book has so many actionable steps that would enable you to transform your experience of the holidays into something that is both relaxing and fun!