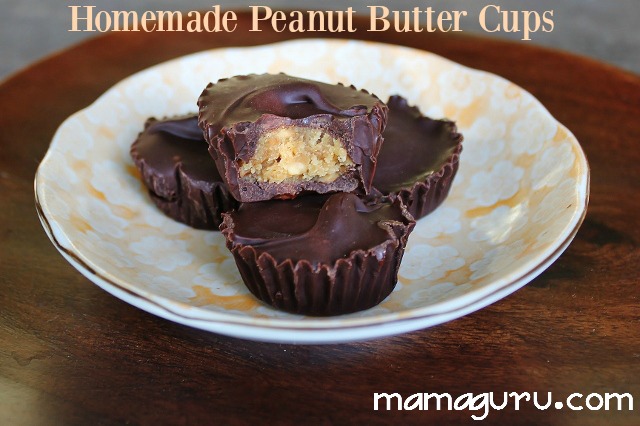 Here's a copycat recipe to knock your socks off: Homemade Peanut Butter Cups! Perfect for Halloween! These classic chocolate peanut butter treats are surprisingly easy to make. They take about 10 minutes to prepare, plus another long 30 minutes waiting for them to be ready. Then, pop them in your mouth and enjoy! It's just so much fun to show your kids how to make them (or show off your mad skills to your friends—whatever floats your boat!). Besides the cool factor of creating a processed food from scratch, this version doesn't contain any chemicals, which means they a lot more healthy.
Most importantly making Homemade Peanut Butter Cups enables you to use Fair Trade chocolate. That's important because the majority of chocolate sold in the US is harvested by child slaves in West Africa. Unless your chocolate is labeled Fair Trade there is a 70% chance that a child slave picked it. That's a scary truth that ruins my appetite.
Good news!
You can make the same delicious treats you love using fair trade chocolate, so everyone wins.
Note: please do not make this recipe without using fair trade chocolate.  I wrote this recipe specifically in protest to the abusive practices of conventional chocolate harvesting. Thanks!
 Homemade Peanut Butter Cups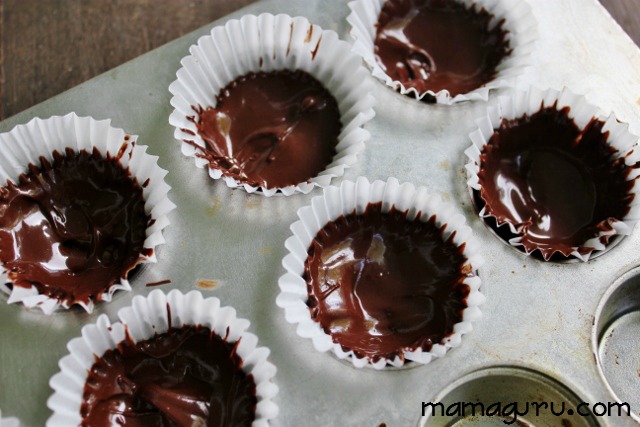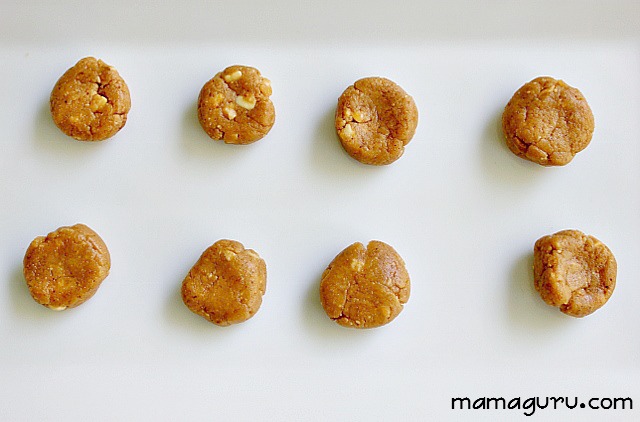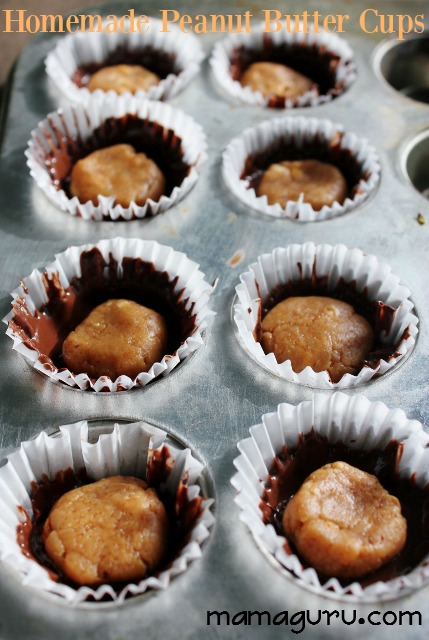 The Bottom Line
These are absolutely delicious and easy to make.  You have the added benefit of using only the best ingredients.  (You can omit the sweetened milk if you want.)  Chocolate and peanut butter fans will love these!  They taste just like the ones we are used to, with a touch of freshness that can't be beat.
Of course, this does cost a bit more.  But chocolate should be more expensive.  The cheap drug store prices we are used to come at a high human price by using slave labor.  Paying for the cocoa beans to be harvested naturally adds to the cost.  You will pay about $2.00 more for fair trade chocolate chips than for conventional chips.  Shop sales to make if more affordable, but we really can't break the backs of children just for a bargain.
Fair trade chocolate is so much sweeter than the orange crap you find in the 99¢ bin.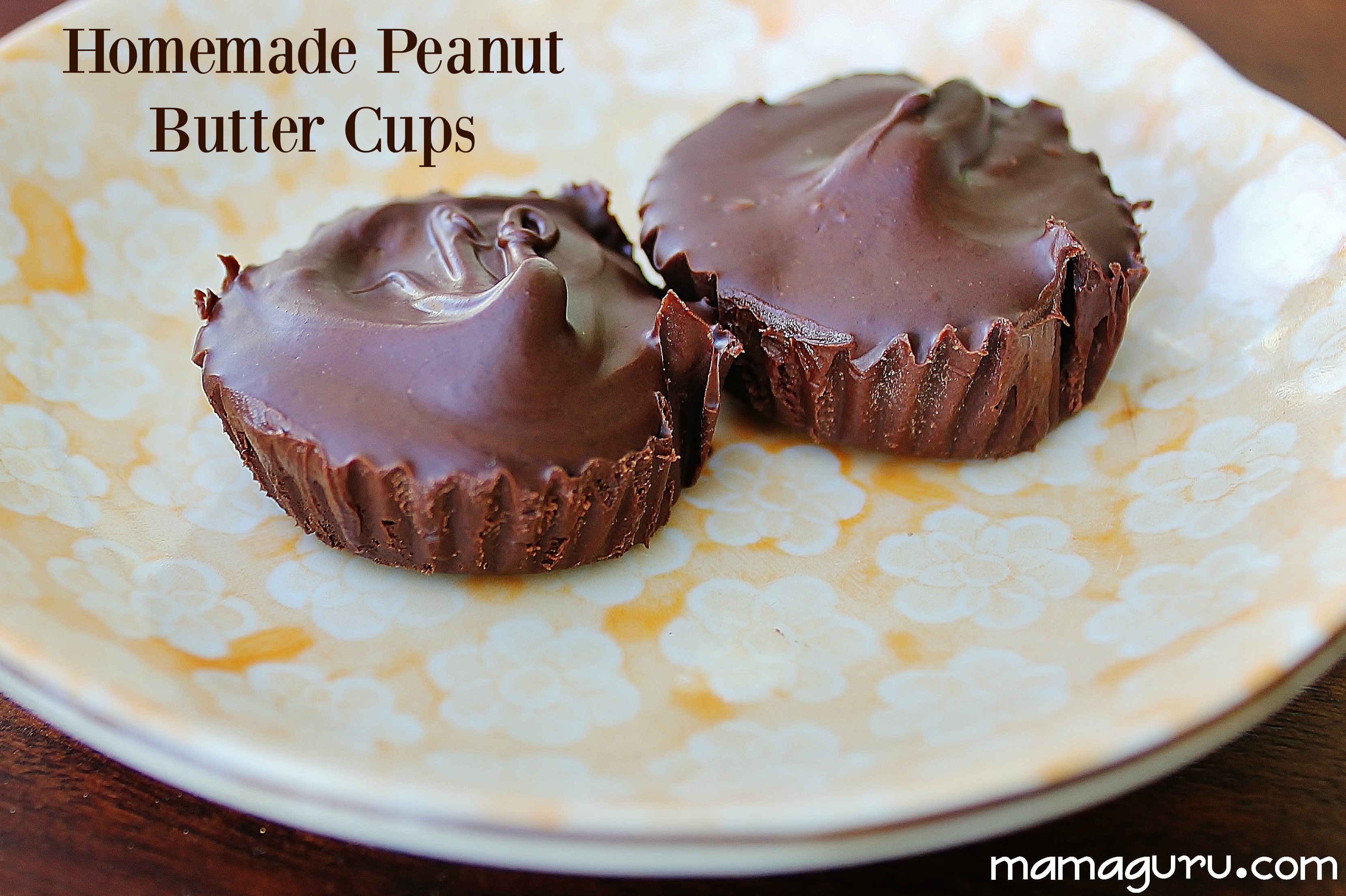 Use Homemade Peanut Butter to make your Peanut Butter Cups even better. It's easy!

Homemade Peanut Butter Cups
Author:
Rebecca Cofiño for Mamaguru
Homemade Peanut Butter Cups are to die for! They're also easy to make! Use Fair Trade chocolate to ensure that your treat does not contribute to child slavery.
Ingredients
2 c fair trade chocolate chips
3 T coconut oil
½ c peanut butter (use homemade or a natural brand)
¼ c sweetened condensed milk
1 T brown sugar
Instructions
Melt chocolate chips over a double broiler or in the microwave If you use the microwave, heat for 30 second intervals, stopping to stir in between. As soon as it's almost melted, add the coconut oil. Stir until smooth and glossy.
Line a mini muffin tin with liners. Spoon in a small amount of the chocolate mixture, about a ½ teaspoon. You can be messy if you want; it won't make a difference. Set aside in the refrigerator.
Mix the peanut butter, sweetened milk and brown sugar together. You can actually add the sweeteners a little at a time to suit your pallet. You can also just leave the peanut butter plain if you like. Shape into small balls and flatten into discs that will fit inside of the cups with space around the sides.
Place discs into cups. Spoon chocolate over and around. Chill for 30 minutes to set. Enjoy!
Notes
You can experiment with what kind of chocolate to use: dark, semisweet, milk chocolate, white chocolate.

You can also control the ratio of chocolate to peanut butter. I like mine with more chocolate, but my husband wants just a touch.

You can make large Peanut Butter Cups with a regular muffin tin.