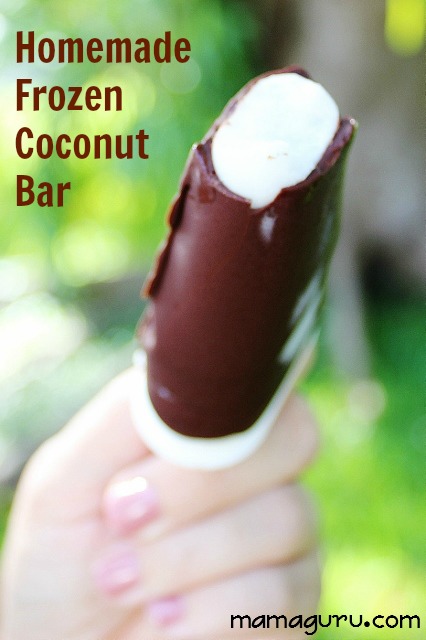 Here is a fabulous copycat recipe for Chocolate Covered Frozen Coconut Bars. It's a great homemade ice cream treat made with coconut milk, coconut oil and shredded coconut. Not to mention, chocolate. It's a vegan recipe to boot! The perfect frozen dessert recipe for summer!
I rarely enter the ice-cream aisle at the grocery store, but when I do, I am sticker-shocked.  In my head, I remember the prices from ten years ago which have now doubled.  Couple that with news reports of manufacturers pumping extra air into ice-cream to increase profit margins and I just can't buy anything.  Luckily, I know how to make my own, which is healthier, less expensive and infinitely more delicious than any manufactured frozen treat.
Today's edition of Making Groceries dulpicates one of my favorite summer treats: Dole's Whole Fruit Coconut Bars with a chocolate shell.  This has been a favorite treat of mine, although over the years it has changed names and sometimes been had a chocolate shell and sometimes not.  I adore coconut and it pairs lovely with just a hint of chocolate, so my recipe has it.  The health benefits of coconut are well-touted these days: reduces inflammation, excellent source of vitamins and minerals, healing properties…the list continues.
Developing recipes takes a lot of work and usually I narrow mine down to the penultimate.    This time around, I am giving you two options: the Healthiest (Vegan) Version and the Creamiest Version.  I love both recipes.  The vegan version was my first success.  It is absolutely delicious, but I felt like the bars were a little harder in texture than I wanted.  This was only apparent in the first bite or two, once slightly warmed, it didn't bother me.  A lot of my readers are vegan, health-conscious and lactose intolerant.  I wanted to share this recipe for them.  The Creamiest Version is utterly fabulous and captures the exact same texture of the processed version, but it does contain heavy cream.  So, dear readers, pick your poison, or rather, pick your pleasure.  I make them both.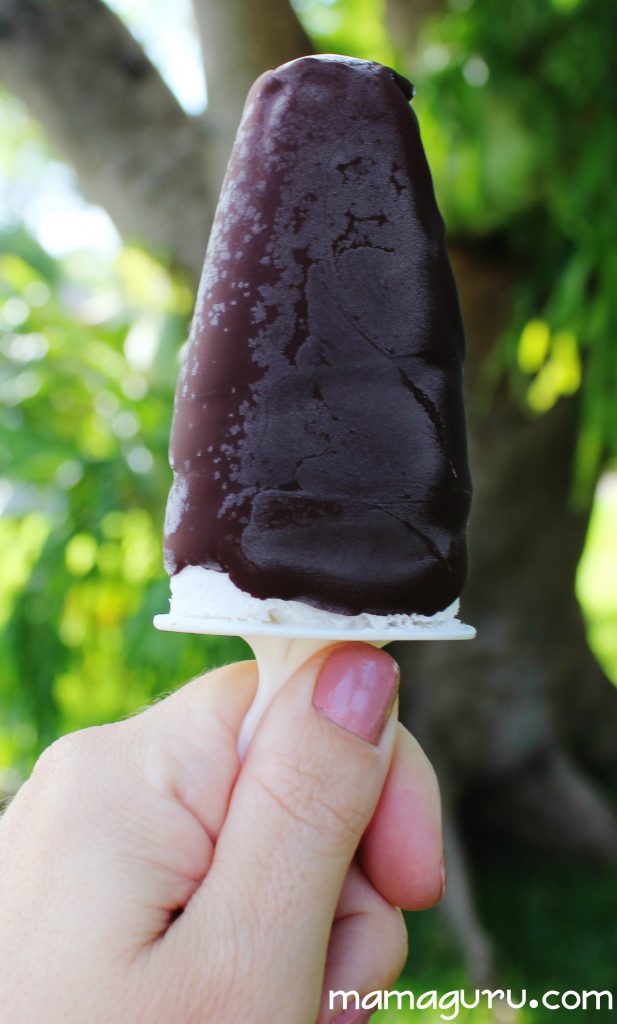 Frozen Coconut Bars:  The Healthiest Version (vegan)
1 can of coconut milk
1/3 c shredded coconut
tiny pinch of sea salt
1/2 t agave nectar
1/4 t lime juice
1 c chocolate chips
2 T coconut oil
1.  Put the first five ingredients in a blender. If you like coconut bits on your bar, pulse for about 30 seconds. If you like it smooth, mix for 1 1/2 minutes and strain through a sieve. I prefer a few small pieces of coconut in mine.
2.  Pour mixture into popsicle molds. Freeze for 2 hours.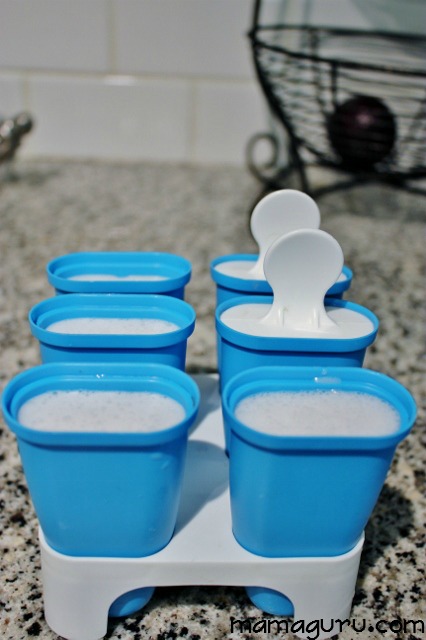 3.  Melt chocolate chips in the microwave for 30 seconds. Stir. Microwave for another 30 seconds. Stir until completely melted. Stir in coconut oil.
4.  Remove bars from their molds. Carefully dip each bar into the chocolate and spoon it over the top. Place them on a parchment-lined tray. Return to the freezer for 15 minutes. Serve and become the most popular mom on the block.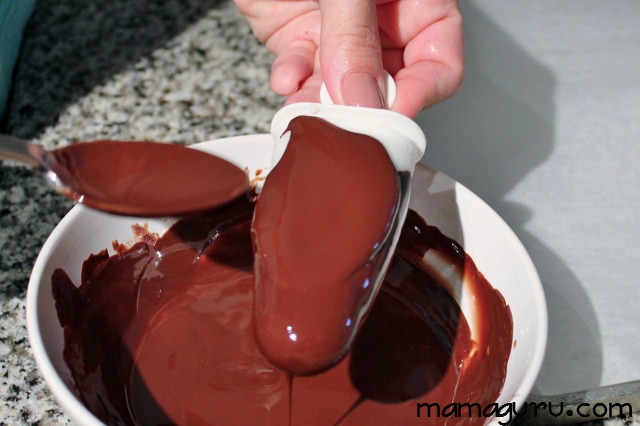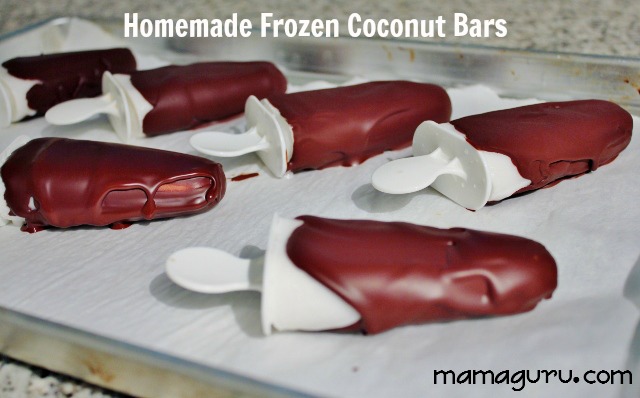 Frozen Coconut Bars: the Creamiest Version
Follow the same instructions as the healthy version, but add:
1 c heavy cream
1/4 t vanilla extract
increase coconut flakes to 1/2 cup
The Bottom Line
These are absolutely delicious!  Completely creamy and decadent!  The Creamiest Version costs $2.96 for 9 bars, but the Healthiest Version costs only $1.89 for 6 bars!  If you don't like chocolate, it would be even less expensive.  The manufactured brand costs $3.59 for 6 bars.
If you have to go out and buy agave nectar, coconut oil and chocolate chips, your grocery bill will be high, even though you barely use any of those ingredients and the cost per bar is low.  That is when having a well-stocked pantry comes in handy.  Every time I go to the grocery store, I try to pick up one luxury item (maple syrup, sun dried tomatoes, agave nectar).  That way my pantry is ready for whatever I want to make.  There is nothing worse than finding a recipe that needs three or four specialty items and racking up $40 at the grocery store on just those.
As far as taste is concerned, these are out of this world!  Both versions are sweet, but not overly sweet.  Coconut has a lot of sweetness, so I didn't need to add a lot of extra sugar.  Yet again, the biggest difference was the freshness.  Nothing can beat homemade for that.
Oh, and the big eyes!  You should have seen the look on my kiddos' faces when they saw mama make these.
I'm a rockstar!