This week's edition of Making Groceries is more about an appliance than a recipe.  Memorial Day weekend is the traditional kick-off of summer which can only mean one thing: ICE CREAM!  The ice cream you can buy at the grocery store varies wildly in both quality and price.  There are some good ice creams out there using all natural ingredients, but they are very pricey and don't compare to the freshness in homemade ice cream.  The affordable brands are full of the typical list of non-recognizable chemicals we've become accustomed to ingesting.  Right now the biggest trend in ice cream manufacturing is to try to pump as much air as possible into the treat to increase the bulk of the product (and the manufacturer's profit margins.)  Who needs that?
For four years I have been making my own ice cream at home.  I know it's been four years, because I just celebrated an anniversary and my ice cream maker was a wedding gift.  I registered for it on a lark, but have come to really enjoy it.  It is as easy as: dump the ingredients into the machine, press the button and it'll be ready in a half an hour.  It's bears no similarity to the old hand-crank contraption my mother used to pull out to make peach ice-cream for her August birthday.  That was enormous, wooden and lined with rock salt and ice-cubes.  A full day's toil would maybe result in ice cream, maybe not.  Ugh!  If that's your image of an ice cream maker, check out today's electric models.  They are easy and inexpensive, less than $50 for an investment in high quality ice cream for years to come.
Vanilla Ice Cream
Here is my adaptation of a recipe for a delicious vanilla ice-cream.  It came with my ice cream maker's instruction book and my modifications are too slight to claim originality.  There is another recipe in the booklet which involves eggs, making a custard and cooling the mixture.  I have never tried it because this easy recipe tastes great.  I sometimes add ripe fruit at the end for a flavor change.
1 c whole milk
3/4 c sugar
2 c heavy cream
1 vanilla bean, split lengthwise, seeds scraped out with the edge of a knife
1.  Use a hand mixer to whisk together the milk and sugar until the granules dissolve (about 2 minutes).
2.  Stir in cream and vanilla.  Place mixture in the refrigerator for about a half an hour, until it is well-chilled.
3.  Turn machine on.  Stir mixture to make sure everything is well-combined.  Pour into machine.  In a half an hour it will be ready.  If you want a firmer texture, allow it to set in the freezer for an hour or so.
I do have amazing original recipes for Mango Sorbet, Pineapple Sorbet and Coconut Gelato.  Please check them out, especially as mangoes are in season right now.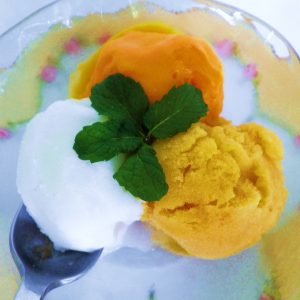 Appliance Information
I can't call this a review since I haven't tested other machines, but I have been very happy with my Cuisinart Automatic Frozen Yogurt-Ice Cream & Sorbet Maker.

The Bottom Line
The cost of making your own ice cream at home varies depending on the flavor you make and what you have on hand.  We have a mango tree, so mango sorbet is practically free for me, but could be cost-prohibitive for someone else.  The cheap, over-processed manufactured brands I suspect will always be less expensive than a quality homemade batch.  Quality is the key in making ice cream.  Fresh ingredients are always best.  Even the top shelf manufactured brands lose freshness and flavor in the shipping process.  Making a small investment in an ice cream maker might be less about saving money, and more about increasing quality.
Another note about making your own is that you can involve you kids in the process.  It's fun to watch it take shape and invites ice cream to be more of an experience than an ordinary dessert.  There is also a finite amount.  To make another batch, you must wait 24 hours to refreeze the bowl for best results.  Portion control comes naturally with your own homemade ice cream.  There is a sense that every bite must be savored and so it is.  Isn't that the way all ice cream should be eaten: enjoyed lick by lick, bite by bite, until it gone and it's time to go play?