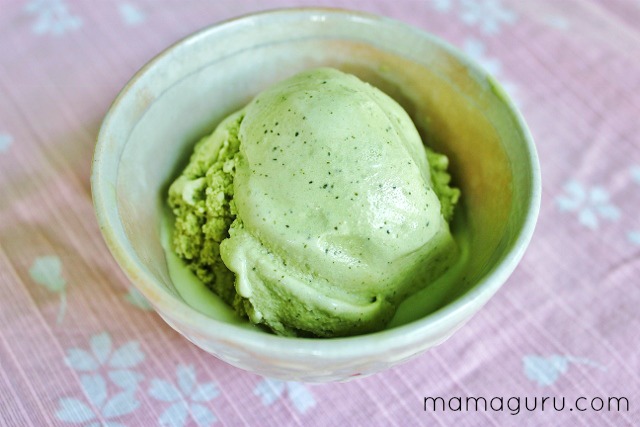 Matcha Ice Cream is a treat any adult will love. Matcha is a green tea powder from Japan which is used in tea ceremonies. It has amazing health benefits due to it's high levels of antioxidants. But that's beside the point. This earthy ice cream is a rich, creamy dessert that's utterly sophisticated and not too sweet.
Matcha Ice Cream is perhaps my favorite ice-cream flavor of all, taking me straight back to a shopping mall in Matsuyama when I lived in Japan. My friends and I lived in tiny fishing villages so the opportunity to be in a bigger city make us bonkers. Whenever we were invited to our prefecture's capital for meetings, we would stumble into a karaoke bar. In Japan karaoke is not performed in front of a group of strangers; you have your own private room. In this room there is a telephone which you can use to order ice cream and cocktails. I cannot tell you how often I had champagne and Matcha Ice Cream for dinner while belting out We Are the World.
Ah, memories!
Matcha ice-cream is found on every corner of Japan, but it can be a challenge to find stateside.  Here it is a specialty flavor, rolled out periodically before vanishing from the freezer shelves. At times I deeply crave the herbal, earthy flavor, so I created a recipe of my own.  This recipe is authentic and delicious. It's not overly sweet, but it's perfectly balanced. I use matcha powder (the green tea used in tea ceremonies in Japan) which can be found in Asian stores, some specialty stores, or online. It is a splurge, but well worth it if you love the flavor. An alternative to matcha powder is to grind green tea into a powder and strain it through a fine sieve.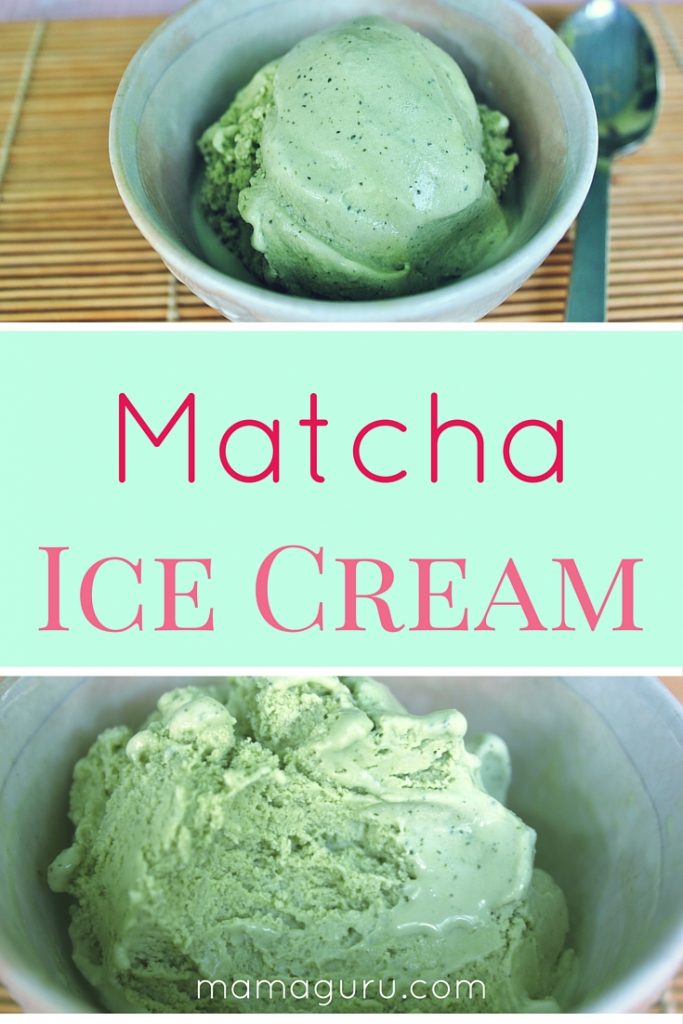 Green Tea Ice-Cream
Author:
Rebecca Cofiño for Mamaguru
A luscious recipe for Green Tea Ice Cream using match powder.
Ingredients
1½ c heavy cream
1½ c milk
2 T matcha powder
3 T water that has boiled, but then sat for five minutes
5 egg yolks
⅓ c sugar
Instructions
Heat the cream and the milk in a medium saucepan over a medium high flame, stirring often so a skin doesn't form. Bring to a boil, then reduce to a simmer.
In the mean time, heat the water and let it sit. After 5 minutes, add the matcha powder and whisk until dissolved. Set aside.
Use a mixer to combine the egg yolks and sugar. Mix on a medium-high speed until mixture is thick and pale yellow. This takes about 3 minutes.
Take 1 cup of the hot cream and SLOWLY add it to the egg yolk mixture. This tempers the yolks, so they won't scramble. Now add the yolk mixture to the pan. Add the green tea mixture as well. Stir and heat until just under a boil. Remove mixture from heat.
If you want perfection, strain the mixture through a sieve (optional). Place plastic wrap directly on top of the ice-cream base and chill in your refrigerator. Once cold, follow your ice-cream maker's directions. Enjoy!