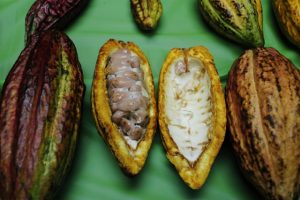 Name-brand chocolate is the gold star candy to give to trick-or-treaters and it's tempting to buy it this time of year.
But you can't.
Chocolate that is not certified fair-trade is literally harvested by child slaves in The Ivory Coast and Ghana.
Think that sounds like an exaggeration?
It's not.  If you don't want to take my word for it, take Hershey's.  A few months ago they finally agreed to source their chocolate 100% fair trade to address the problem that 70% of the world's chocolate is the result of child slave labor.  Hershey's has agreed to make that switch in 2020.
Excellent progress!  I mean, what's eight years in the life of a child?
I met a representative from Hershey's a few months ago at a community day gardening event and he incensed me by repeatedly referring to this child slavery as a child labor issue.  The children who are harvesting the cocoa beans for our chocolate are kidnapped, forced to labor 12-14 hours a day fo free, they are beaten daily and locked in a small room with 50 other people, no window, and a jar to pee in every night.  That's out and out slavery.
When I hear the phrase child labor, I don't like it, but it doesn't ring the same as child slavery.  Child labor isn't good, but it is a reality in some countries.  For some families, it is the way they survive.  Cocoa beans are not harvested by child laborers who choose to work and get paid.  They are harvested by unpaid, kidnapped victims who are locked up whenever  they aren't working.  The only accurate way to describe these children is slaves.
The sad thing is, this isn't new news.  These atrocities were discovered over ten years ago.  They were reported and major chocolate companies agreed to end the practice within ten years.  A decade flew by and nothing changed. 
Recently, consumer pressure has amped up the cause.  As usual, European chocolate companies are ahead of us.  Cadbury, for instance is fair trade in the EU, but because Hershey's supplies them in the US, they aren't fair trade here. 
The recent announcement by Hershey's is a step in the right direction, but they haven't revealed how they plan to enact these changes.  They were given a decade to change in the past, but they did absolutely nothing in hopes that we would forget.
We almost did. 
There is no way to be sure if Hershey's is giving the world a trick or a treat with their recent announcement.  But they are certainly still using child slaves to harvest cocoa beans right now, and they have plans to continue for the next nine years.  Their small capitulation was due to boycotts and consumer campaigns protesting their unconscionable actions.  Keep the fire to their feet until the change is actually made.  For now, stick to fair trade chocolate or stay away from chocolate altogether.
How can we give treats to our children knowing that they came as a direct result of the slavery others?
It's Halloween.
The question will come knocking at your door. What will you give:
A trick or a treat?
Print