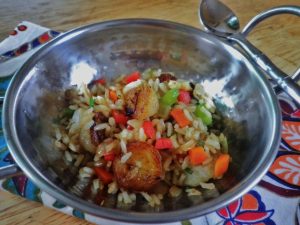 Here's a wonderful entree for baby (starting at 11-12 months) which the whole family can enjoy.  In fact, this recipe was created before I even had children.  It's full of veggies, but also on the sweet side, which tends to make it popular with kiddos.  Many fried rice recipes are too greasy and, frankly, leave me gassy.  I use a technique I learned in Japan to keep this one healthier and even more delicious.   
2 bananas, sliced about 1/2 inch thick
2 T butter
cinnamon
3 eggs
1/2 t sugar
1/2 t soy sauce
1/2 yellow onion
1/2 red pepper
1 carrot
1 stalk of celery
2-3 cloves of garlic
3 T fresh ginger
3 cups cooked and cooled brown rice
1 T soy sauce
nutmeg
1/4 c chopped cilantro
1.  Prep all ingredients before cooking.  Prep work will take longer than actually cooking time.  Cut all veggies into a small dice.  The smaller the baby, the smaller the dice.  Make sure the pieces are the same size, so they will cook evenly and look pretty. 
2.  This recipe comes together in three parts.  First the bananas.  Melt the butter in a large skillet over a medium-high flame.  Add bananas and dust with cinnamon.  Fry about 2 minutes on one side, until banana is brown and the pan releases it with a slight nudge of a spatula.  Flip and cook about 1 minute on the other side.  Remove from pan and set aside on a plate.  Clear off any extra bits of banana from the pan.
3.  The second part is the eggs.  This is a technique I was taught in Japan.  It's unusual, but delicious.  Gently whisk the eggs together with a 1/2 t each sugar and soy sauce.  Heat your skillet to medium high.  Add about 2 T either grape seed or olive oil.  Once hot, add egg mixture and swirl in pan so you make a very thin omelette.  Quickly remove from pan.  Cut egg into this strips about 1/2 inch wide in one direction, then cut in half the other way.  Set aside.
3.  Now everything comes together.  You should have a decent amount of oil left in the pan from the eggs, but you probably want to add another tablespoon.  Heat up pan once again.  Add onions and pepper and a small pinch of sea salt.  Stir fry for about 2 minutes.  Add carrots, celery, ginger, garlic and another pinch of sea salt.  Stir fry for about 2 minutes.  Add rice, soy sauce and a few good grates of fresh nutmeg.  Stir fry for about 10 minutes allowing the rice to stick to the bottom of pan for a few minutes at a time to develop a crust.
4.  Add bananas, egg strips* and cilantro.  If you are serving to adults only, go ahead and eat.  If baby will be eating this place a lid on either the whole dish or baby's portion to allow the veggies to steam and soften.  You can either keep it on low heat or turn the pan off to allow the residual heat to do its magic.  It should be done in about 10 minutes, but you have to check it.  Enjoy.  It's so fun to eat as a whole family.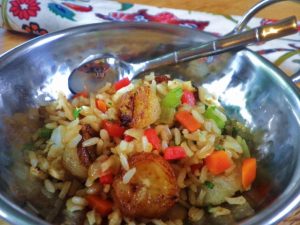 *Note: Egg whites can be allergenic, so if you haven't introduced baby to them, you can set aside his or her portion without eggs at this point.  By 11 months my children were fine eating eggs, but you know what's best for your baby.  Tofu is a good substitute for extra protein.