Sweetheart Salad is a healthy Valentine's Day treat you and your kids will love. The fresh fruit is so delicious and sweet, but also good to eat. Valentine's Day can be so overrun with candy that it's nice to add something nutritious and festive into the mix.
Sweetheart Salad is a play of the classic Valentine's Day candy, Conversation Hearts.  I've never thought that the candy itself was that great, but I love the small pastel hearts and sweet messages. I often play off of them for my own creations. I love making cookies that look like them, but this year I came up with a simple fruit salad. Of course, there aren't any messages, but the small colored hearts play off the idea. I will be serving this along side a heart-shaped sandwich for my little boys for Valentine's Day lunch. The small heart cookie cutter came inside a set of many hearts.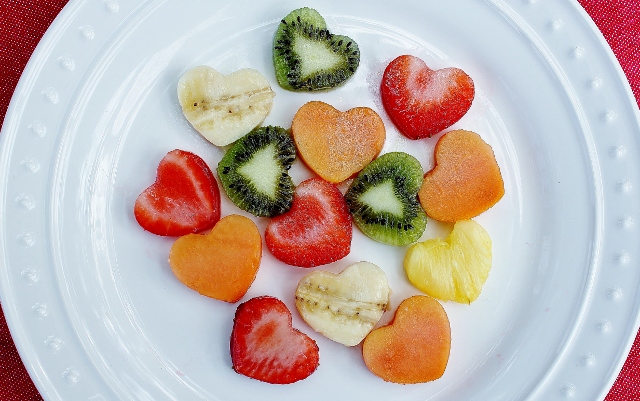 Sweetheart Salad : A Healthy Valentine's Day Treat
Use any fruit you like for this sweet and healthy Valentine's Day fruit salad. The fruit listed is simply what I used. Choose a variety of colors so you can imitate Conversation Hearts.
Ingredients
kiwi fruit
bananas
pineapple
papaya
cantaloupe
strawberries.
Instructions
Slice fruit about ¼ inch thick and cut with the smallest cookie cutter you can find.
If using bananas, serve right away or preserve color with a few drops of lemon juice. Enjoy!
Where to Find the Small Heart Cookie Cutter
Note: The link I am providing is an affiliate link which means that at no cost to you I earn a small commission if you decide to buy this. 
The key to Sweetheart Salad is using a small and sharp heart cookie cutter. It needs to be bite-sized.  Most of us have larger hearts for cookies, but some fruit is small and also hard to cut through. The smallest heart in this heart-shaped cookie cutter set works beautifully.