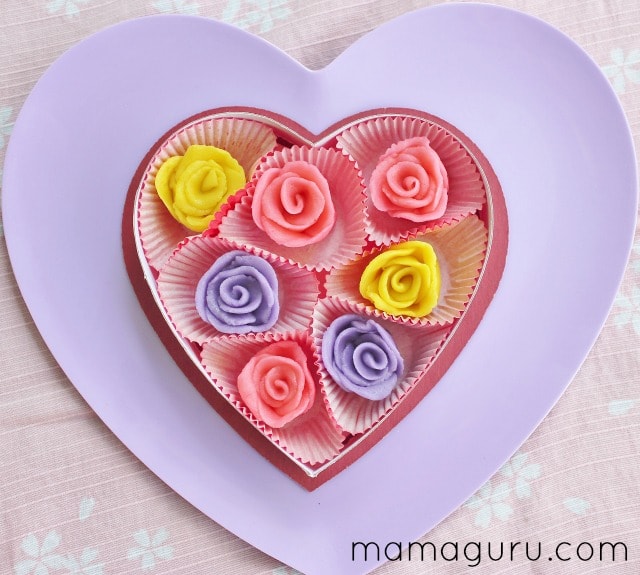 Can't decide whether to get your sweetie roses or candy for St. Valentine's Day? Choose both with our simple and stunning marzipan roses. It's a 3 minute, 3 ingredient recipe (plus food coloring) that tastes absolutely delicious. Sculpting the roses is a skill-less task, but they look like you put a lot of effort into making them. If you can work with play dough, you can make these roses.
I love food sculpture, but I hate it when the pretty food doesn't taste good.  What's the point of that?  This is the marzipan recipe I use when making cakes, because nobody enjoys the flavor of fondant or gum paste.  Marzipan is a sweet almond candy, which means it is not only delicious, but it also has the health benefits of almonds.  My kids love this and I feel so much better giving them homemade marzipan candies as opposed to the factory-made chemical creations that line the drugstore aisles.

Marzipan Recipe
A classic marzipan recipe you can shape into roses, fruits or any other shape!
Ingredients
8 oz. can of almond paste (found in the baking aisle)
2 c powdered sugar
¼ c corn syrup
Instructions
Scoop the almond paste out of the can and into a food processor. Add the powdered sugar. Pulse several times to incorporate it evenly. It will look powdery.
Add the corn syrup and pulse several times again in order to incorporate it fully.
When it is well mixed, you can pick up a handful and easily press it into a shape.
Notes
If you don't have a food processor, you can use a hand mixer or clean hands to mix this together. I actually think hands are the easiest method.
See the Marzipan Come Together
Add the powdered sugar and almond paste in a food processor.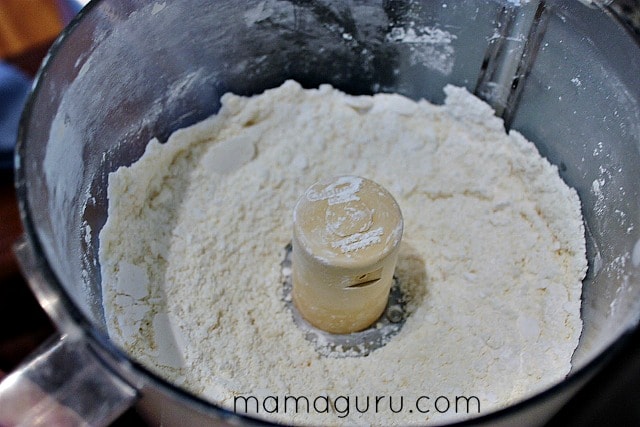 After a few pulses, the marzipan comes together and can be colored and shaped into anything you desire!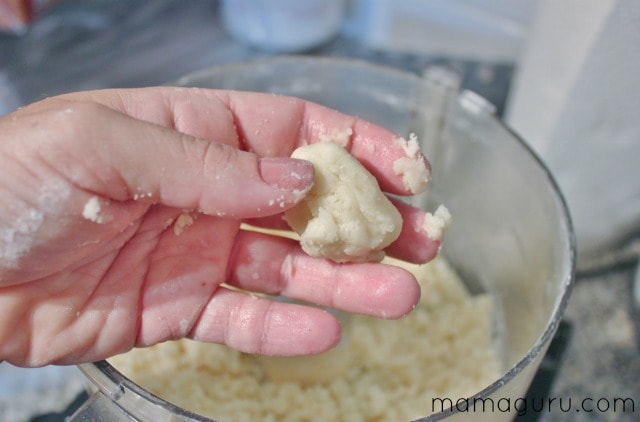 How to Make Marzipan Roses
Divide the marzipan into however many colors you want to make; I divided mine into thirds.  Take a small amount of food coloring gel and place it along with the marzipan into the food processor.  Pulse to distribute.  This will not give you an even texture, but starting in the processor makes the job a lot easier.  Once the color is distributed evenly, take out the marzipan and knead it with your hands to work the color all the way through.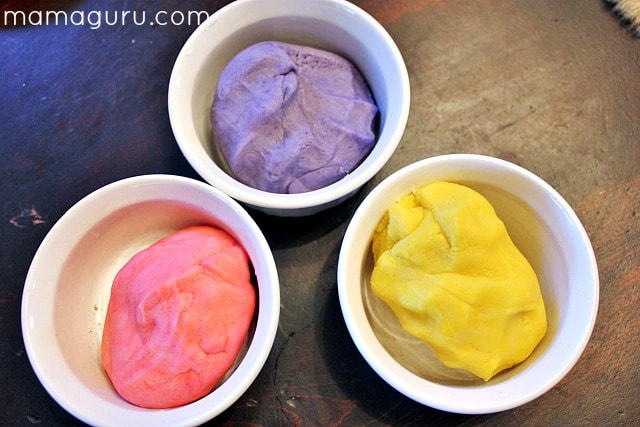 To make your life easier when coloring in the food processor, choose to work from light to dark colors.  I first colored the yellow, then pink, and finally purple.  That way I didn't need to wash in between colors.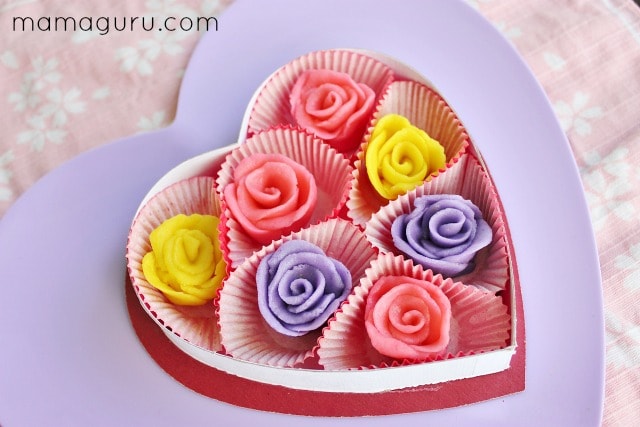 1.  Take a small amount of marzipan. Roll it into a ball and flatten it with your palms and then your fingers, making a nice delicate edge. Dip your fingers in water and run wet fingers along the edge if you need help keeping it smooth or to free it from sticking. Make about 5-6 petals per rose.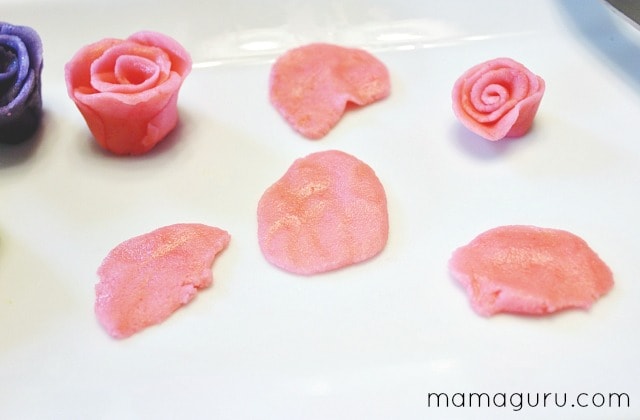 2.  Take one petal and roll it between your fingers to create the center bud.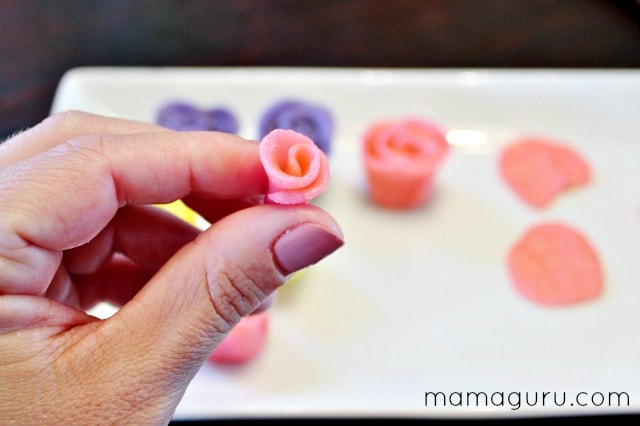 3.  Add petals around the bud, overlapping at times. Remember nature isn't perfect and these don't need to be either. Don't worry about the chunky back. Focus on making a nice flower first.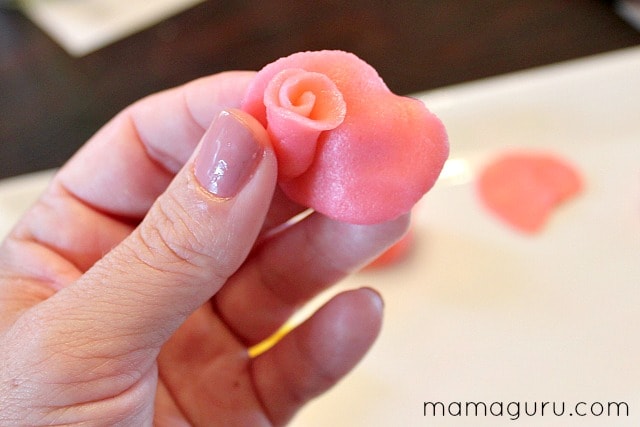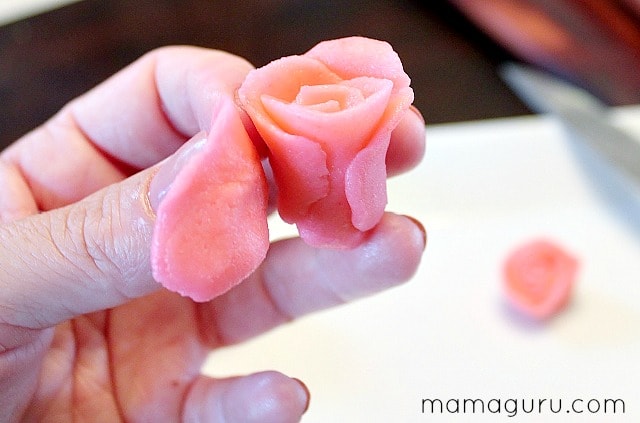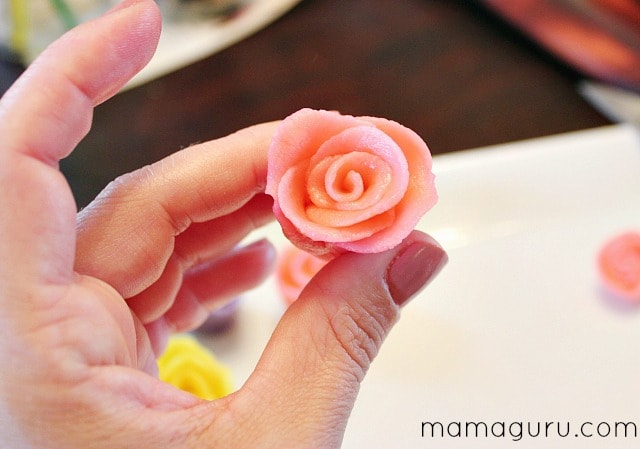 4.  Once you are happy with the front, gently slice off the excess on the back.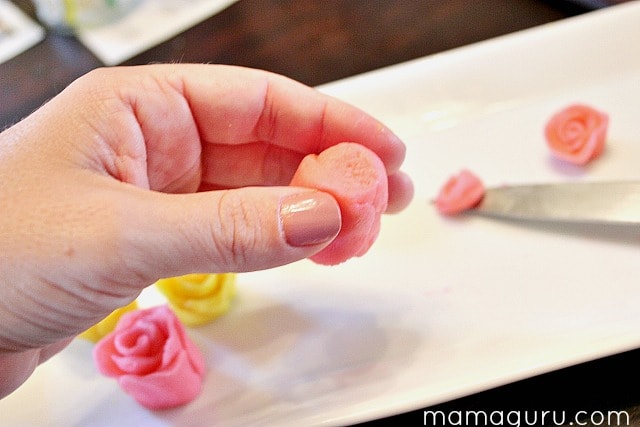 Roll it enough to smooth it out, but keep the back flat so it can sit up straight in the box.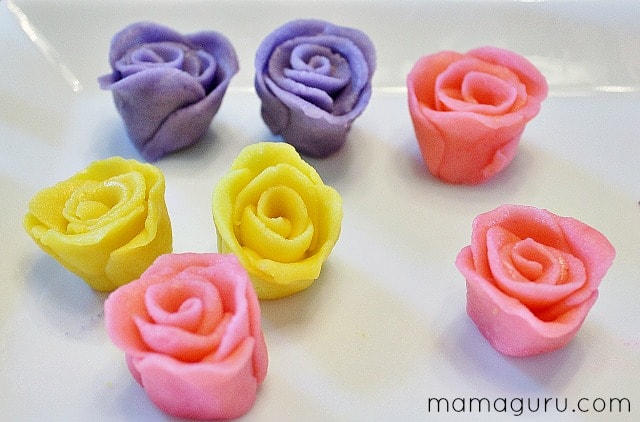 These roses will keep for days, although in my home they lasted for only minutes because we find them irresistible. You can cover in plastic wrap or let the air make a slight crust. You don't need to worry at all; it is very low maintenance.
Enjoy!
xoxo