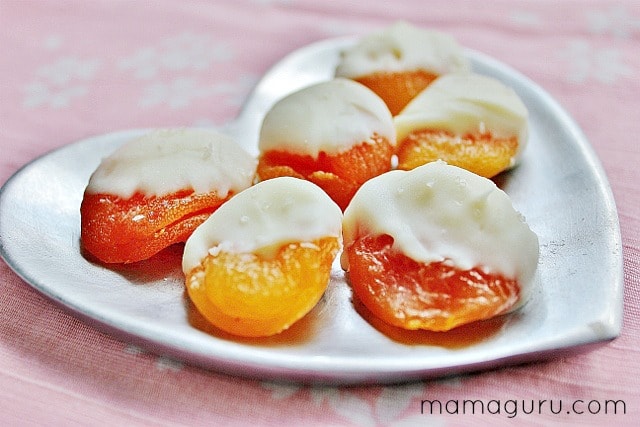 White Chocolate Dipped Apricots are a wonderful candy you can make in less than 10 minutes. It's the perfect dish for someone who either doesn't have the time or culinary skills to pull off homemade candy, but want s to make a special Valentine's Day treat. If you can dip chips into salsa, you can dip dried apricots into white chocolate. Sprinkled with a bit of fleur de sel, they are perfectly balanced between sweet and salty.  Impress your valentine with this effortless, decadent creation.
It's best not to sample them if you intend to give them as a gift as they are addictive. Put them in an airtight container and they will be good for a week. Enjoy!

Sweets for Sweeties: White Chocolate Dipped Apricots
A quick and easy candy you can make in less than 10 minutes!
Ingredients
white chocolate chips
dried apricots
fleur de sel (any sea salt will do, but this is really the best)
Instructions
Place the white chocolate chips in a bowl and microwave them for 30 seconds. Stir well and repeat. At between 1-2 minutes you will have a perfectly smooth dipping sauce. For 1 cup of chips it usually take 1½ minutes.
Working fairly quickly, dip a dried apricot into the chocolate and swirl, covering half with chocolate. Place it on a piece of parchment paper. If you're doing a lot and the chocolate starts to harden, microwave for 30 seconds and stir again.
While still wet, sprinkle a light dusting of fleur de sel over candy. The sweet-salty contrast is amazing. Place the candies in your refrigerator for 5 minutes to set.
Notes
There aren't exact measurements, because this is really just a method. You can make as many as you want.