There is something so incredibly charming about a homemade touch for Valentines Day which makes this DIY Valentine's Day Wreath the perfect project. This Valentine's Day yarn wreath with felt roses and button hearts is sweet and homey. Best of all, it's really easy to make with no sewing involved. If you've got a pair of scissors and a glue gun, you're all set. This handmade wreath is perfect for your front door or even inside your hose above the mantle. It would also be a stunning homemade Valentine's Day gift.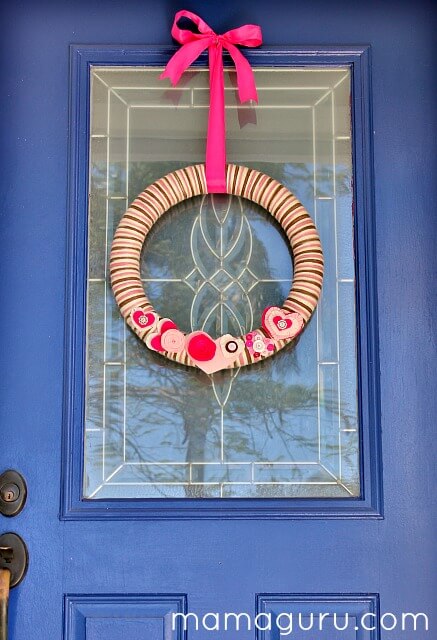 The older my children get, the more fascinated they become with the big blow-up decorations they see around town.  Some people have them for every holiday. (Seriously, even a New Year's baby!) I won't purchase any for our home for environmental reasons and as a matter of personal taste, but I did decide to step up our outdoor holiday decorations. The perfect compromise is a holiday wreath.
What I love most about Valentine's Day is not the sappy grand gestures consumer America encourages. Everything I love about Valentine's Day hearkens back to my childhood memories as a little girl sitting with doilies, heart stickers, constructional paper, and pink crayons making cards for all my friends and family. This lovely little wreath echoes those handmade memories.
Materials Needed for a DIY Yarn and Felt Wreath
Styrofoam wreath form
yarn (I chose a multi colored one, but you could choose solid. I just love the soft pink and chocolate.)
a few pieces of felt (Again, choose yur colors. I prefer pink over red.)
buttons
ribbon
a glue gun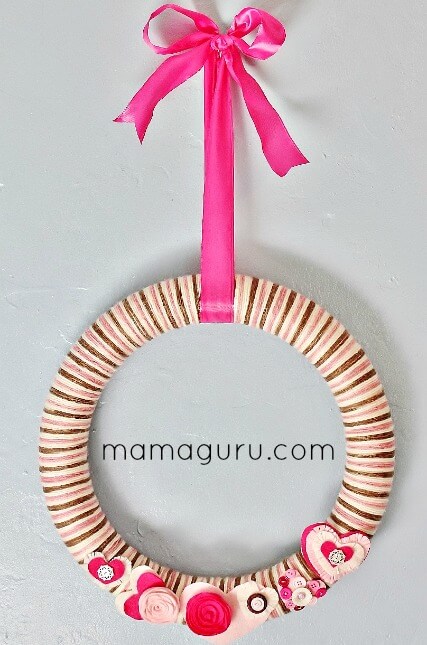 How to Make a Homemade Valentine's Day Wreath
1.  Tie a knot around the wreath form, then get to work wrapping your yarn around and around. I chose a multi-colored yarn. There is white in it, which is good because at times my form peeked through. The outside perimeter is larger than the inside perimeter of the wreath. You either have to wrap around twice to fill in the holes, or have a base color that isn't glaringly different. If you choose red, spray paint your form before wrapping.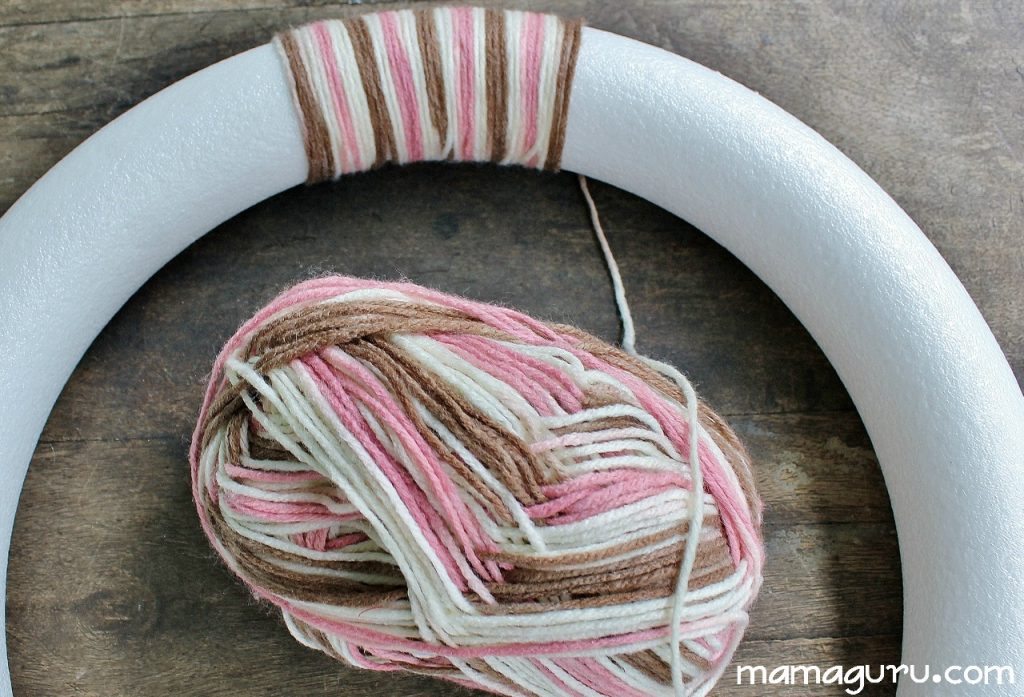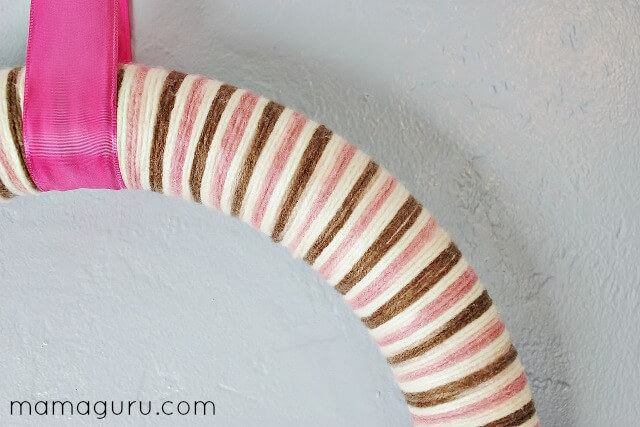 2.  Make embellishments.  This is the fun part.  Cut heart shapes from felt and make a few felt roses.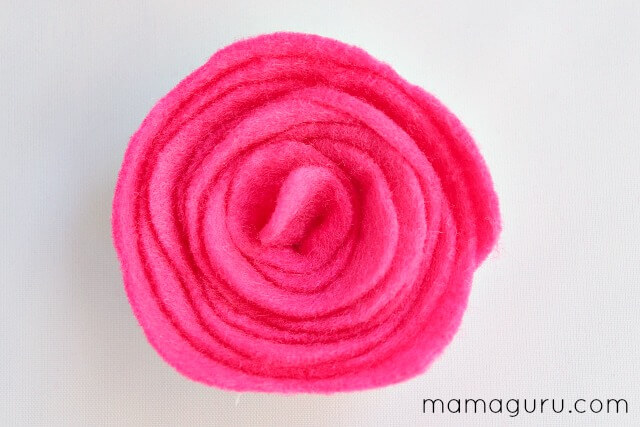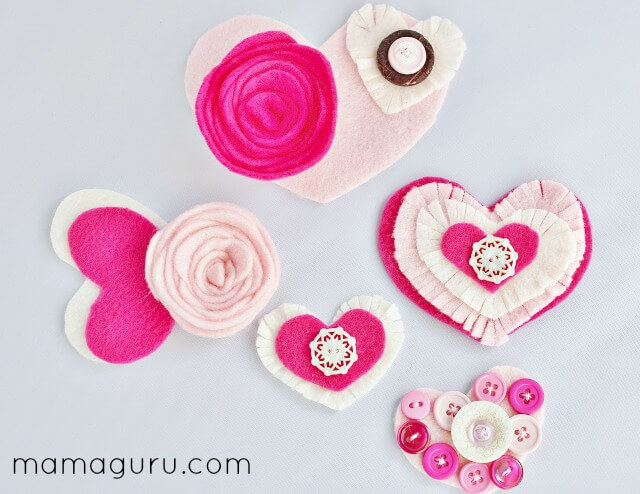 I hand-stitched these buttons on because I like that homey look, but you can skip this step and just hot glue them in place if you prefer.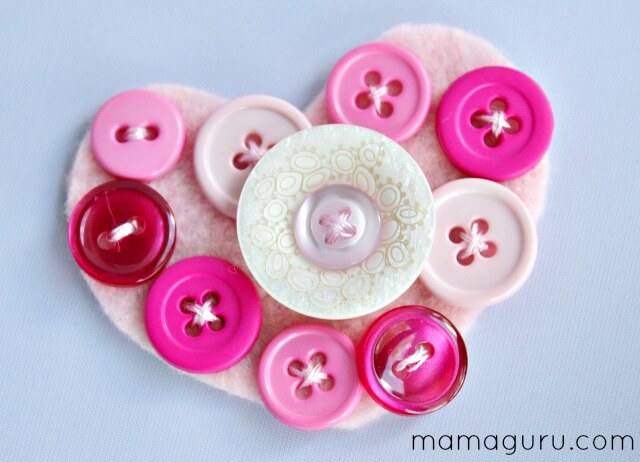 You can make small cuts around the hearts for a nice border. Manipulate the felt with your hands to make it come alive. Don't make these too perfect, or you will destroy the charm. This is the part that reminds me of old-fashioned valentines.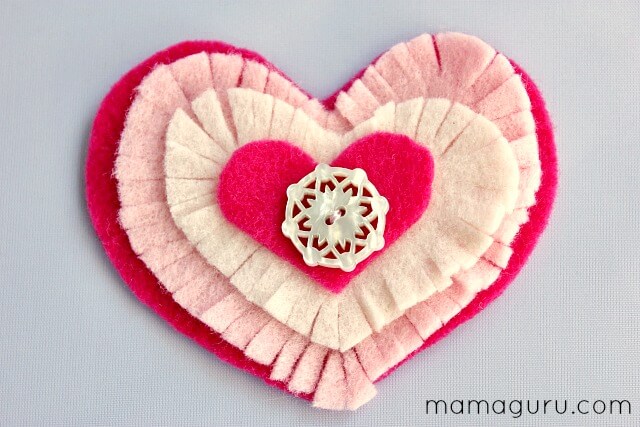 3.  Position your embellishments on your wreath and play with them until you find the perfect design to cover about 1/4 of your wreath. Use a hot glue gun to adhere your embellishments. Tie a pretty ribbon on top and enjoy the love.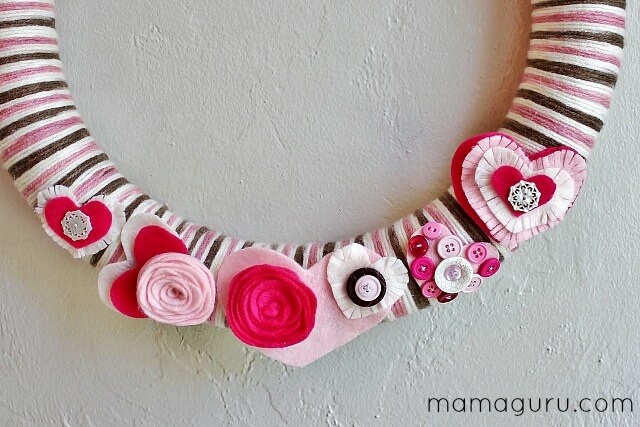 Tips for to Make Your DIY Valentine's Day Wreath
1.  I originally tried this with a straw wreath form, but the yarn looked way too bumpy, so don't try that.
2.  Save money. Both Michaels and Joann's accept smartphone coupons. While you are in line, you can usually find one for 40% off the most expensive item.
3. Make it a family project. Kids can take turns wrapping or even cutting out hearts. Older kids can sew the buttons on the hearts.
4.  You can also decorate your wreath with a mass of buttons. I was originally going to add buttons with the heart and rose embellishments, but with my yarn's coloring, I thought it might be too busy. If your design permits it, go for it.