Ever tried the Avocado Eggrolls at the Cheesecake Factory?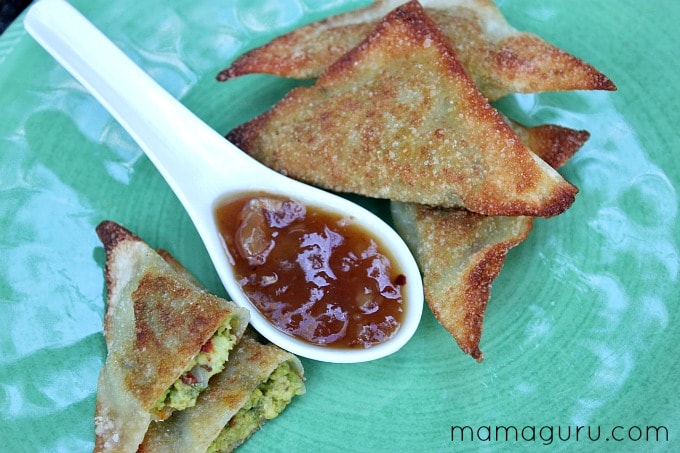 I know, I know chain restaurants are the dirge of the culinary world, but sometimes a menu item is just so delicious, it beckons. Luckily with a little skill and experimentation, you can figure out how to make your favorite recipe at home.
That was the case with Avocado Wontons. My husband loves these, but it's hardly worth a trip to The Cheesecake Factory just for this one little appetizer. Instead of making eggrolls, I make wontons because it's super easy. The flavors are the same as the eggrolls, but I can use less oil cooking these as wontons. They also make great party food in this smaller portion. These are decadent little treats, creamy, fried and bursting with flavor.  Definitely a good Happy Hour munchie. What's more, they are remarkably easy to make.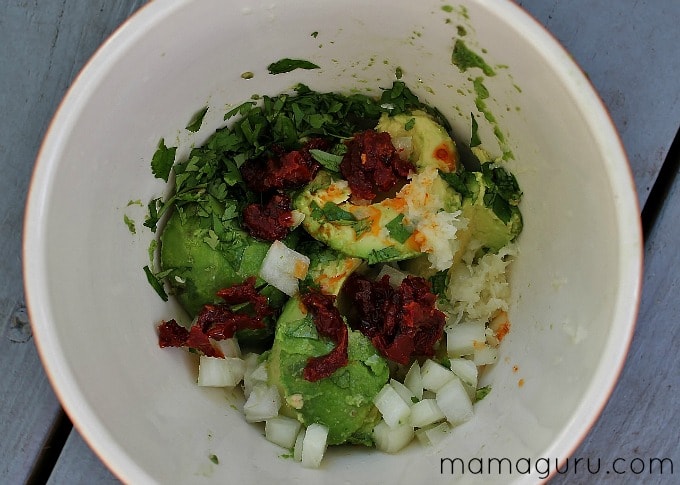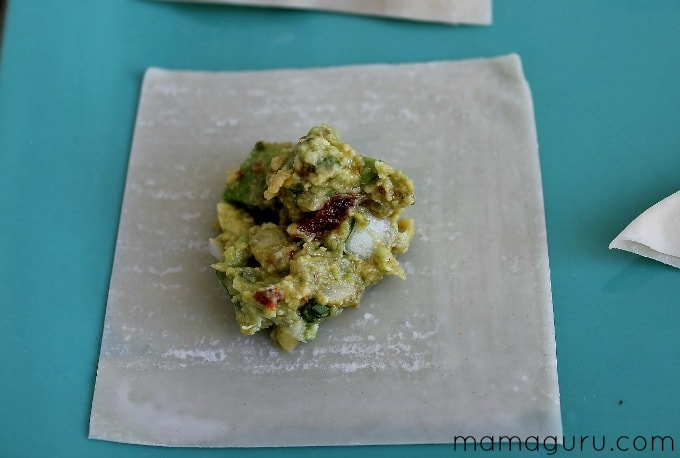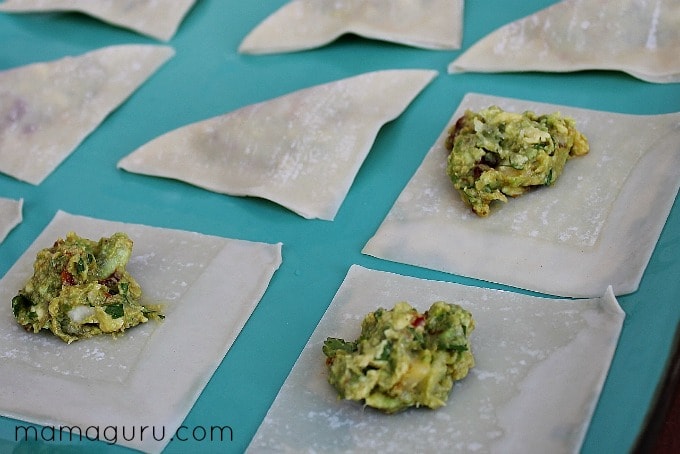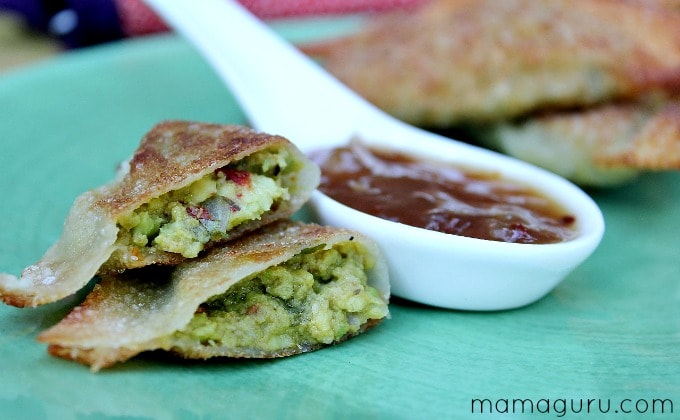 Avocado Wontons
Author:
Rebecca Cofiño for Mamaguru
A copycat recipe of the Cheesecake Factory's famous appetizer.
Ingredients
Avocado Wontons
wonton wrappers (found in the produce section, next to the tofu)
1 hass avocado
2 Tbs minced shallots
2 Tbs minced sun-dried tomatoes
1 Tbs chopped cilantro
1 big clove of garlic, grated with a microplane or minced
squirt of fresh lime
sea salt and black pepper
Easy Dipping Sauce
½ cup apricot preserves (no sugar)
2-3 Tbs soy sauce
¼ tst red pepper flakes
½ tsp minced ginger
Instructions
Avocado Wontons
Mix all the ingredients except the wrappers into a bowl. Stir to combine well. Taste and adjust seasonings to your liking. Add a little hot sauce if you like.
It is best to work in small batches. Lay out about 9 wonton wrappers on a plate or your counter. Drop a heaping teaspoon of the avocado mixture just shy of the center.
Dip either a pastry brush or your fingers in water and wet 2 sides of the square. Use your hands to fold the wrapper over to make a triangle. Press to make a firm seal. To prevent sticking you can place the prepared wontons on a baking sheet dusted with cornstarch.
Once your mixture is gone, you are ready to fry. Coat the bottom of a large skillet with olive oil. Heat over a medium high flame. Once oil is hot, gently place the wontons into the pan. Don't overcrowd. Allow them to cook for a minute or two on one side. Once they are golden, flip them over and do the same on the other side. The second side always takes less time, so keep an eye on them. It is best to serve these hot and fresh. You can store the cooked ones on a cooling rack placed on a baking sheet it a 200° oven while you complete the batches.
Serve with your favorite dipping sauce. Be mindful that these are quite hot, but oh, so yummy.
Easy Dipping Sauce
Mix everything in small saucepan over a low flame.  You can omit the red pepper flakes and ginger if serving to picky children who don't like heat.
Enjoy!