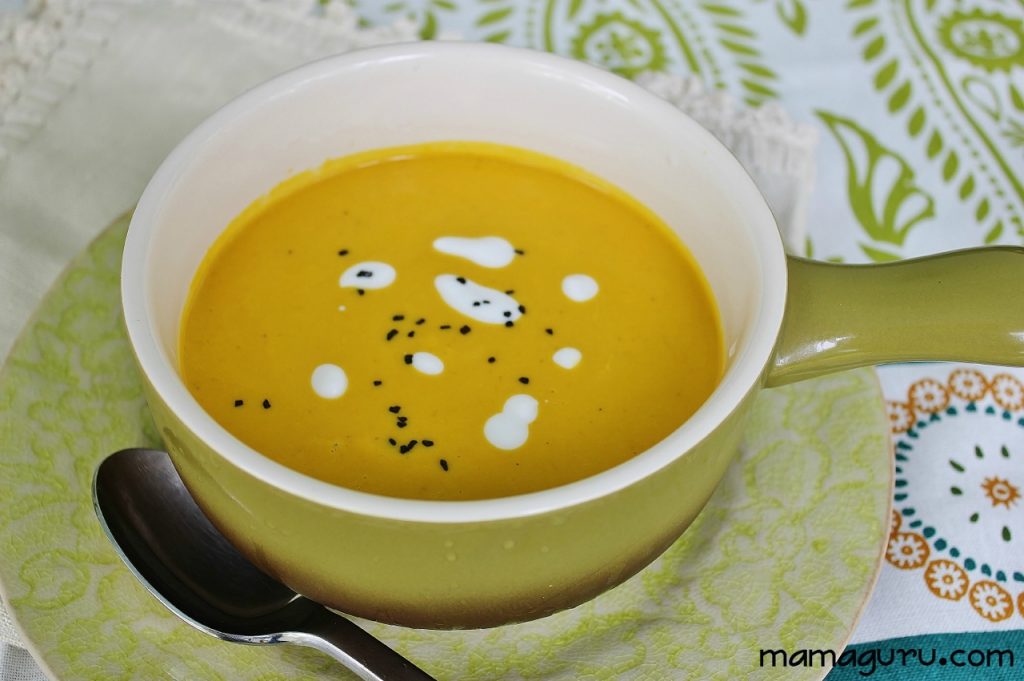 Here's a lovely fall soup sure to tickle your foodie taste buds: Curried Pumpkin and Coconut Bisque.  Pumpkin, like all winter squashes, carries a warmth deep into your body.  Much like adding an extra blanket, the curry spices create yet another layer of warmth in your mouth.  The touch of coconut milk brings an elegant richness and sweetly balances the heat in the soup.
This recipe is extremely easy to make and uses pantry basics.  You could easily pull it off in a half an hour or less.
This bisque is vegan, but you wouldn't know it.  It will strike you as rich and luscious, but it is also extremely healthy.  It's an excellent source of vitamins, particularly beta carotene, healthy fats, fiber, and minerals.  Both the turmeric in the curry powder and the coconut milk have powerful anti-inflammatory properties.  This soup will warm your soul while it soothes your body.  Enjoy!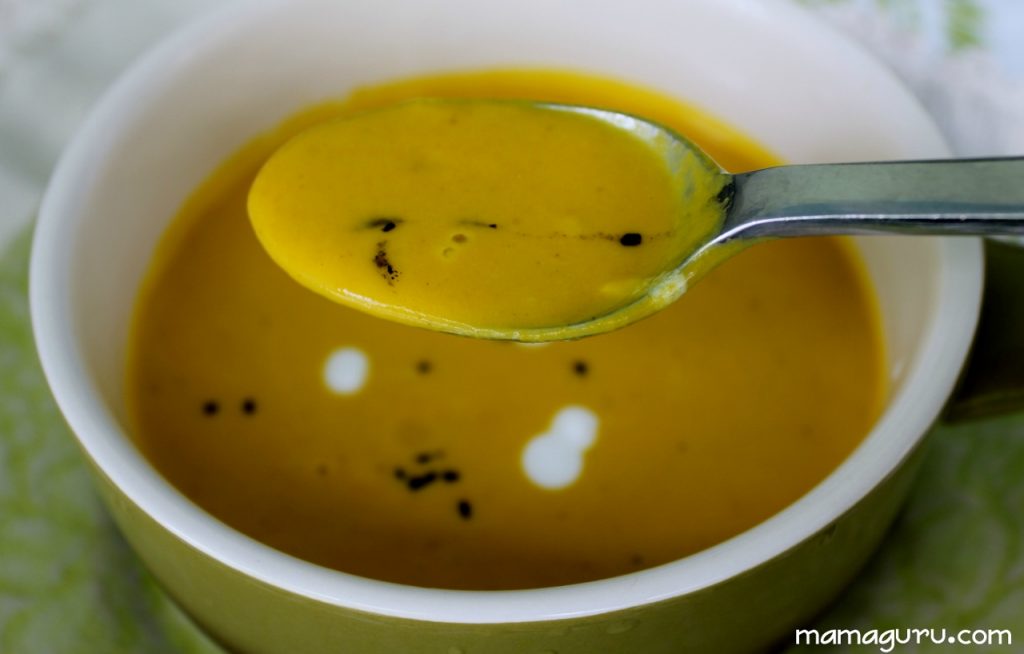 y.
Curried Pumpkin and Coconut Bisque (Vegan)
Author:
Rebecca Cofiño for Mamaguru
Ingredients
1 medium onion, diced
1 carrot, peeled and diced
1 rib of celery, diced
1 large clove of garlic, minced
1-2 Tbs minced ginger (no need to peel it)
1½ Tbs curry powder*
½ tsp coriander
pinch of chili powder (optional)
pinch of white pepper
2 cups pumpkin puree**
¾ cups coconut milk
2½ cups vegetable stock
coconut oil or olive oil
Instructions
Heat about a tablespoon of coconut or olive oil in a soup pot over a medium flame. Add the onion and a pinch of sea salt and sauté for about 5 minutes, until soft. Do not brown. Add the carrot and another pinch of salt. Sauté for 2 minutes. Add the celery and do the same.
Once veggies are soft, add the garlic and ginger and sauté for another minute until it is quite fragrant. Add the curry powder and spices. Sauté for a minute allowing the spices to bloom. Add the pumpkin puree, coconut milk, and stock. Simmer for about 10 minutes, then puree. Add a splash of good quality olive oil just before serving.
To serve, ladle soup into bowls. You can garnish with drips of coconut milk and black Hawaiian sea salt like I did in the picture. You can also add roasted pumpkin seeds, diced granny smith apple, or crispy sage leaves for a fancier touch. Enjoy!
I garnish mine with 
black Hawaiian sea salt
.  You can also add
roasted pumpkin seeds
, diced granny smith apple, or
crispy sage leaves
for a fancier touch.
*About Curry
Curry is a blend of spices, so there is quite a bit of variance in flavors.  It is best to buy one you love in a spice shop or make your own.
**About Pumpkin Puree
You can use a variety of squashes in this dish.
The easiest route is to use either a canned pumpkin puree or frozen butternut squash puree that has been thawed.
If you are more ambitious, chop up a good pie pumpkin (or any winter squash) into one-inch pieces.  Add  2-3 cups of the chopped pumpkin with the stock, but not the coconut milk.  Bring to a boil, reduce heat, and simmer for about 30 minutes, until soft.  Then add the coconut milk and puree.