Eat your alphabet, I always say.
Whether children are just learning to recognize letters, or can read simple sentences, they all love alphabet soup.  It is the one meal when parents can actually encourage children to play with their food.  Recognizing letters, searching for letters in their name, or spelling words is great for language development.
This alphabet soup is as yummy as it is fun.  It's a lovely vegetable soup in a tomato broth.  Of course you could pair it with any crusty bread, but aren't alphabet pretzels more fun?  I shaped the first letter of each of our family members' names and made traditional pretzel shapes for the rest of the dough.
It was a huge hit, and a perfect dinner for fall.  Fall isn't just the time of year when the cool returns, it is also the most academic season when learning is front and center in family life.
Alphabet Soup
1 small onion, small dice
1 rib of celery, chopped
2 carrots, peeled and sliced into rounds
1 clove of garlic, minced
1 T dried basil
1/2 t dried oregano
1 bay leaf
1 large can of organic tomato sauce
3 c vegetable stock
1 c alphabet pasta
1 T fresh lemon juice
1.  Heat a few tablespoon of olive oil in a soup pot over a medium flame.  Once oil is hot, add the onions and a pinch of salt and some black pepper.  Sauté for 3-5 minutes, until soft and translucent, but not brown.  Add the celery, carrots, and another pinch of sea salt.  Sauté for another 3 minutes, until soft.  Add the garlic and spices, sauté for 1 more minute, until it is quite fragrant.
2.  Add the tomato sauce and stock.  Bring to a boil, then reduce to a simmer.  Fill another pot with water to cook the alphabet pasta according to the package instructions.  Be sure to salt your water just before adding the pasta.  Don't skip this step.  If you cook the pasta inside the soup, it will soak up all the liquid and become gummy.   Then you will have pasta, not soup.  it is not very tasty.  Here's what it will look like: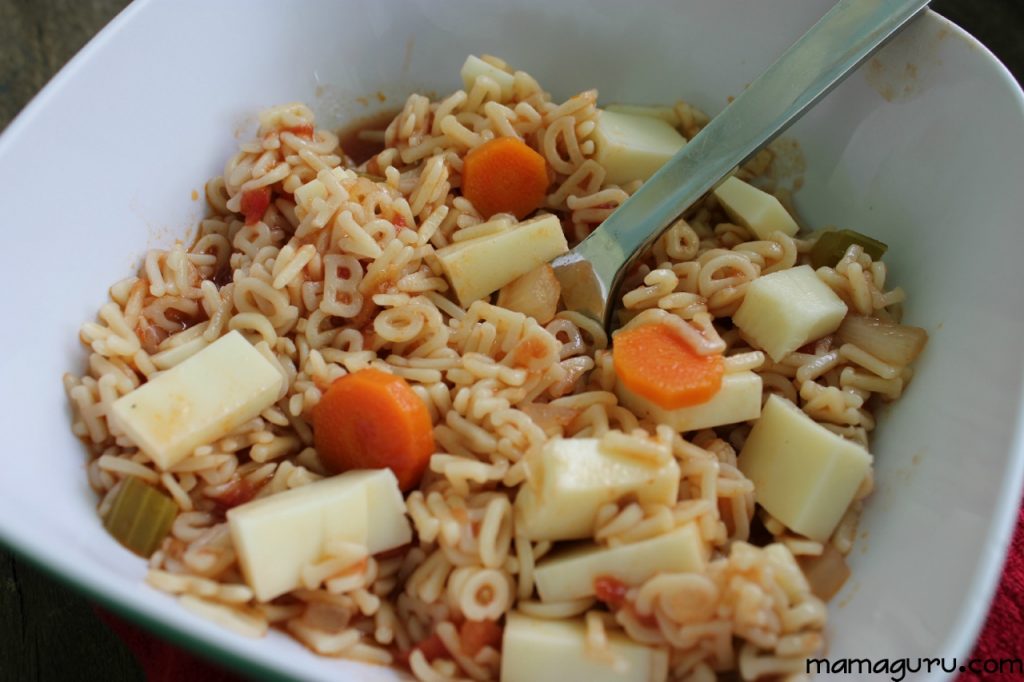 3.  Drain pasta.  Remove bay leaf from soup.  Add the cooked pasta and a squirt of lemon juice to the soup.  Taste and adjust seasonings.  Serve and enjoy.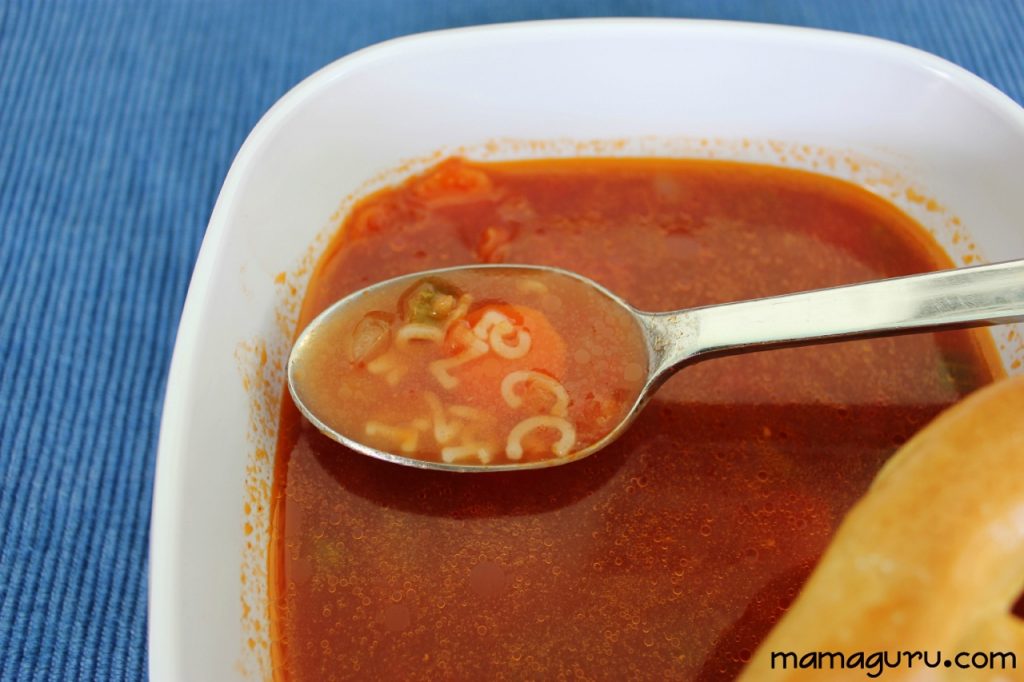 Alphabet Pretzels
This recipe is adapted from Better Homes and Gardens' New Cook Book. 
4-4 1/2 c flour
1 package rapid rise yeast
1 1/2 c milk
2 T sugar
2 T coconut oil
1 t sea salt
2 T salt
3 quarts boiling water
1 egg white beaten with 1 t water
coarse sea salt
melted butter
1.  In a mixing bowl combine 1 1/2 c flour and the yeast.  Heat the milk, sugar, coconut oil, and the teaspoon of sea salt in a small saucepan until warm (120-130º).  Add to flour mixture and beat with an electric mixer for 3 minutes, scraping down the sides often.  Slowly add in as much of the remaining flour as you can.
2.  On a lightly flour surface knead the dough for about 6 minutes, until smooth and elastic.  (You know it's ready when it feels so good you don't want to stop kneading.)  Shape the dough into a ball and put it in an oiled bowl.  Cover with a wet dish cloth, and let it rise in a warm location for about 45 minutes.
3.  Punch down the dough, and let it rest on a floured counter for 10 minutes.  Roll it into a 12 x 10 inch rectangle.  (Preheat oven to 475º.)  Cut twenty 12-inch strips.  Gently pull each to about 16 inches.  Shape pretzels into letters, being sure to pinch down any connecting points.  You can also make traditional pretzel shapes using these directions.
4.  Place pretzels on a baking sheet lined with parchment.  Bake at 475º for 4 minutes.  Lower temperature to 350º.
5.  Bring a large pot of water to a boil, and add the 2 t salt.    Boil a few pretzels at a time for 2 minutes, turning once.  Place them on a cooling rack to drain briefly.
6.  Spray parchment with cooking oil, and place the pretzels about 1/2 an inch apart.  Brush with egg mixture and sprinkle with coarse sea salt.  Bake for 20-25 minutes, until lightly golden.  Brush with melted butter if you like and serve with alphabet soup.