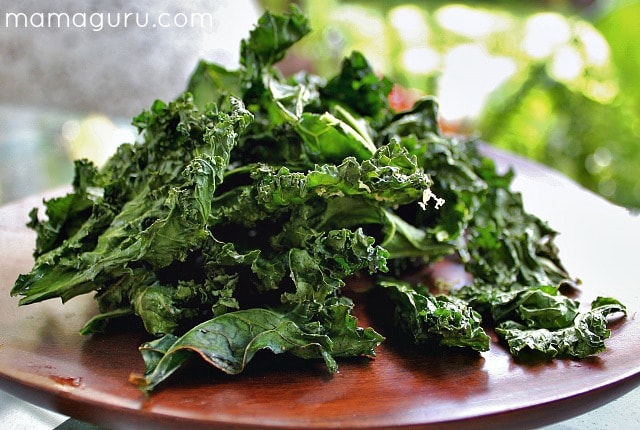 About a year ago, I fell in love.
I fell hard.
For kale, of all things!  This was not a vegetable I ate growing up.  My mom served the basics: carrots, peas, beans, corn, spinach and an occasional squash.  As an adult I discovered my own veggies: leeks, fennel, shiitake mushrooms, arugula, sweet potatoes, Swiss chard and last year, kale.
There is something marvelously bitter and astringent about kale cooked to crispness.  Nothing I've ever eaten has tickled my pallet that way.  Turning it into chips is my newest obsession, an idea I got from Sheryl Crow when she off-handly mentioned them in an interview.  I got the basics for this recipe from a few sources, but then I kicked up the flavor by making a peppery garlic oil to cook them with and a fresh shot of lemon zest at the end.  They are, in a word, amazing!

Garlicky Kale Chips
Ingredients
2 cloves of garlic, sliced
¼ t red pepper flakes
2 T olive oil
bunch of kale
sea salt and black pepper
1 T lemon zest
Instructions
Preheat oven to 350°. Prepare the garlic oil by heating the oil, garlic and pepper flakes in a small sauce pan over a medium flame. Once garlic just starts to brown, remove the pan from heat and strain out the garlic and pepper flakes.
Prepare the kale by washing and drying it (use a salad spinner). Remove the leaves from the tough stems and break them into chip-sized pieces. Place them of a baking sheet. Drizzle flavored oil over them and sprinkle generously with sea salt and pepper.
Bake for 18-20 minutes. Chips are done when they are firm and slightly blackened in places.  Shave lemon zest over them and eat to your heart's content. Enjoy!