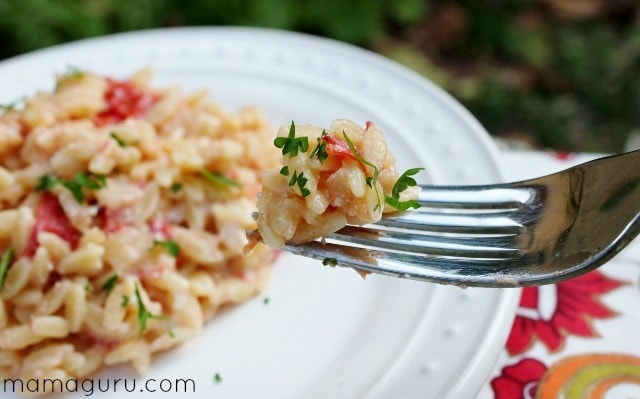 Roasted Tomato Orzo Risotto is a fabulous recipe for the summer featuring the crowning glory of this growing season: the tomato. It's fresh and creamy, but a lot less fussy to make than a traditional risotto. Orzo is actually not even a rice; it's a tiny rice-shaped pasta, but it's a fun shortcut and delicious in its own right.
Pair Roasted Tomato Orzo Risotto with a chilled Sauvignon Blanc and a simple green salad for the perfect summer supper. I developed this recipe a few months ago during the height of Florida's tomatoes.  You can serve it warm or at room temperature. It tastes best when enjoyed al fresco. Enjoy!

Roasted Tomato Orzo Risotto
Ingredients
2 pints grape tomatoes
2 large cloves of garlic
olive oil
sea salt and black pepper
2 T fresh basil
2 T fresh parsley
1 lb orzo
2 T butter
¼ c freshly grated Parmesan cheese
½ c ricotta cheese
Instructions
Smash cloves of garlic with the flat edge of your knife. Place garlic and tomatoes into a shallow pan. Generously drizzle with olive oil. Generously season with sea salt and black pepper.  Slow roast in a 275° oven for 2-3 hours, until tomato skins burst. ♥ Note: this step can be done in advance and tomatoes stored in the fridge for up to a week. You can also do this at a higher temp (350) for a shorter time (30 min.), but I prefer the sweetness of a slow roast.
Once tomatoes are ready, cook orzo according to the package directions. Be sure to season your boiling water with a lot of salt. (It should taste like the ocean). Before draining reserve 1 cup of the pasta water.
Chop up the roasted garlic cloves. (If you chopped them earlier, they would have burned.)  Immediately after the orzo is drained, add tomatoes, garlic and the olive oil they were cooked in to the orzo. Add butter, herbs, and cheese. Stir. Taste and adjust seasoning. To make the dish creamy add the reserved pasta water a splash at a time until you like the consistency. If you plan on eating this later, keep a little pasta water to add at the last minute to freshen it up.
Enjoy! This is lovely when served with an arugula salad, a few katamala olives and a glass of chilled Beaujolais. Best if eaten outside with someone you love.