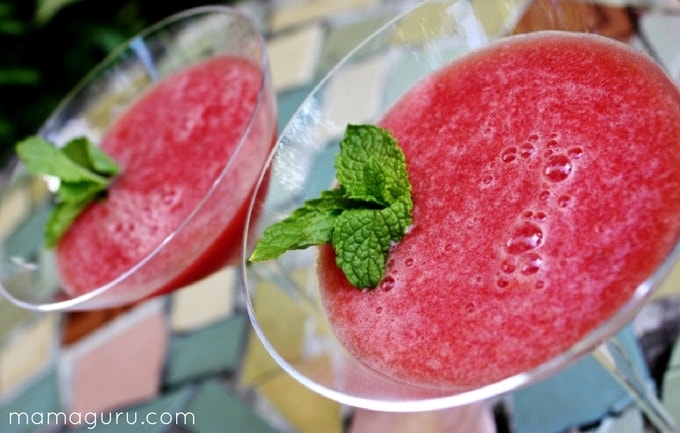 Mama needs a cocktail.
In the dog days of summer it is nice to have something to cool and refreshing in the afternoon.  Nothing is more refreshing than watermelon, unless you turn it into a watermelon chiller.  These are so easy and yummy.  Omit the alcohol for kiddos, but they are still just as good.  In fact, they are so addictively good that I switched over to the kid version on a hot day just so I could keep drinking.  Mama needs a cocktail, not four!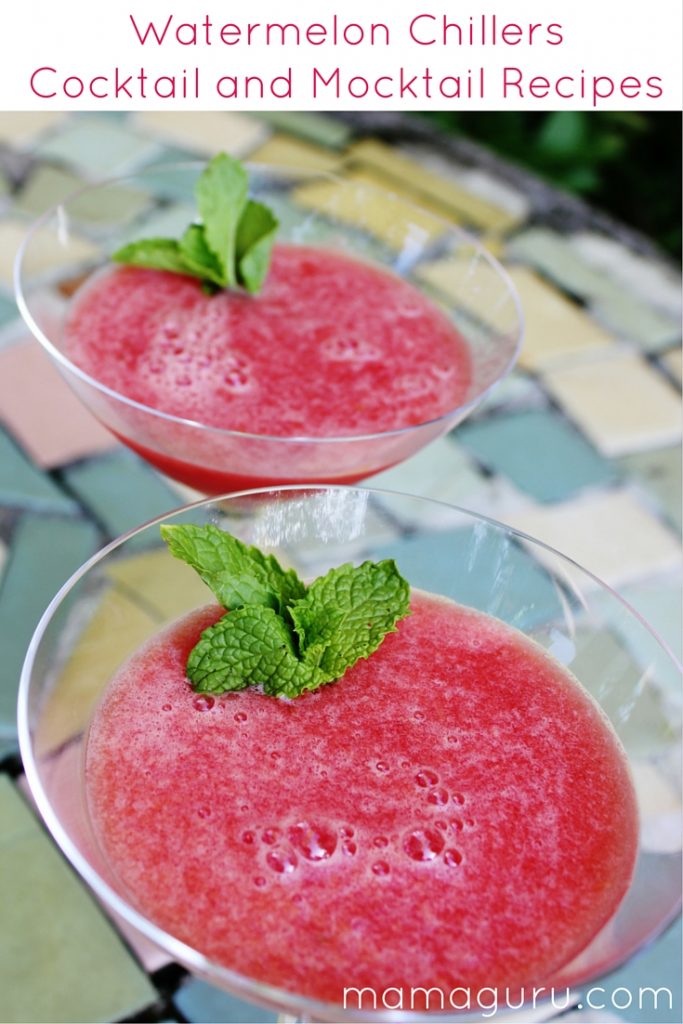 Watermelon Chiller (cocktails or kid-friendly)
Perfect summer cocktail recipe!
Ingredients
3 cups of watermelon chunks, either seedless or seeded
1 c sugar
2 c water
3 springs of mint, plus more for garnishes
juice of ½ lime
3 jiggers of vodka
Instructions
Put watermelon chunks in the freezer for 1-3 hours.
Make a simple syrup by combining the sugar and water in a small saucepan over a medium flame. Gently swish the pan. Add mint springs. Cook for 3 minutes, gently swishing the pan to mix things up. Once sugar is dissolved, turn off the flame and remove the mint. Chill syrup. This is too much syrup and you could make less if you like. My prediction is that you will cut up more watermelon to make more chillers, so you will be happy to have some extra syrup.
Put watermelon, lime juice, vodka and ⅓ c simple syrup in a blender. Whiz until smooth. Taste and adjust if needed. Pour into chilled glasses and garnish with mint springs. Enjoy with good-looking people on a hot day!
Notes
Mocktail Version

Seriously good, just leave out the vodka