I love pizza!  It's the ridiculous kind of love a middle-school boy has for pizza.  I like to eat it every week, so a few years ago I figured out how to make my own.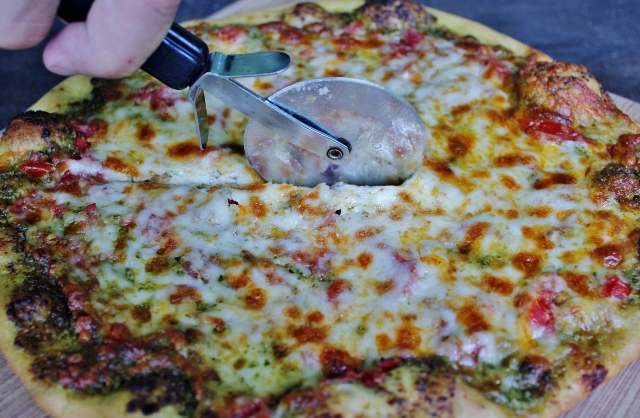 Cooking shows often have a pizza segment, but they always tell the audience to go to their local pizzeria for the dough.  I'm pretty sure the kid working at the Pizza Hut down the street wouldn't know what to do with that request.  If I went to my gourmet pizza place, I'd feel sad leaving with dough, rather than a pizza.  Besides, it's quite a drive.  I suppose there are some nasty prepackaged doughs at the grocery store, but I know how to make my own.
Making pizza dough is super easy.  Using very active yeast means it takes only about 45 minutes to rise.  This dough can be wrapped tightly in plastic wrap and refrigerated for a week.
This recipe has chickpea flour.  I buy mine at an Indian grocery store, but it's also found at health food stores.  You don't need it; you can make the whole recipe with unbleached flour.  I use chickpea flour because it's a great way to add protein to the dish.  I tried whole wheat flour, but it's chewy texture felt too healthy.  The chickpea flour makes a light, crisp crust, something my husband prefers.  I'm just excited my kids are eating legumes without a fight.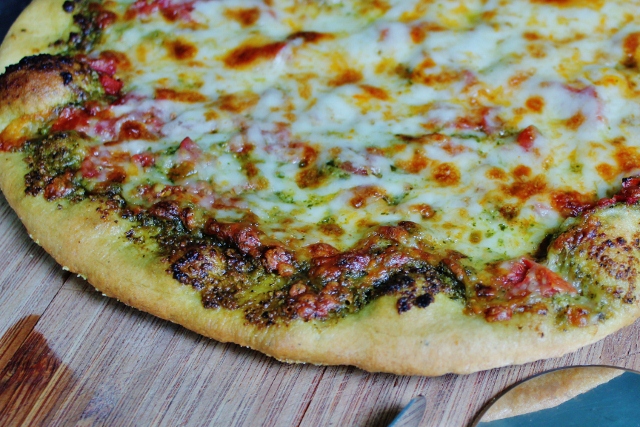 Pizza Toppings
Use your imagination!  I usually make one traditional pizza with sauce, cheese and mushrooms and another that is more of a flat-bread with veggies.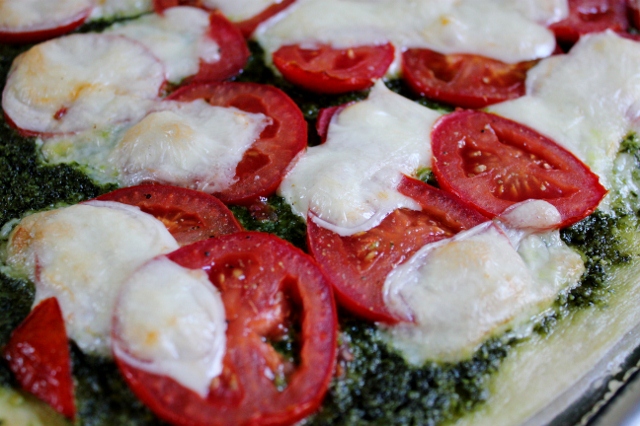 Here are some of my favorite toppings:
pesto with tomato slices
leeks, preserved lemons and golden raisins (with goat cheese dolloped after baking)
tomatoes, kalamata olives, fresh mozzarella, and basil (always add fresh herbs after baking to prevent burning)
roasted butternut squash, arugula, goat cheese, apple
caramelized onions, Camembert, parsley
on obscene amount of garlic mushrooms and fresh thyme
Making Groceries: Pizza
Author:
Rebecca Cofiño for Mamaguru
Ingredients
Perfect Pizza Dough Recipe
¼ c warm water (Don't boil. Hot tap water is the right temperature.)
1 package very active yeast
1 t honey
2 c unbleached all-purpose flour
1 c chickpea flour
1 T herbs de Provence
¾ t sea salt
¾ c water
Sweet Onion Focaccia
1 whole recipe of pizza dough
1 medium-sized sweet onion, sliced into thin moons
2 cloves minced garlic
2-3 tablespoons of fresh rosemary
½ c olive oil
coarse sea salt
Instructions
Perfect Pizza Dough Recipe
Place the hot water, yeast and honey in a small measuring cup. Stir to dissolve the honey. Let it rest for about 5 minutes, while it doubles in size. This is called proofing the yeast.
In the meantime, mix the flours, salt and herbs in a food processor. Pulse a few time to evenly distribute everything.
Add the proofed yeast, water and olive oil to the flour mixture. (Hint: I add the water to the measuring cup and swirl to catch the remaining yeast.) Pulse a few time to get the mixture going, then process for 2 minutes. The dough will form a ball and your machine will shake a bit. Of course, if you don't have a food processor, a mixer with a dough hook works well, or you Knead dough for about 5-8 minutes. You'll know it's ready by touch. Suddenly, the dough will feel smooth and elastic. What was an effort will start to feel good and you won't want to stop.That means it's ready. Drizzle a bit of olive oil over it to coat and place it in a large bowl. Rub extra olive oil into your elbows or knees for a beauty moment. Cover bowl with a wet towel and place in a warm spot for 45 minutes.
Divide dough into whatever size you want. I usually make 2 medium pizzas, but you could make 4 mini pizzas or one very large pizza. Sprinkle your counter with flour, roll it out and top with whatever you like. I use a pizza stone, so I form my pizzas on the paddle, then scoot it onto the stone. Cornmeal prevents sticking. You can also use a regular pan greased with a bit of olive oil.
Bake at 500° for about 10 minutes, depending on your toppings. Once cheese is golden and bubbly, it's ready.
Sweet Onion Focaccia
Coat the bottom of a baking sheet with olive oil. Roll the dough out, so that it covers the pan. Sprinkle the rosemary and the garlic evenly over the pie. Add the onions. It will look like there are too many onions. That's OK; they cook down. As you press the onions into the dough, make some dents so the oil can pool. Pour olive oil over the entire pizza. Sprinkle generously with sea salt.
Bake at 450° for about 20 minutes, until it smells wonderful and is slightly browned. If you happen to have truffle honey (and who doesn't?) drizzle it on top.
Sweet Onion Focaccia
Use the same dough for this amazing focaccia. This recipe is my memory from a cookbook I owned 15 years ago. I believe it was credited as a Sicilian recipe.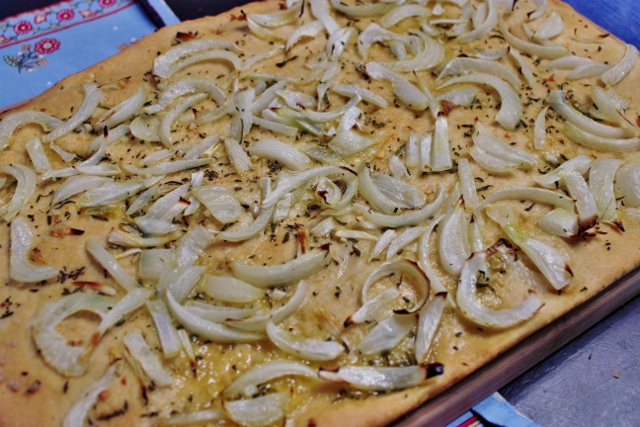 The Bottom Line
I was pregnant with Max in 2008, also known as: The Year the Recession Hit.  It was a very tight year for my husband and me.  My images of a pampered pregnancy did not materialize, but we got through it.  One night I made us pizza and we watched a DVD from the library.  You know what we thought:  This is the life!  A free movie and an almost free pizza made date night on our living room floor.  We found our fun for free.
Our situation has improved, but the lessons we learned about frugality and value have remained an important part of who we are and how we raise our children.
The price of pizza varies wildly.  One chain offers it for $5.  A gourmet pizza costs closer to $20.  An average frozen pizza costs about $7.  My dough costs about $0.60 to make, plus the price of toppings.  That takes it out of the treat range an into a great value meal.  Remember, the dough makes 2 medium pizzas!
As far as flavor is concerned, my pizza ranks right up there with the specialty pizza places.  In fact, a guest once called my pizza a revelation.  It's nothing like the fat, salt and preservative-laden cardboard that retails frozen.  It's flavor is way above the mass-marketed chains as well.  So if you really love pizza, making your own makes sense.
As far as special equipment is concerned, I love my paddle and pizza stone.  It really helps to build high heat which is needed to get a crisp crust.  It's certainly not necessary, so don't feel like you can't make one without it.  In fact, I didn't get a stone until pizza making was a regular part of my cooking.
This does take extra effort and a bit of timing.  The kneading can be a fun activity to get kids to help, a pain-n-the-rear chore, or a mini workout to justify extra cheese.  It all depends on your attitude.  Because it stores so well, you can easily make it in advance and make a pizza in the same amount of time as delivery would take.
Buon Appetito!