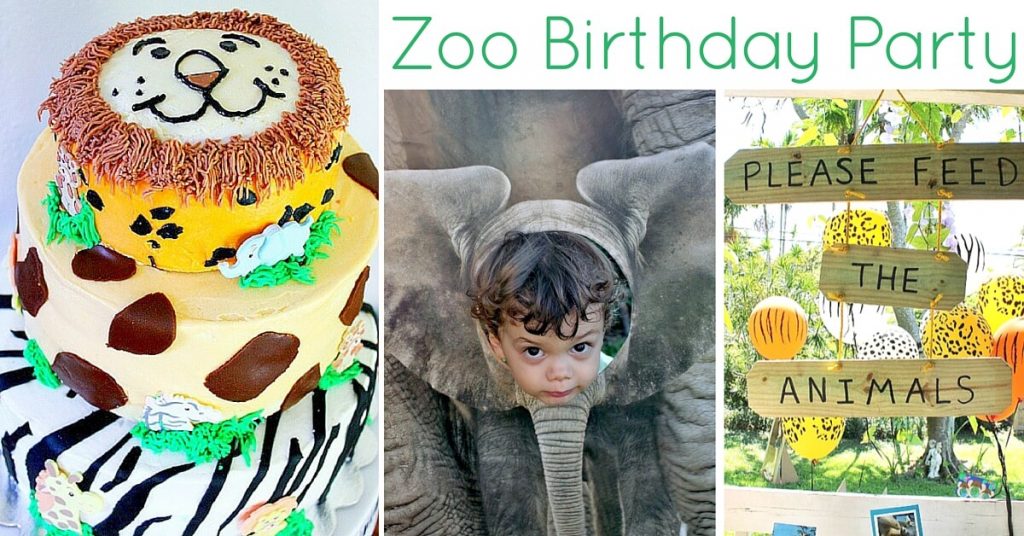 For Max's 3rd birthday, we threw a zoo-themed party. It was a great theme with so many options for fun. Here is a complete guide for planning your child's zoo themed birthday party. This party plan would work for ages 1-7, although starting at 5, I would add some crafts and games, and maybe a bounce house.
Zoo Birthday Cake
This was my most ambitious cake to date. I made it myself with the help of a neighbor who took a basic cake decorating class.
The cake was a homemade lemon cake with buttercream frosting.
The animal prints were rolled fondant cut freehand into animal prints with a paring knife.
The lion face and grass were piped buttercream frosting.
I drew the lion face with a wooden skewer before piping the frosting, so I had something to trace.
The additional animal decorations were purchased non-edible decorations.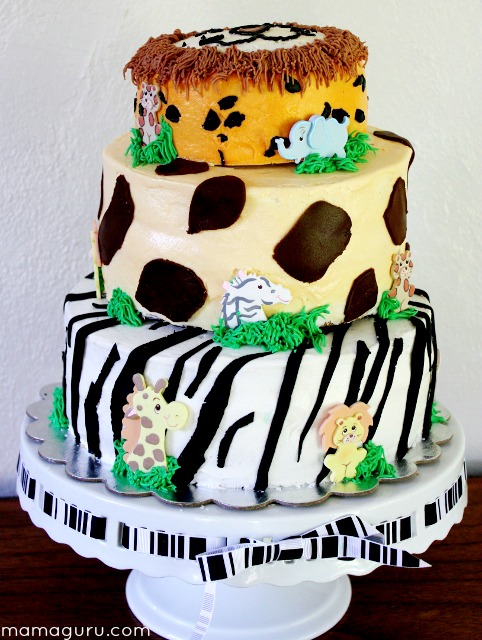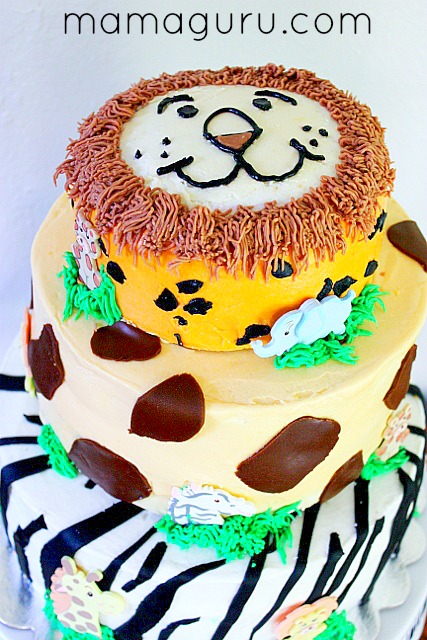 Zoo Party Menu
I drew inspiration from zoo animal feeding habits for our menu. I like to keep menus pretty healthy, but still delicious. Each dish was labeled with an animal postcard and a fact about that animal's feeding habits.
Peanuts: Elephants
Peanut Butter and Banana Sandwiches (a toddler favorite): Monkeys
Watermelon Slices: Gorillas
Oatmeal Raisin Cookies: Zebras (I served these out of an old rice sack!)
Seal Salad: Seals (a seashell-shaped pasta salad with shrimp, mango and avocado)
Veggies and Hummus: Goats
Tropical Punch at the Watering Hole (mango, guava and pineapple juices mixed with lemon-lime sparkling water)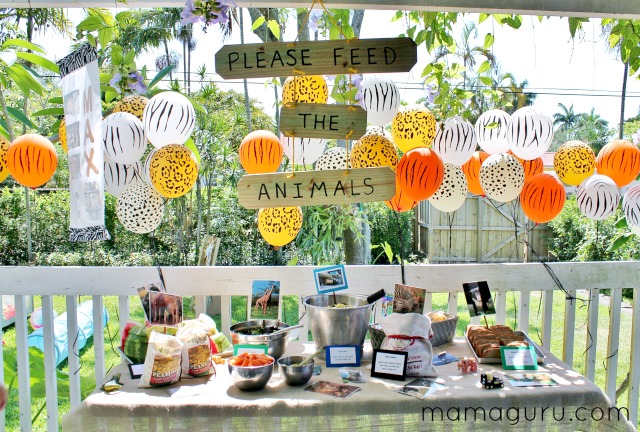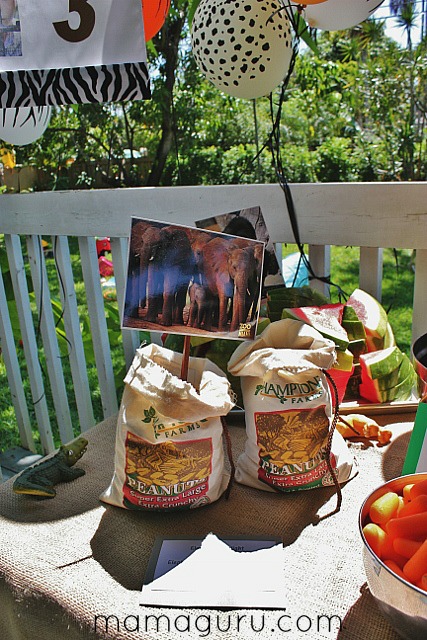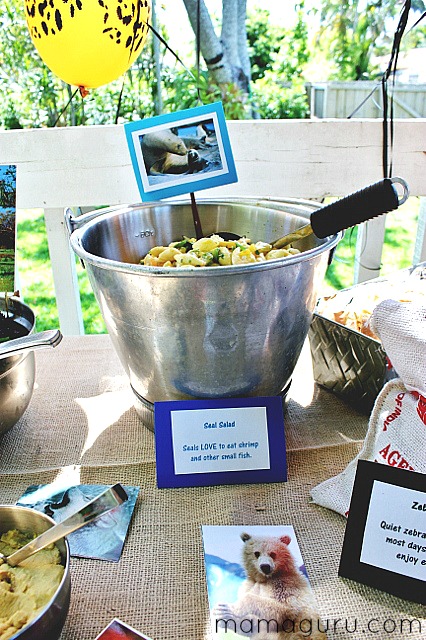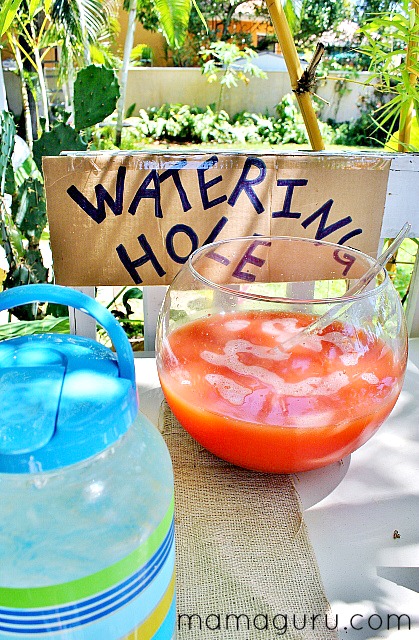 Zoo Birthday Party Favors
I like party favors to do double duty as decorations and small gifts.
Adorable box of Animal Crackers (purchased at our grocery store)
The sippy cups and sunnies looked great by our wheatgrass. How lucky that our healthy habit could help decorate our party! Kids grabbed these whenever they wanted to.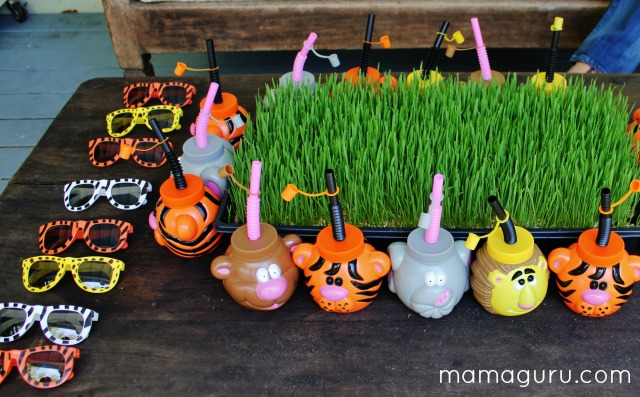 We had a cute display of the animal crackers and gave each child a box as they left.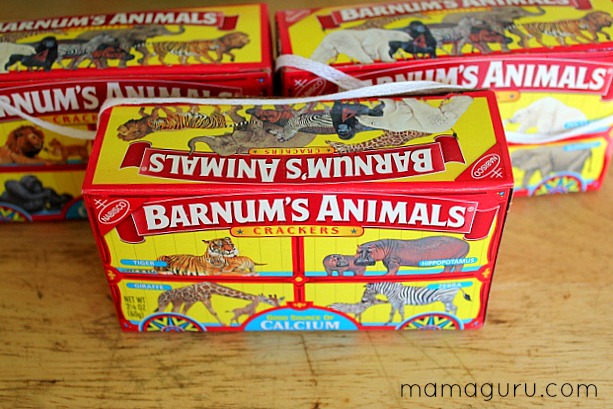 You can see the blow up animals all aver the lawn. At the start of the party, they were all lined up. Kids played with them and then took their favorite home.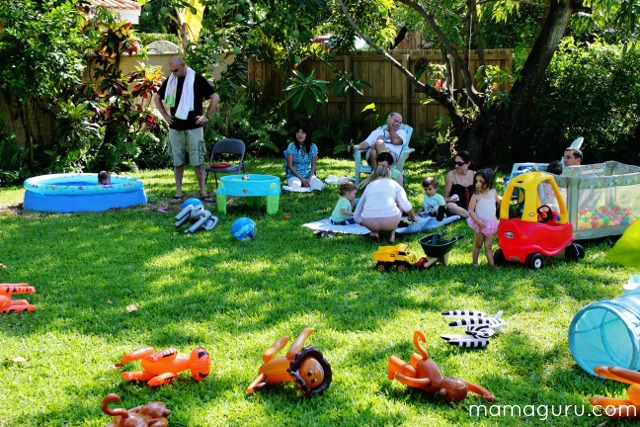 Zoo Animal Photo Op DIY
Homemade Photo Ops were a huge hit. Party-goers had a blast posing. I made sure to take a picture of each guest and enclose a copy in their thank you notes.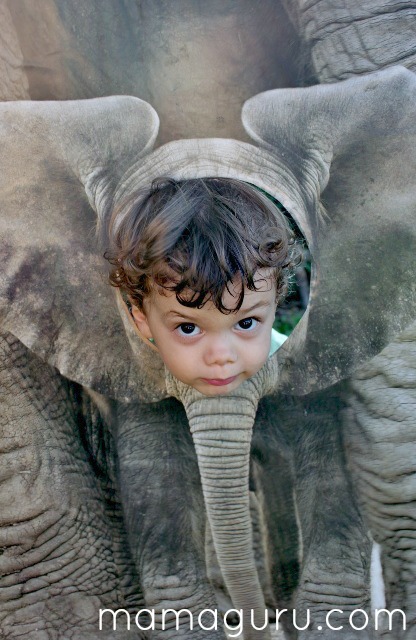 I am sorry that I didn't take pictures as we made them these or from another angle. Here are the instructions to make your own.
Purchase zoo animal posters with a large face of an animal staring directly ahead. Check out All Posters if you can't find some locally.
Carefully cut out the animal's face.
Place poster on a piece of MDF, and trace the circle where the face belongs. Cut out circle with a saw and sand very well so little people don't get chin splinters.
Use spray glue to adhere poster to the MDF.
Build a base to make the board stand up. (Again, I'm sorry I don't have exact instructions. We winged this late at night.) Alternatively, you could securely prop up poster with large rocks or chairs. Make sure this is very strong as toddlers are pretty clumsy.
You may have to provide a stool for children to reach the face hole.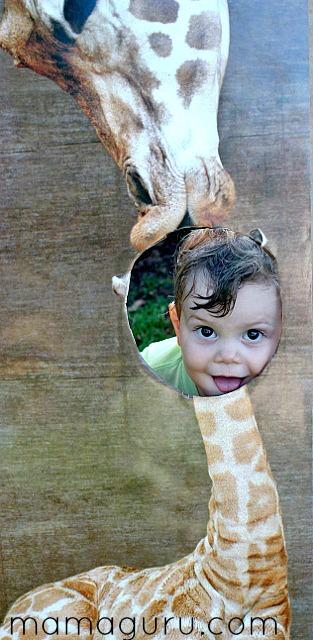 Please Feed the Animals Sign DIY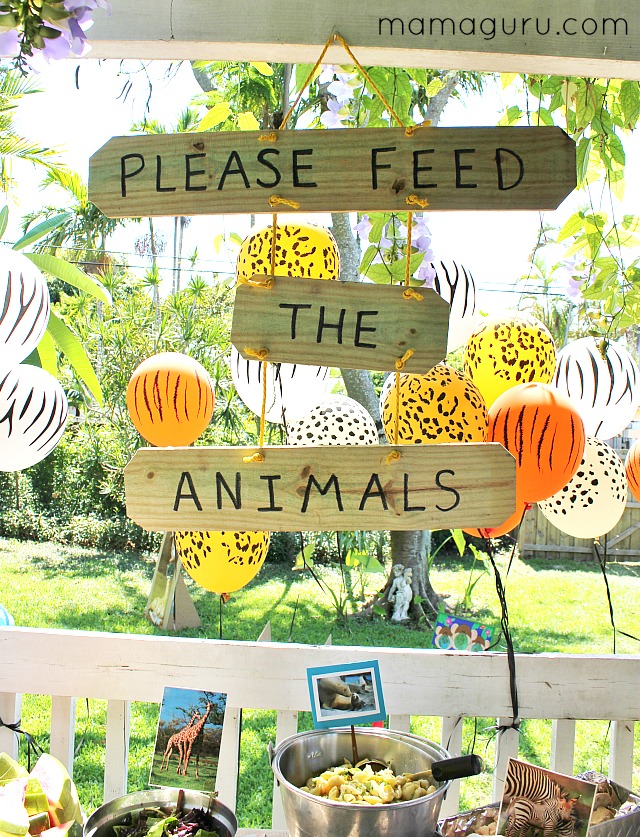 I loved this sign right above our food table. It's a simple project, but it made a very big impact.
Saw off the corners of 3 pieces of scrap wood. Use what you have. It should be rustic.
Drill holes in the center of wood, using the photo above as a reference.
Write the Please Feed • The • Animals in black permanent marker.
Use a rope to make obvious knots connecting the sign. Intentionally make it a little off-kilter.
Zoo Party Decorations
Decorations make all the difference when it comes to a party. you can really make a theme come alive by going all out.
2 Zoo Animal Photo Ops (elephant and giraffe)
Please Feed the Animal Sign
Blow Up Toy Animals
Party Favor Display
Animal Crackers Display
Themed Food Table: burlap table cloth, stainless steel serving dishes looked like feed troughs, toy animals, postcards and animal fact cards livened it up
Watering Hole: the cardboard sign was intentionally rustic, the framed picture was the birthday boy as a newborn (cue: mom tears)
Concessions Stand: popcorn with cotton candy lollies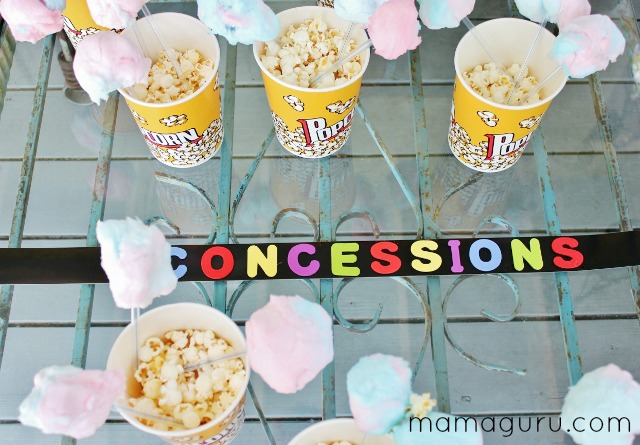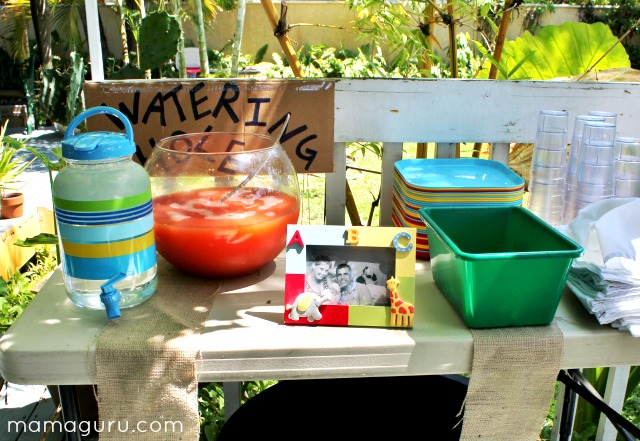 Zoo Party Activities
Here's a party planning secret: little kids just want to play and run around at parties. Herding the wee crowd into organized games is always a disaster.
Here's a party planning secret: little kids just want to play and run around at parties. Herding the wee crowd into organized games is always a disaster.
Click To Tweet
Instead, we opted to set up different play areas and let the animals run wild.
Zoo animal blow up toys
Zoo animal photo ops
Kiddie pool
Water table
Sandbox
Tee Pee
Tunnel
Beach balls
Hula hoops
Outdoor toys
Ball crawl (We bought 4 bags containing 100 balls and put them in a pack and play.)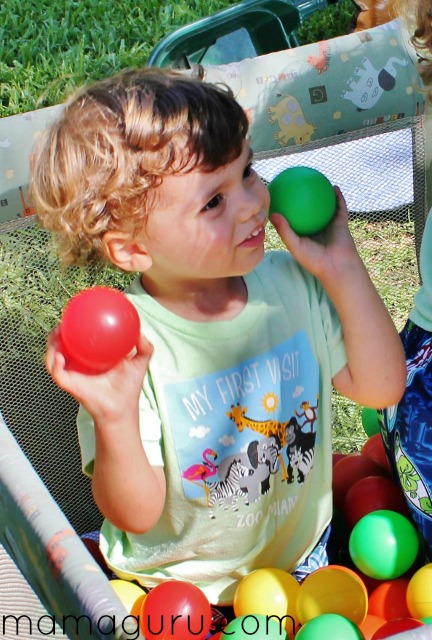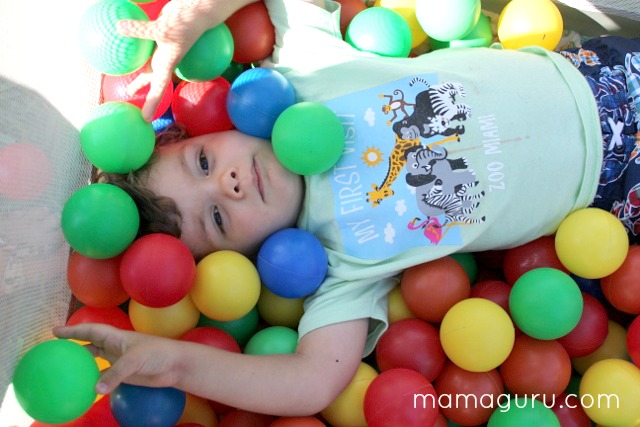 It was a great party.  Lots of friends, family and neighbors came to help celebrate.  Max was spoiled by thoughtful presents.  The best part of the day for me was watching his face as we sang Happy Birthday.  He never really cared before, but as a three year old, I saw genuine delight beam from his face.  It made all the planning and effort worth it.  Happy birthday my sweet little boy, my little heart.