We had a lot of activities for Max's Dinosaur Party.  It made the theme really strong and gave some structure to the party.  I find that it's easy to pull off a cool party without spending too much money if you allow yourself enough time to plan.
Ice Age Dinosaurs
I froze small dinosaur toys in my muffin tins.  They came out of the pan effortlessly.  If yours stick, just wait a few minutes and they will melt free.
I explained to the children that many people believe that the dinosaurs became extinct in the Ice Age and we found some dinosaurs frozen in blocks of ice. 
The kids were given a big bowl of hot water and a baster to unfreeze them.  They were also give butter knives to chip away.  Obviously very young children need close supervision for this, but the knives were dull and the water wasn't too hot.
They had an absolute blast unfreezing their dinosaurs, which of course, were theirs to keep.
Dinosaur Dig
Oriental Trading Company has really cool dinosaur fossils which I hid in our sandbox.  Children were given sweeper brushes (from the dollar store) to carefully uncover them just like paleontologists.  I also set out magnifying glasses and a dinosaur book so they could examine and identify them.  At the end of the party, the children were allowed to take a fossil home.  Max and Jack still ask me to hide in our sandbox them so they can play paleontologist.
Cracking Dinosaur Eggs
I made dinosaur eggs for the kids to crack open.  I made them two ways, with a salt dough recipe and with a sand recipe.  The sand worked best, so here's the recipe.
Sand Dinosaur Eggs
2 parts playground sand
1 part cornstarch
enough water to moisten
1.  Mix the sand and cornstarch together.  Add water a little at a time until it just comes together when you form a ball.
2.  Take a handful of wet sand.  Press a small dinosaur toy inside and form an egg shape.  (Don't fret; it won't be perfect, but it'll be great!)
3.  Allow egg to dry outside for 1-3 days, depending on heat and humidity levels.  Once one side is dry, turn it over to dry the other.
Supervise the children with child-sized hammers or mallets or let them throw them on the ground to smash it open.  They love the chance to destroy something.  The dinos were theirs to keep.
Erupting Volcano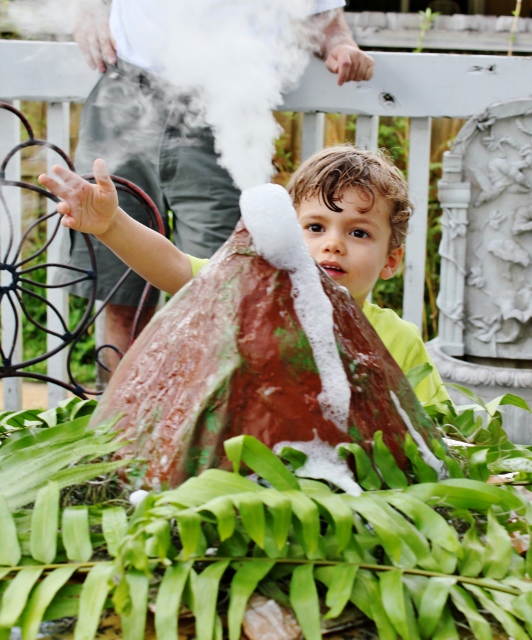 My husband and I relived our childhood science fair days and recreated the classic volcano project.  It turned out great, but I was too chintzy with the red food coloring so our lava turned out pale pink.  I suggest you devote a half of a bottle of food coloring for the best effect.
How to Make the Volcano
a tall plastic bottle
cardboard
masking tape
newspaper strips
flour
water
craft paint
1.  Secure the bottle on a large piece of cardboard (like a pizza box).
2.  Use your tape and scraps of cardboard to freehand a loose volcano frame.
3.  Mix together 1 part flour to 1 1/2 parts water.  Dip strips of newspaper into this gluey mixture.  Drape wet paper over the masking tape frame.  Bumps and imperfections make it look more realistic.
4.  Allow volcano to dry.  Paint with brown and green craft paint. 
At the Party
1.  Place a little foliage around volcano to make it blend in.
2.  Fill bottle 3/4 full of water mixed with 3 T baking soda, 1 drop of dish washing soap and A LOT of red food coloring.
3.  Explain to the kids that the dinosaurs lived at the time the earth was still forming and there were lots of volcanos.
4.  When you are ready to erupt the volcano, pour vinegar into the hole.  If you want it really explosive, add chips of dry ice.  The dry ice turned ours form ho-hum to spectacular!
Paint a Dinosaur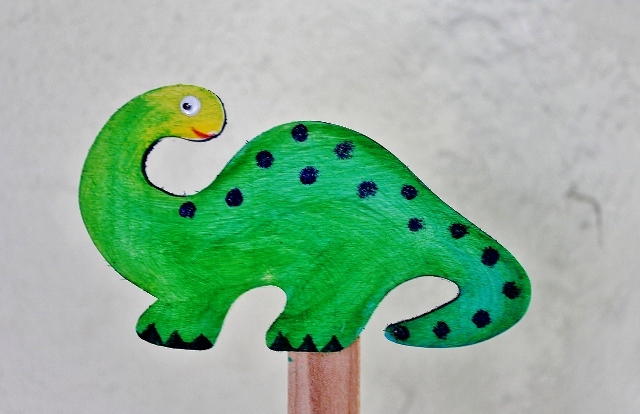 I always include an arts and crafts activity at my kid parties.  It's great for the first few arrivals to have something to do before the main event.  It's also fun for quieter kids who might want to bow out of the wilder games. 
I found wooden dinosaurs in a package of 10 at the dollar store.  I glued them to popsicle sticks with wood glue.  I set them out with paint, glitter glue, markers and googley eyes.  A pan of rocks made them decorative and provided a place for them to dry.  They were a hit! 
Print