Planning a Dinosaur Birthday Party for your little boy?
The first thing you need are fantastic dinosaur party invitations. Here is an easy project to make your own inexpensive and custom invitations. The whole project took less than an hour to make and really sets the tone for the cool party ahead.
I don't like to spend too much of my party budget on invitations, but I want something cute for my scrapbook and to get guests excited about the party. These fit the bill. They cost less than five dollars to make, but you can't tell.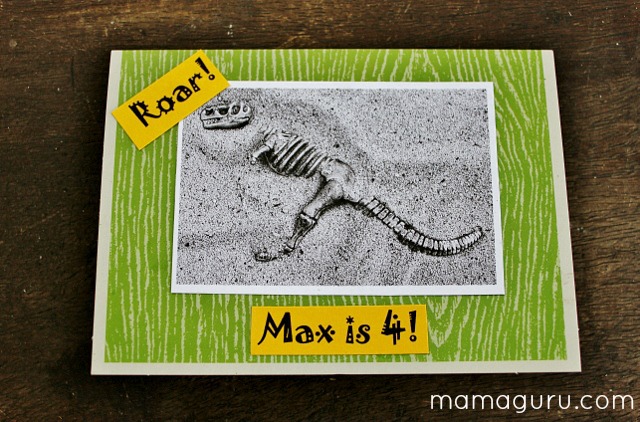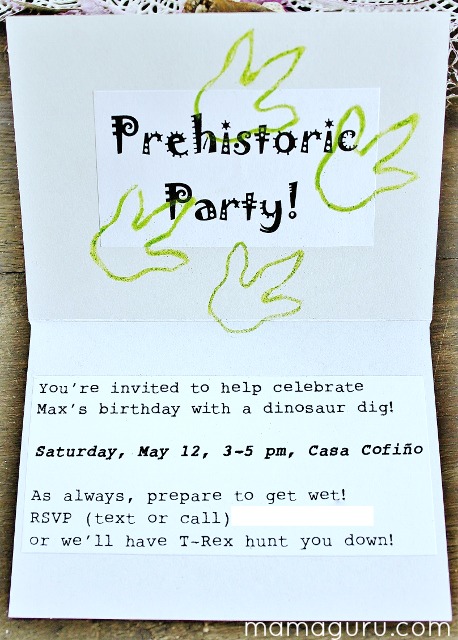 Dinosaur Birthday Party Invitations Tutorial
Purchase an inexpensive box of blank cards. I purchased a box of 20 at Target for $2.99.
Take a picture of a toy dinosaur fossil the kids will dig at the party in your sandbox.
Use a sepia-toned filter on the snapshot and print it on card stock. Use a playful font to write a message and print it out on a colored piece of card stock.
Cut and paste the old fashioned way! Trace dinosaur footprints on the inside to add a little fun.
Design Notes
It would have been great to take the time to print directly on the inside of the invitations, and if that's easy for you to do, yours will be better than mine. I needed to get these in the mail very quickly, so I didn't bother. I still think they were cute.
For detail junkies: I used the Matisse font on the outside and Rough Typewriter on the inside. Those two fonts were used throughout the party signage as well.
Miami is known for poor RSVPs, so I tried an evite last year. I was horrified when after prodding guests several times to respond, they finally checked the maybe box. Maybe is not an RSVP. That's why I switched back to classic paper invitations for this party and added a playful threat to encourage responses.
Maybe is not an RSVP.
Click To Tweet