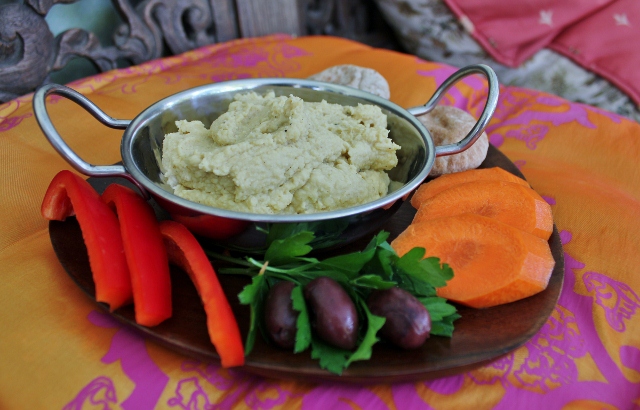 Whenever I attend a party and a small plastic lid is removed in the middle of a plate full of pita chips, I have a surprising flash of recognition.  Ah, yes, you can buy hummus!  I'm not being a snob (well, maybe a little), but I have made my own hummus for so long that I genuinely forget it's a grocery store item.
It is one of the simplest foods to make.  Right after I learned I like hummus, I started making my own.  At first I used canned chickpeas, but I've found the flavor of home-cooked beans is a lot better.   With all the reports of BPA lining canned food, it's also much safer.  However, you can certainly use a can in a pinch.  Just rinse you beans well to purify them.
Most hummus recipes use tahini (sesame paste), but I use sesame oil.  That was a happy accident stemming from my first attempt at the recipe.  I didn't have any tahini, so I made a substitution.  I like the way it tastes and it works for me because I always have sesame oil on hand.
You can play around with seasonings.  Sometimes I add roasted red peppers.  My favorite rendition is a lemon cumin flavor.  Experiment on your own and enjoy.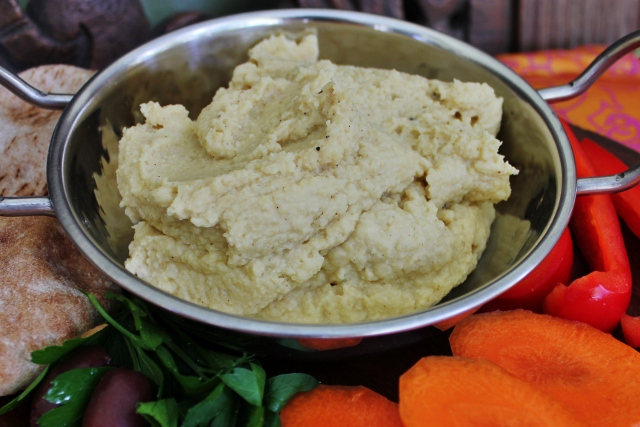 Hummus Recipe
3/4 c dried chickpeas
1 bay leaf
juice of half a lemon
2 cloves of garlic, minced
2 t cumin
1 t coriander
1/4 t sesame oil
1 1/2 T olive oil
sea salt and black pepper
1.  Soak the chickpeas in a pot with water covering them by several inches overnight.  In the morning they will be plump, but uncooked.  Drain the water and rinse the beans well.  (This step prevents flatulence.)  Cover beans with fresh water and place a lid askew.  Heat over a medium flame, maintaining a simmer for 30 minutes.
2.  Spoon off excessive scum on the surface of the water.  Add bay leaf and a teaspoon of sea salt.  Cook for 10 more minutes.  Drain chickpeas in a colander over a bowl, so you can save this cooking liquid.  You can use the cooking liquid as a delcious stock for up to a week.  Discard bay leaf.
3.  Place all the ingredients in a food processor and give it a whirl.  After a minute, add a few tablespoons of the reserved cooking liquid to help things along.  If your beans are really hot when you put them in processor, you won't need much liquid.  If they have cooled, they will need a bit more.  Use your own judgement, but add in small increments and let the processor work for a few minutes.  Season with sea salt and black pepper.  Taste and adjust flavors to your pallet.
4.  Serve with raw veggies, pita bread, toast, olives, feta or apples.  It will keep in the fridge for a week, but the fresher it is, the better it tastes.
Hummus Facts
The word, hummus, actually means chickpeas.
Chickpeas and garbanzo beans are the same thing with different names.
Technically, they are a legume.
The Bottom Line
Hummus is one of the healthiest foods you can eat.  The protein, vitamins, fiber and folate in chickpeas is remarkable.  Best yet, it's delicious, flavorful and creamy.  It's a great snack for everyone, but I really want to promote it as a great snack or sandwich spread for children.  Mine absolutely love it.
Store-bought hummus is pricey.   Prices start at $3.99 for a small dish and can go up to $5 or $6.  That price would make it an occasional food for my family.  Making my own costs less than a dollar.  All of the ingredients are from my pantry, so I can make it at moment and it never feels as though it costs my anything, except for the lemon, which runs about $0.40 in this recipe.
More and more I am concerned about packaging and chemicals.  Our oceans are full of garbage literally choking the life out of the sea.  It's easy to not think about that, because we unless we look for it, we don't see it.  Yet.  I recycle, but that's not enough.  I am starting to question all my actions and how they impact our world.  What gives me the right to produce excessive waste, because I don't feel like making an effort?  Lowering the amount of packaging in my grocery cart is one way of stepping lightly on our fragile planet.
I am also deeply concerned about the toxicity of the plastics involved in food packaging.  What we know about these toxins frightens me; what we don't know frightens me even more.  Reducing my and my family's exposure might be the most important thing we do for our health.
When a food can be made which is utterly delicious, good for the environment, beneficial to our health, easy to prepare, derived from basic pantry items and can be served at a party, I cannot fathom paying four times more for a processed version.  Can you?