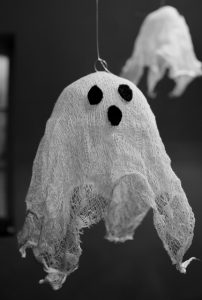 I made simple cheesecloth ghosts years ago for a Halloween party.  I think the idea came from Martha Stewart originally.  I had a vague memory of how to make them, so I did a quick google search.  The directions were as easy as I remembered, but they required liquid starch. 
I live in Miami and I think it might be against the law to actually iron your clothes here, let alone starch them.  Florida is flip flops or stilettos: beach casual or dressed to the nines.  We don't go for the freshly pressed look and I certainly don't have liquid starch laying around the house.  Another google search to the rescue!  Liquid starch is so easy to make and all you need is cornstarch and water.
Materials Needed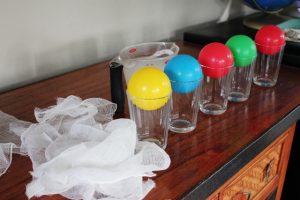 cheesecloth
black felt
craft or fabric glue
4 c water
1 T cornstarch
various cups
fishing wire or thread
Directions
1.  First make the liquid starch.  Heat 3 3/4 c water to a boil.  Mix the remaining 1/4 c of water and the cornstarch together to make a slurry.  When the water just reaches the boiling point, stir in the slurry.  Cook and stir for 1 minute.  Remove from heat and cool to room temperature.
2.  Once starch is cool, cut various shapes of cheesecloth.  Dip the cloth in the starch.  Squeeze out excess starch and drape over various cups to make ghost shapes.  You can make small ones to hang or larger ones which will stand on their own.  Wait for them to dry.
3.  Once dry, carefully remove them from the cups,  Sometimes they stick a bit, but just gently peel them.  Glue on felt eyes and hang from chandeliers if you want.
Print