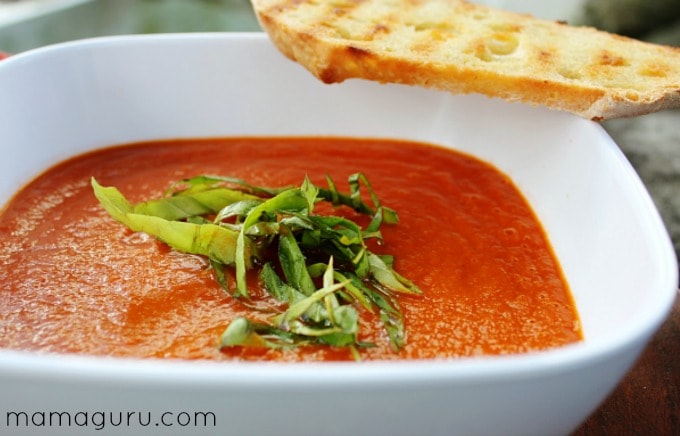 Tomato Basil Soup is a simple and delicious recipe that hits all the right notes and only needs 10 minutes of actual prep time. What I love most about this recipe is the triple hit of basil. First, the dried basil melds with the soup as it simmers. This creates and undercurrent of basil throughout the soup. Next, fresh basil gets blitzed into the whole thing. Because it is added off the heat, it keeps its brightness and assertive flavor. Finally, the garnish of basil ribbons is my favorite part and I have been know to hog more than my fair share. Tomato Basil Soup is a classic, especially when paired with a grilled cheese sandwich.
Even though canned tomatoes are used in this recipe, it tastes very fresh. Of course you can always peel and dice tomatoes during tomato season for ultimate freshness, but I find that I don't feel like cooking soup in the hot months that produce tomatoes, so I usually used canned.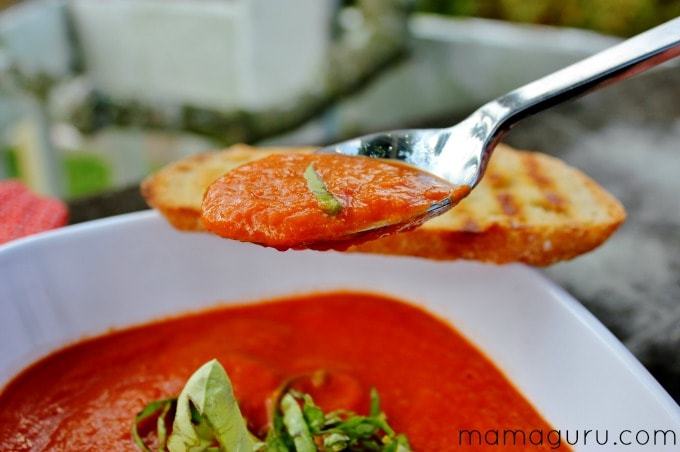 Tomato Basil Soup
Author:
Rebecca Cofiño for Mamaguru
Ingredients
1 small onion (or half a large), diced
1 rib of celery, chopped
1 carrot, peeled and diced
2 cloves of garlic, minced
1 T tomato paste
1 large can (28 oz.) of chopped tomatoes (Organic or San Marzano are best!)
1 T dried basil
1 t dried oregano flakes
1 bay leaf
4 c vegetable stock or water
½ c fresh basil
optional Parmesan cheese as a garnish
Instructions
Heat a few tablespoons of olive oil in a soup pot over a medium flame. Add onions and a pinch of sea salt. Stir and cook for about 3 minutes. Add the celery and another small pinch of salt. Cook for a minute. Add the carrot and do the same. Add the garlic. Cook and stir until you smell it (about 30 sec.). Add the tomato paste and stir until it coats the veggies.
Add the tomatoes, spices and stock. Bring just to boil, reduce heat, and simmer for about 30 minutes. Remove the bay leaf and add ¼ c of the fresh basil. Puree soup. Let your blender work for longer than you think it needs and it will turn out nice and creamy.
Garnish with fresh basil leaves just before serving. You can also add a drizzle of very good olive oil and a fresh grating of cheese if you wish. Serve with crusty bread and a green salad for a simple dinner or with a grilled cheese sandwich for a classic American meal (skip the cheese garnish in this option). Enjoy!