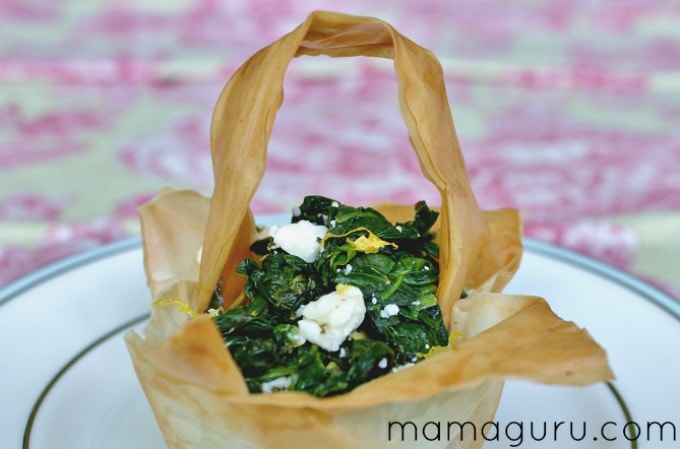 Here's a fun Easter twist on Spanikopita: serve it it phyllo baskets! Spanikopita Baskets make a stunning side dish for Easter brunch or dinner. In case you don't know, Spanikopita is a traditional Greek spinach pie made with with onions, feta and lemon wrapped in buttery layers of phyllo dough. The spinach filling just bursts with flavor. It's long been a favorite recipe of mine. Spanikopita Baskets' presentation is simply spectacular, but instead of it taking more of an effort to make them look cute, they are actually easier to make than the classic Greek recipe.
Pretty and easy? Count me in!
What is Phyllo Dough?
Phyllo is a paper-thin pastry that is used in many Greek recipes. You can find it in the frozen dessert section of a regular grocery store right next to the puff pastry. Follow the package directions to defrost it. Be sure to cover it with a wet towel or plastic wrap while you are working, because it dries out quickly. It's very delicate and once cooked it has a gorgeous, crisp texture. In between layers, brush it with either olive oil or melted butter. I actually prefer phyllo dough to puff pastry because it is less rich and more flaky. (Just like me: poor and flaky- hee hee!)
Spanikopita Baskets
Traditionally layers of phyllo dough are cut in strips and then folded around dollops of the spinach filling to make triangles. Although I love eating those triangles when someone else makes them, it's too much work for me. Phyllo baskets are super easy to make and really streamline the process. I love that the spinach filling can be cooked right before serving, so it's still fresh and bright green. I'm not a fan of the dark green color of over-cooked spinach. This is a great appetizer year round. Just leave off the basket handle and call them Spanikopita Cups for other occasions.
A tisket. A tasket. A Spanakopita Basket!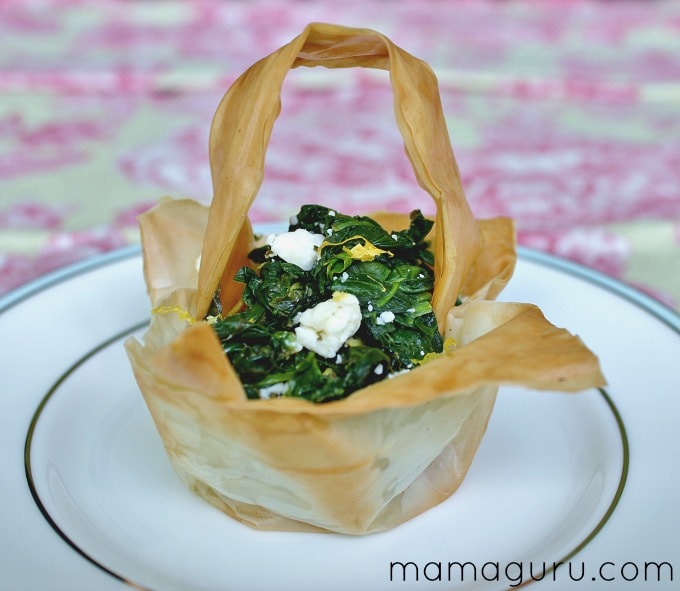 Spanikopita Baskets
Author:
Rebecca Cofiño for Mamaguru
An Easter twist on a classic Greek spinach recipe
Ingredients
Phyllo Baskets
9 sheets of phyllo dough, thawed
2 T melted butter
Spinach Filling
1 small onion, diced
1 large clove of garlic, minced
1 pkg. frozen spinach, defrosted and squeezed dry
¼ t white pepper
pinch of fresh nutmeg
¼ t dried oregano leaves
zest and juice of ½ lemon
4-6 oz feta cheese
Instructions
Phyllo Baskets
Phyllo dough usually comes in a package with two rolls. Keep one frozen for another use. Defrost one according to the package directions. When you begin to use it, have some plastic warp nearby and cover the remaining sheets, so they don't dry out while you are working. Be very careful when working with phyllo, but don't worry if a sheet breaks. Either piece it together or discard. You will have more than enough. Preheat oven to 350°.
Take one sheet of phyllo and brush it with melted butter. Add two more sheets, brushing butter on each. Carefully cut into 6 even pieces. (A pizza cutter works great!) Brush a bit of butter into the cups of a muffin tin. Carefully place each phyllo square inside the cups. This will be free-formed. Repeat once more, so you have 12 total.
Take another 3 sheets of phyllo and butter and stack them the same way. This time, cut them into 12 strips about ¾ inch wide. These are the basket handles. Cut their length so they will fit ½ the circumference of your muffin tin. Lightly butter the muffin tin cups, and press the phyllo up against the edge to form the arch of the basket handle.
Bake everything for 5 minutes until golden brown. Check frequently. Remove from the oven and pans and let cool on a wire rack. Spoon in filling just before serving.
Spinach Filling
Heat a sauce pan over a medium flame with a couple of tablespoons of olive oil. Add onion and a pinch of sea salt. Saute for 3-5 minutes, until softened and translucent. Add garlic; saute one more minute.
Add spinach, lemon juice, white pepper, oregano and a few shavings of fresh nutmeg. Use your spoon to incorporate all the ingredients together. Cook for 2 minutes, until everything is warm. Add feta and lemon zest. Taste and adjust seasonings, if needed.
When ready to serve, dollop warm spinach mixture into each cup and carefully insert the handle into the cups. Each one will be unique and perfection is not to be sought. Serve and enjoy.