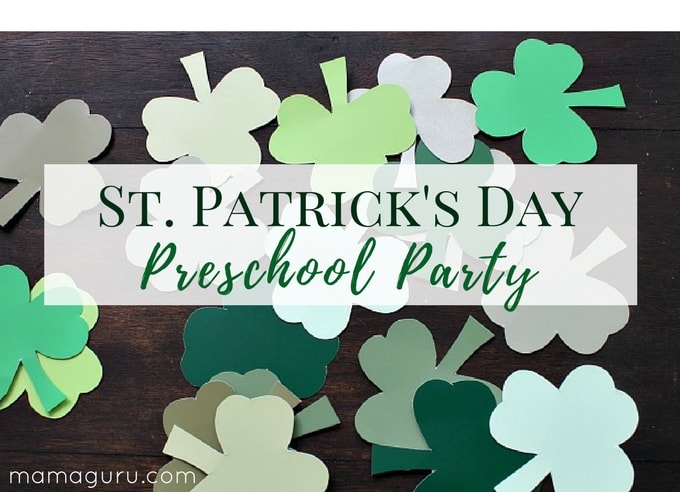 Celebrate the luck of the Irish with your wee lads and lassies by throwing an amazing St. Patrick's Day Preschool Party. This party plan has everything your could possibly need: decorations, snacks, a hunt for a pot of gold, story time, science and art projects. It's super fun and educational. Although a lot of the ideas are very creative, it's pretty easy to throw together and budget-friendly. Invite your friends, or they'll be green with envy.
St. Patrick's Day Preschool Party Decorations
Most grocery stores and florists sell pots of shamrocks this time of year. We are lucky that our weeds look like shamrocks, so I snipped a few and put them in a vase. If you can't find shamrocks, get green carnations. Or better yet, get white carnations and put them in green water and let the kids watch the color come into the fringes of the petals.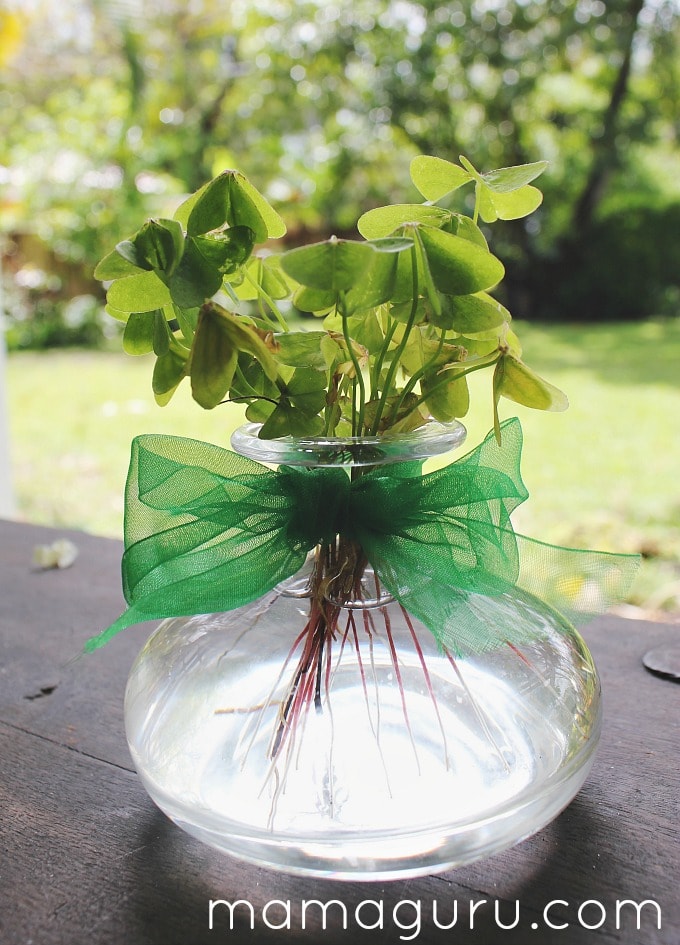 Use foam or green paper to cut out shamrocks to hang around your house. Explain the meaning behind the shamrock. When St. Patrick was teaching the Irish about God, he reached down and pulled a shamrock from the ground. Shamrocks cover much of Ireland. He explained that the three leaves represent the three parts of God: Father, Son and Holy Spirit. Those three forms are not separate beings, but rather they are parts of a whole just like the shamrock: three distinct leaves are still just one plant.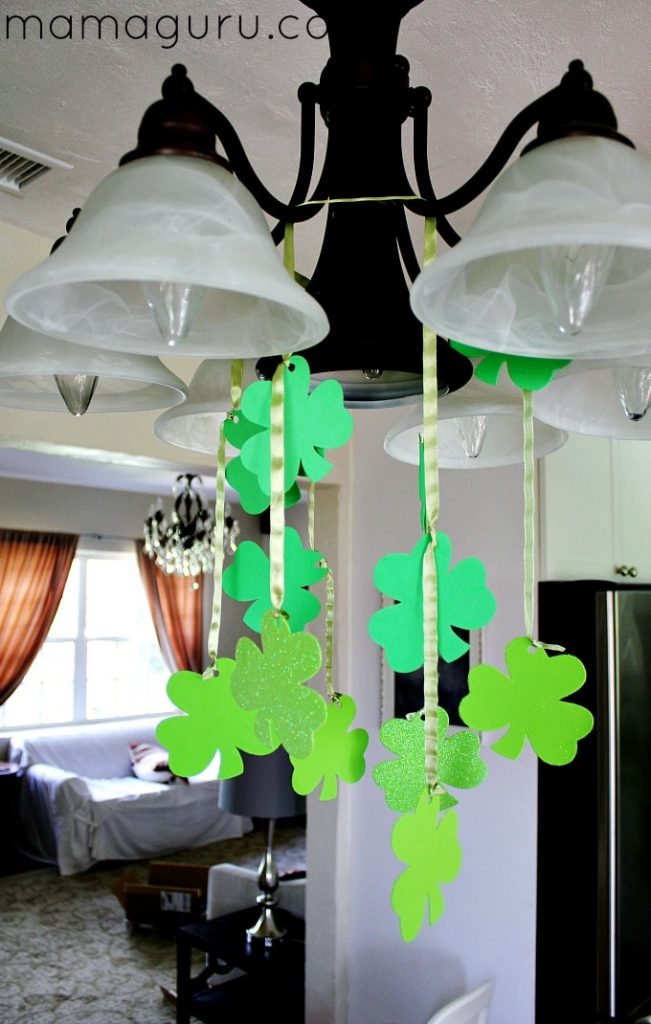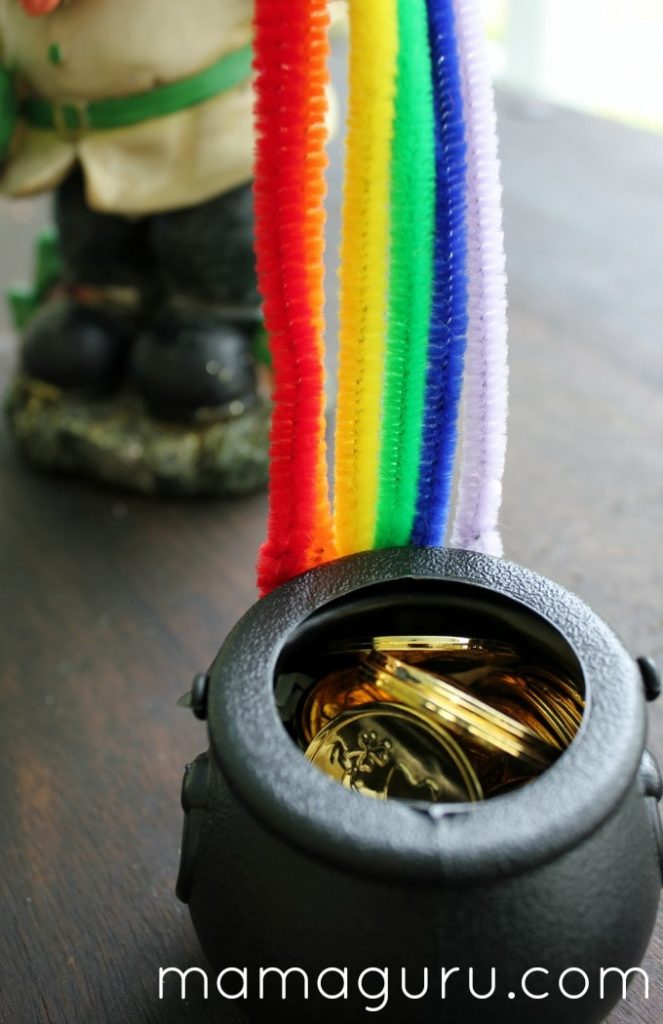 Of course you should invite a leprechaun to your Preschool St. Patrick's Day party! Wee ones love those magical creatures. I gave our garden gnome a makeover to turn him into a leprechaun. The kids just loved that transformation!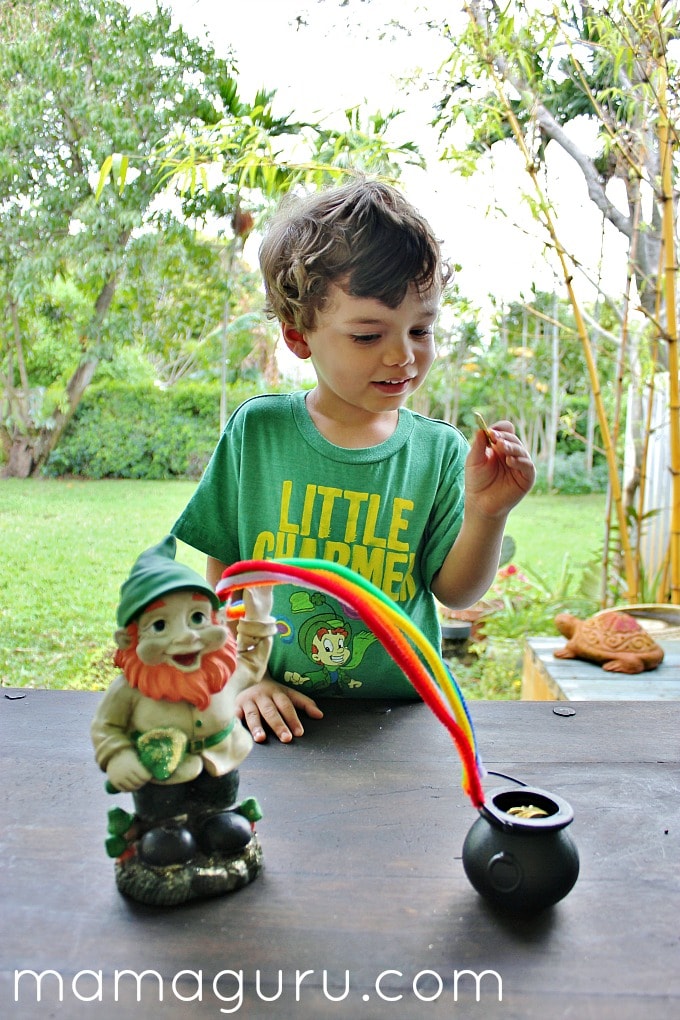 St. Patrick's Day Preschool Party Activities
This is where you really get to have some fun. Preschoolers are such eager learners and the world is new to them. I always like to incorporate a bit of science and reading into our celebrations. We even have a little game that strengthens math skills. You don't need to act like a teacher, just have fun  and know that they are learning too.
1. Liquid Rainbow
Make a density column for a St. Patrick's Day! It's a science activity that seems like magic to preschoolers. This is easy to create. Get equal parts of the following materials:
honey
light corn syrup
concentrated dish soap
water
vegetable oil
rubbing alcohol
(If you have lamp oil you can add it here, but I didn't have any)
Add a few drops of food coloring to the liquids to make a rainbow. (Not the oil; it won't work.) Slowly pour the liquids into a glass column. Explain that each liquid has a different density which means that some are thicker than others. It's exciting to watch each layer hold steady. The kiddos go bonkers!
Later in the day we dropped objects to see which density would catch each item. Use a penny, paper clip, a piece of paper, a small piece of pasta or anything you can think of. The rainbow can get a bit murky during this, so put this part of the activity towards the end of the party.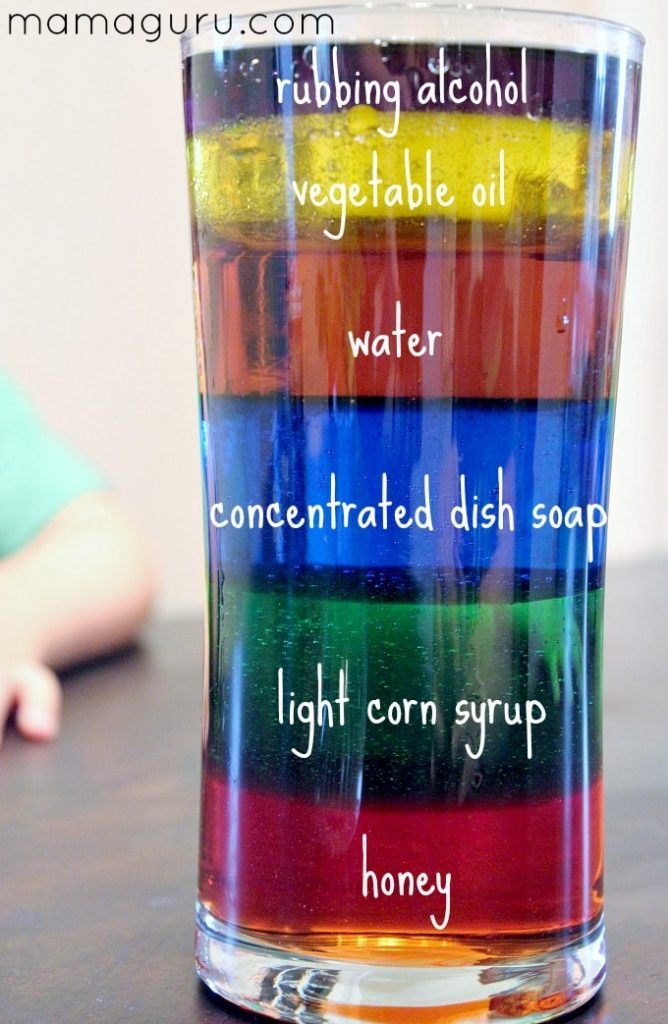 2. Search for a Pot of Gold
Tell the wee ones you caught a leprechaun and got his pot of gold. He told you that there were more pots in the backyard, but then he escaped. Drats! Let the wee ones search for their pots of gold. It's just like an Easter egg hunt, except each child gets only one pot of gold. Fill the pots with gold coins and shamrock stickers.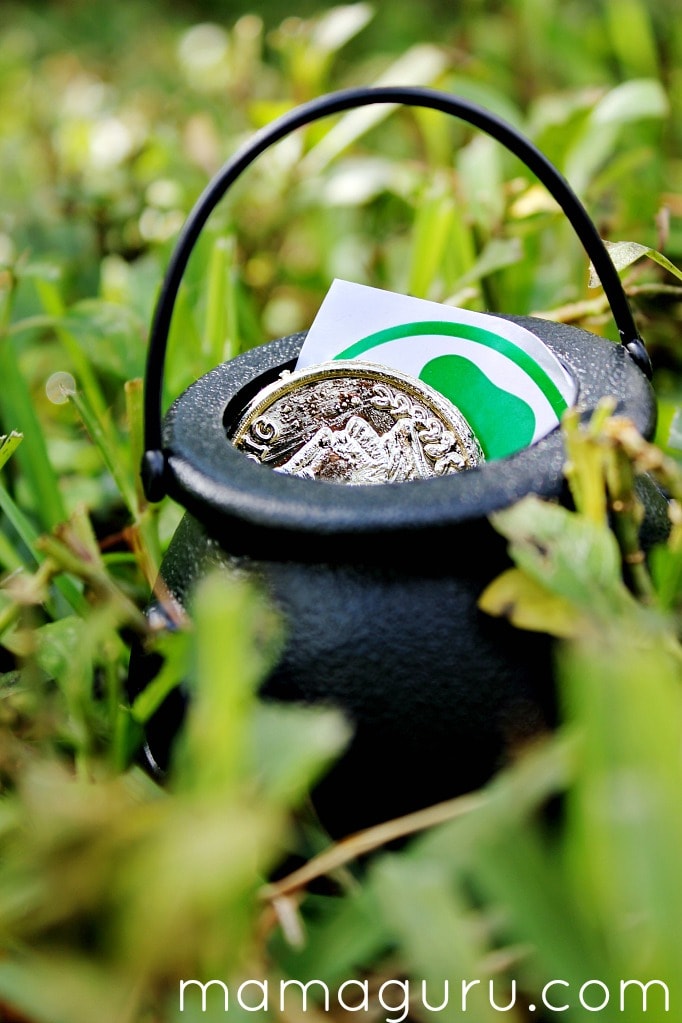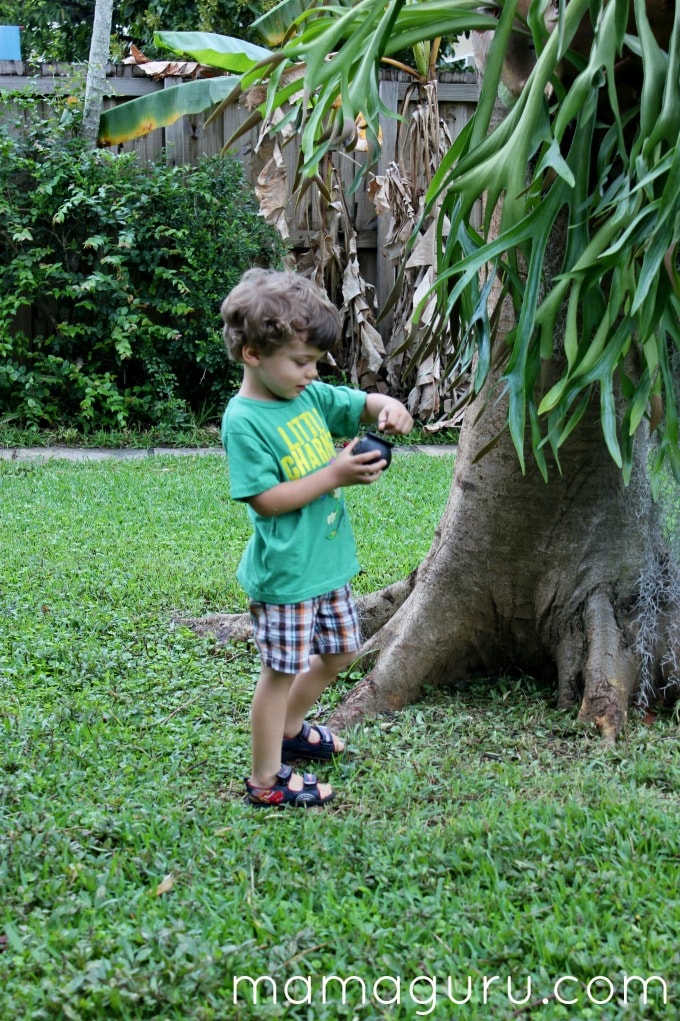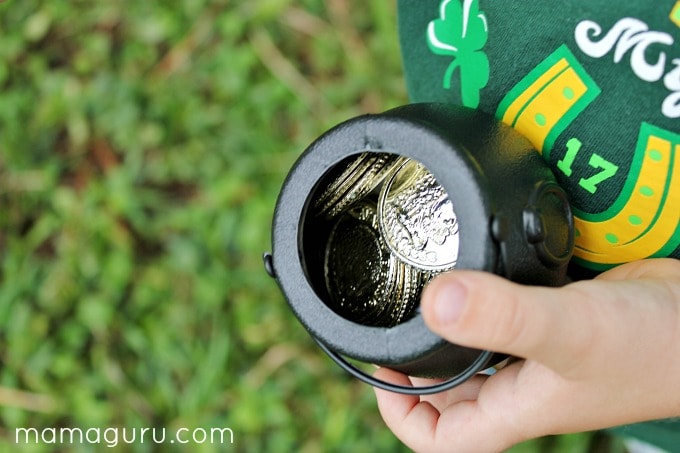 3. Shades of Green Shamrock Matching Game
Matching games are actually preschool math! This is a Montessori-inspired activity to teach the various shades of green and fine tune perceptions of subtle differences. The Shades of Green Matching Game also incorporates art because you can teach kids the myriad of colors in the green family: forest green, khaki, kelly, mint….
To make this activity cut shamrock shapes out of paint samples. Make sure there are two of each color and let the kids search for matches. You can adjust the challenge level by have more or less shades to sort. Afterwards you can line them up from lightest to darkest.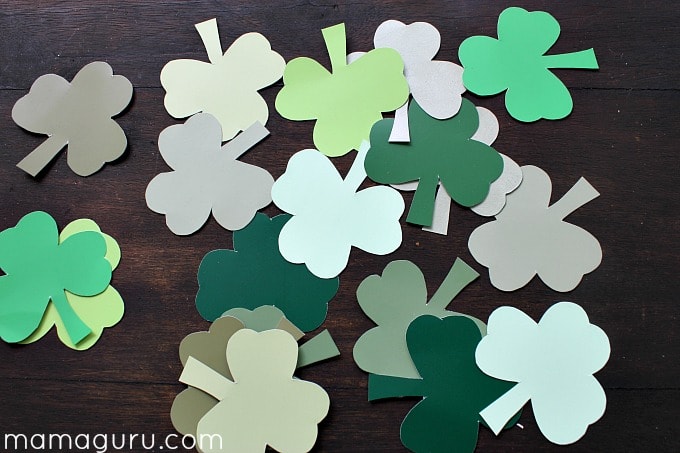 St. Patrick's Day Preschool Stories
We raided our bookcase and the library's for a few fun St. Patrick's Day stories. These are my absolute favorites:
St. Patrick's Day by Gail Gibbons (A colorful history and culture lesson)
Lucky Tucker by Leslie MsGuirk (A dog who finds a 4 leaf clover and has the BEST DAY EVER!)
Let's Celebrate St. Patrick's Day by Peter and Connie Roop (cultural and historical celebrations)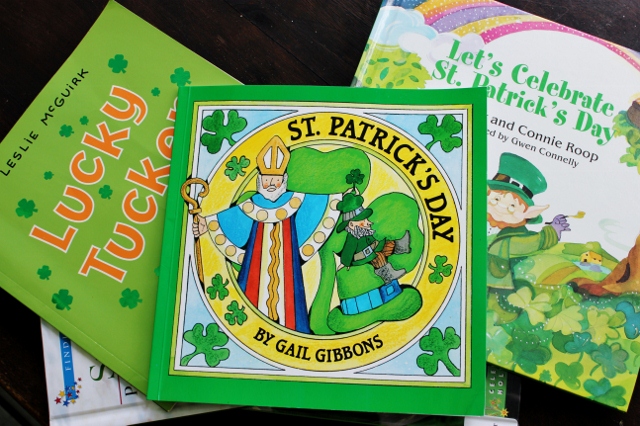 St. Patrick's Day Preschool Party Arts and Crafts
Print out a few St. Patrick's Day coloring sheets and let the kids color away. To make it even more fun, include the rainbow crayons. Cut out hearts from green construction paper and let kids make shamrocks.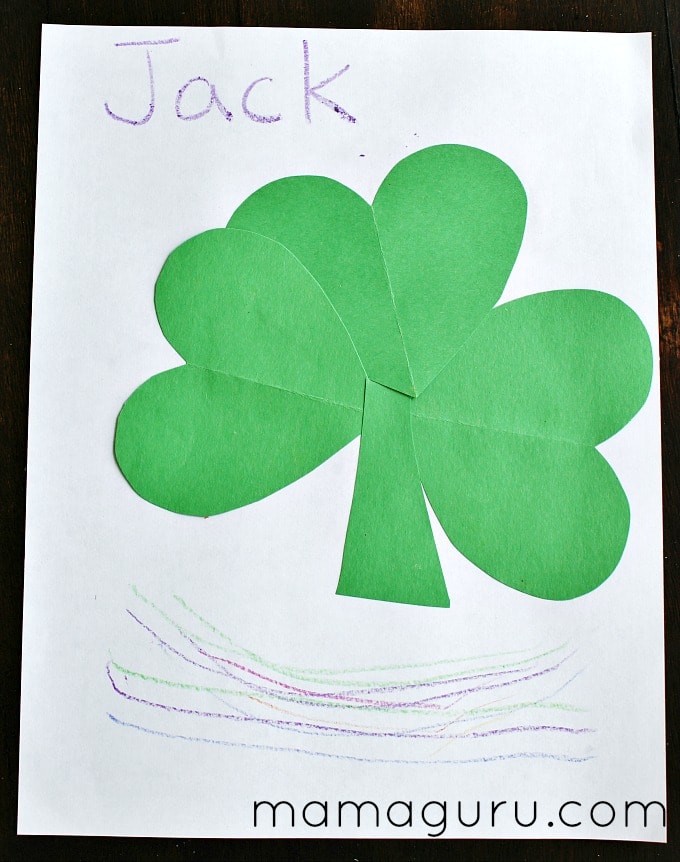 St. Patrick's Day Preschool Party Snacks
What more do you need than shamrock cookies flecked with gold sprinkles and green milk? I pretended not to have any green coloring, so I used yellow and then blue to make green to the utter delight of the kiddos. If you want to go the rainbow route, you can make these amazing Rainbow Cookies for St. Patrick's Day!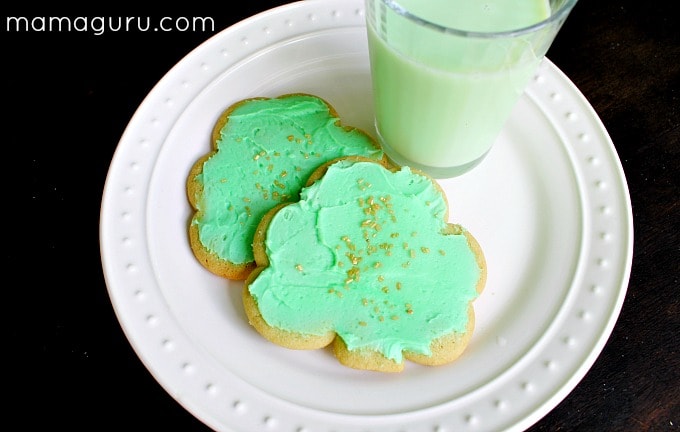 Irish Music and a Jig
Be sure to play some Irish music throughout the party. Talk about the instruments and dance a jig. Sing this cute St. Patrick's Day song to the tune of Mary Had a Little Lamb.
I'M A LITTLE LEPRECHAUN

I'm a little leprechaun,
Leprechaun, leprechaun.
I'm a little leprechaun
On St. Patrick's Day.
See me dance a little jig,
Little jig, little jig.
See me dance a little jig
When I come out to play.
~Elizabeth Scofield
Unfortunately, our guests had to leave for a nap before we got around to our Irish jig which was super fun and tuckered us out. None of these ideas cost much money and were very simple to prepare. I hope you steal a few for your own celebrations.
May the luck of the Irish be with you!
Love,
Rebecca