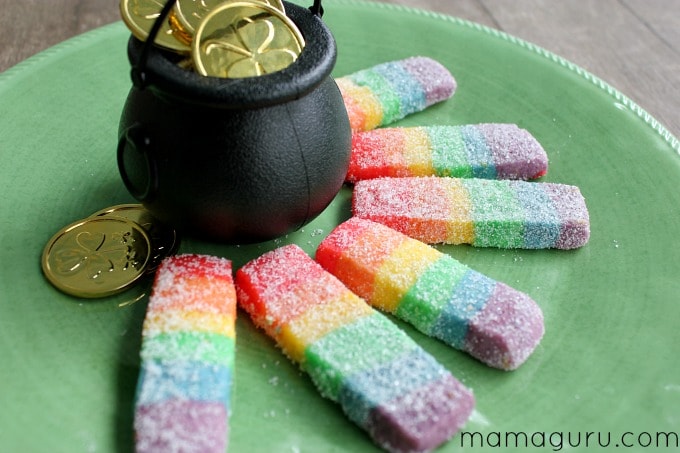 Rainbow Cookies for St. Patrick's Day are just, well, magical! These spectacular cookies don't just look pretty, they taste it even better than they look. They're actually a scrumptious lemon shortbread that's rich and buttery. Even if they weren't all jazzed out for St. Patrick's Day, these are a go-to cookie recipe of mine because the bright lemon flavor really shines through. It's funny, this is one of those cookies that kids gravitate towards because of the cool colors, but adults are always pleasantly surprised that they taste great! My motto is to never sacrifice flavor for design in food.
Never!
Now before we get to the Rainbow Cookie recipe, I feel like I have to warn you. The quantities on this recipe are enormous! you'll get 10 dozen (small) cookies by using 4 sticks of butter. Now that is just crazy! There is a reason for this and it has to do with the design and the dimensions of the loaf pan. Because we need to make six layers, we need a lot of dough. Each color layer is actually quite thin and can't be reduced and still form a rainbow.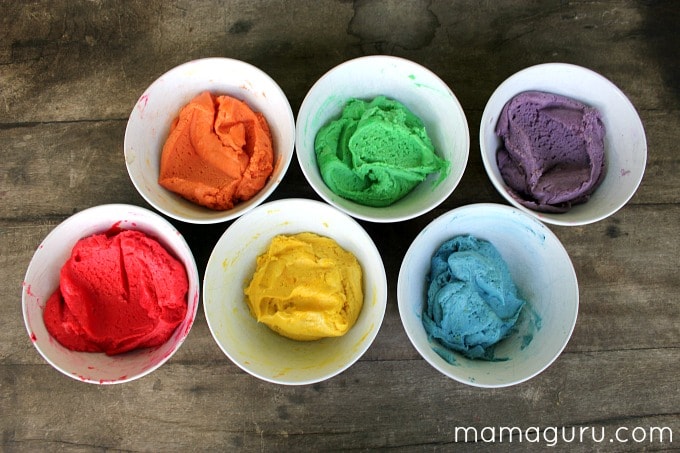 Here's the good news: this dough freezes beautifully, so you can slice and bake half of it now and freeze the other half for another time. You can also try to cut it in half and use a mini loaf pan. I have never had a problem sharing these with neighbors and friends, so you can always go that route too. Like I said before, Rainbow Cookies for St. Patrick's Day are absolutely delicious and they are always gobbled up quickly. I love to host a St. Patrick's Day party and these are a huge hit there.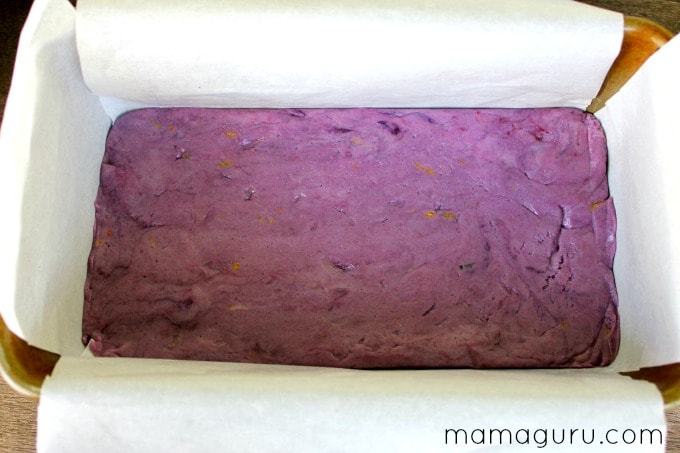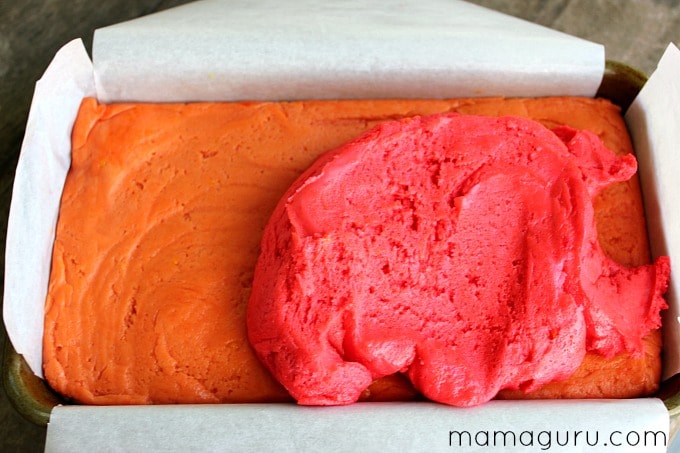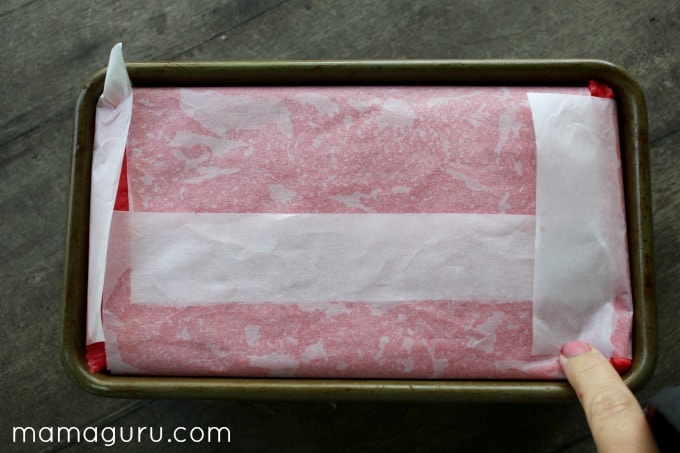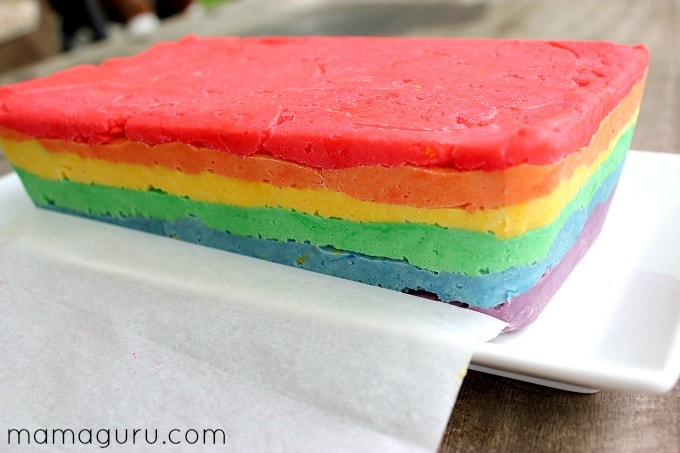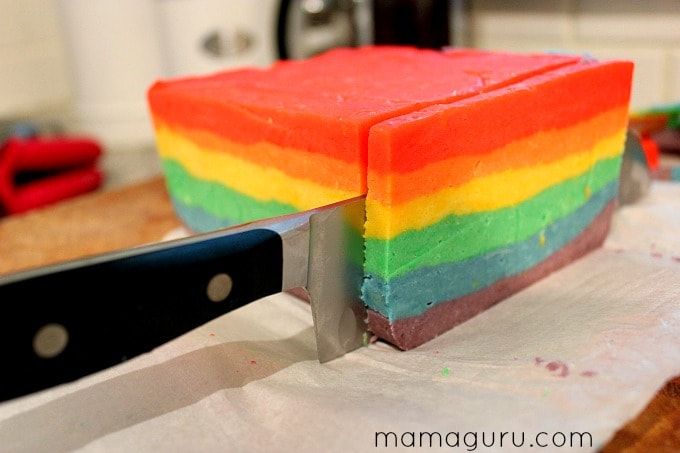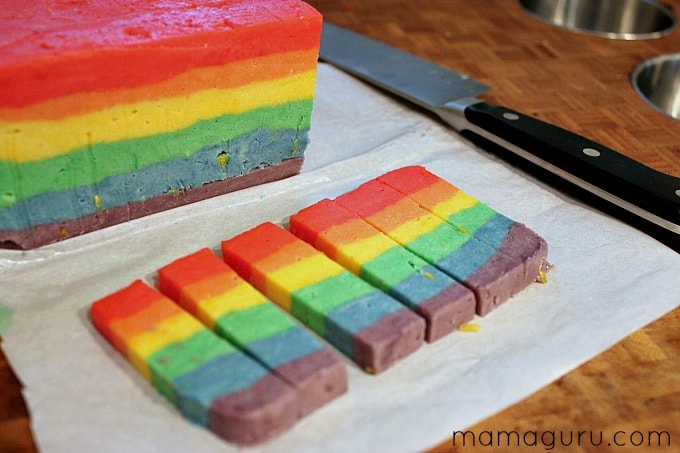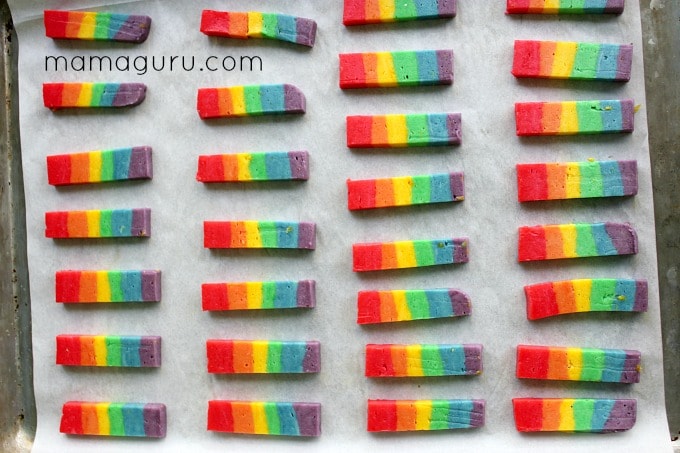 Rainbow Cookies for St. Patrick's Day
Author:
Rebecca Cofiño for Mamaguru
These rainbow cookies are perfect for St. Patrick's Day or any other rainbow celebration. The lemon shortbread is absolutely delicious, so go ahead and cut the recipe in half and make non-rainbow lemon cookies when ever you like.
Ingredients
4 sticks butter, softened
2 cups sugar
2 eggs
¼ cup lemon juice
zest of 2 lemons
¼ tsp salt
6 cups flour
1 tsp baking soda
gel food coloring in rainbow colors (red, orange, yellow, green, blue, purple)
¾ cup sugar (for dusting)
Instructions
Cream the butter and sugar in a mixer.
Add lemon juice, zest, salt and eggs. Beat until well-mixed.
Gradually add flour and baking soda and combine until completely.
Divide dough into 6 even sections and color them each using gel food coloring. Spread each layer in rainbow order onto a parchment-lined loaf pan. Cover and chill for at least 4 hours, preferably overnight.
Lift the dough block out of the loaf pan carefully, using the parchment overhangs. Using a very sharp knife, slice the dough like you would a loaf of bread (1/4 inch slices). Then cut each slice into 6 rainbow sticks. Place them one inch apart on parchment-lined cookie pans. Chill cookies while you slice the rest. If dough starts to get soft, put it back in the refrigerator to chill.
Bake at 375 for 8-10 minutes, until just firm but not too brown.
Allow cookies to cool on pan for just one minute. Then gently roll them in the remaining sugar for the sparkle effect. Cool completely on wire racks.
Notes
Although the quantities of butter and sugar are jaw dropping, I don't recommend halving this recipe unless you are using a mini loaf pan. Each layer of dough is already very thin and it would be difficult to create the rainbow effect with less dough.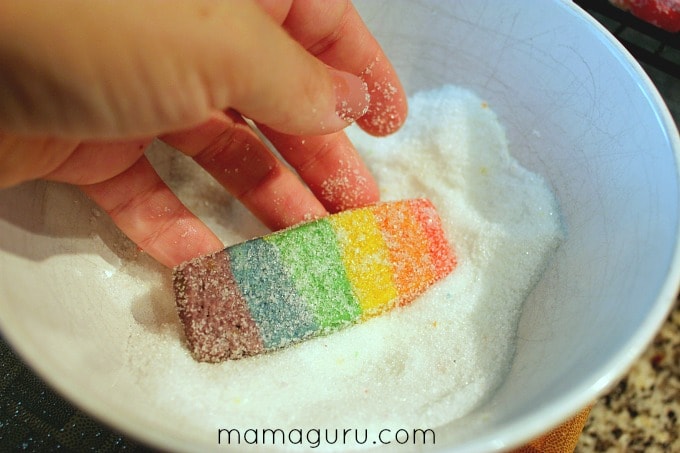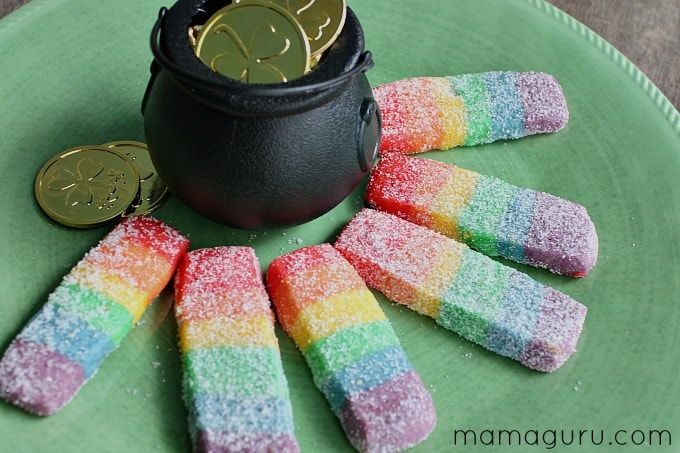 If your little leprechauns love these rainbow cookies, you might want to do these easy St. Patrick's Day Crafts for Toddlers with them. The rainbow craft is particularly fun!