Montessori Sandpaper Numbers are a fantastic way to begin teaching your child math. The idea behind them is that children are tactile learners. In Montessori, children learn through touch. The sandpaper stimulates little fingers and activates their minds. They can be used to trace the number form, the first step to learning how to properly write numbers. They can also be used as a part of a counting and matching activity using small objects. Children love to feel and play, so the Sandpaper Numbers are a hit! Thinking math is fun is a great way to start an education. This article has simple, straightforward DIY plans to make your own Montessori Sandpaper Numbers as well as lesson plans.
Beginning Montessori Sandpaper Numbers
Max and Jack can both count to ten reliably in both English and Spanish and we take every opportunity to count things we see in our daily life, from mama's bicep curls to how many sweet potato fries are on each plate. Counting all day long has made them fascinated by numbers. I've also heard them express simple addition and subtraction concepts, such as: I will eat this raisin and them I will have five; or give me that car and then I will have three. It's so fun to hear them make these connections on their own.
Our first official math lesson was learning the numbers 0-9 with Sandpaper Numbers my husband and I made ourselves. This helps children make the connection between the concept of numbers and the symbol. It also prepares them for writing.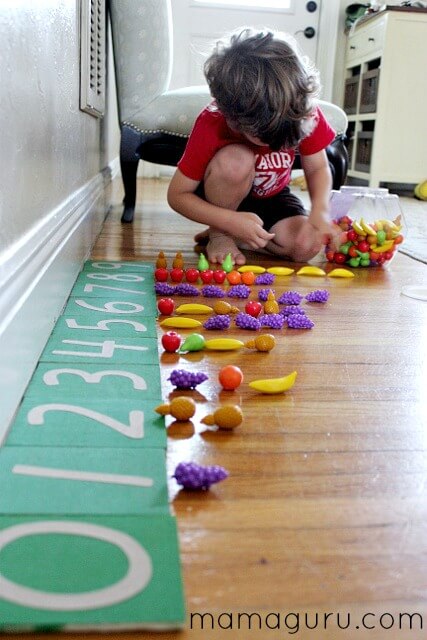 Montessori Sandpaper Numbers DIY Instructions
1.  Choose a very fine grade of sandpaper. Cut 10 pieces of inexpensive wood to 5 x 4. Paint the wood green if you want to follow the traditional Montessori color patterns.
2.  Download the font, Montessori Script. Type the numbers 0-9. Enlarge to 500%. To save ink, use the outline option in your printer properties.
3.  Print and cut out numbers. Trace them onto sandpaper in a space-saving way. Montessori uses lots of sandpaper, so it's good to save this for future projects. Cut out numbers and use a paint brush to apply craft glue to the back of the numbers. Press and allow to dry.
How to Teach with Montessori Sandpaper Numbers
1.  The first lesson is to trace the numbers in the same way the child will later write the letters. Here's a great video to see how to do the method.
2.  Talk about the concept of zero. Most parents teach their kids to count from one, but explain how zero is a number and it means to have none.
3.  Use small objects (manipulatives) to count the value of each number. The child places the correct number of objects under each number.
4.  Give your child colored pencils and paper to make etchings of the numbers.
5.  Give your child a small container of sand or cornmeal and let them trace each number in it.
Those are the first few lessons.  Later the sandpaper numbers can be used with number rods.