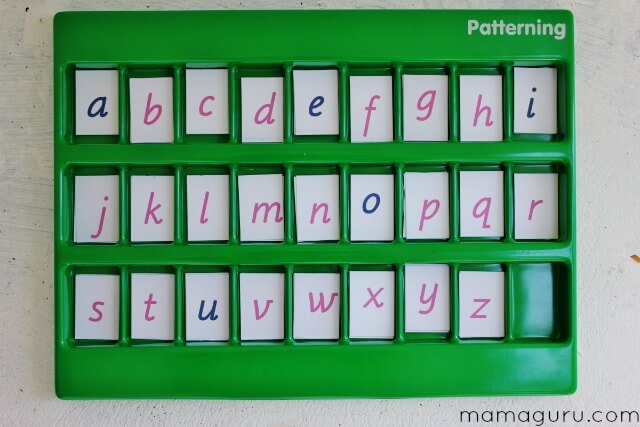 One of the cornerstone's of the Montessori reading method is the Movable Alphabet, a collection of letters which children can manipulate to explore letter combinations and make words. Create your own with this easy Montessori Movable Alphabet DIY. Children learn primarily through touch, so allowing them to handle the letters helps make the abstract concept of reading more concrete in their minds.
You can purchase lovely pre-made alphabets, but they can be expensive. You can also use letters from puzzles and magnets, but they will probably lack the color differentiation between vowels and consonants. You may also lack multiples for common letters. You need two b's to write bob.
Many homeschool parents choose to make their own by printing pink and blue Montessori-style letters for their children. This is an easy and inexpensive project, and a definite must have for a great homeschool reading program.
How to Make a Movable Alphabet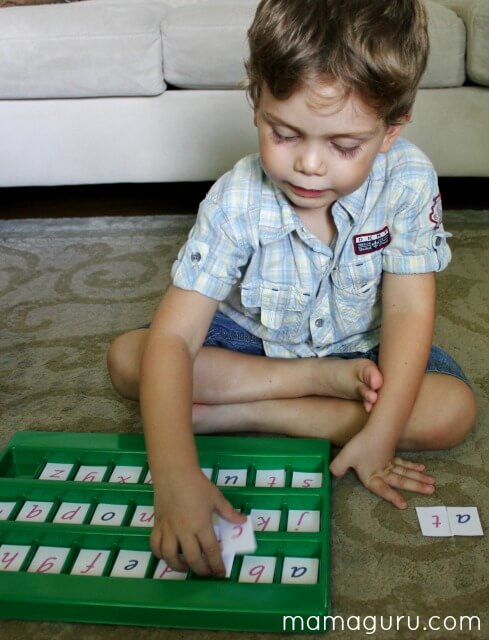 1.  Download a free Montessori Script font  for your computer or choose another basic font. (Make sure the lower case a is the traditional print.) Type the alphabet in lowercase with ample spacing. I used the bold feature and sized it to 100. Use a pink color for the consonants and blue for the vowels.  Print 4 copies of the alphabet on card stock.
2.  Cut the letters into the same size. A cutting board is a helpful tool that is well worth purchasing. You can use it to make make other homeschool materials, invitations, party signs, cards….
3.  Find a container with little spaces for your letters. Michaels has many great options in the beading section. You could also use a mini muffin tin. I used an old pattern tray I had. Put the letters in each slot in alphabetical order.
How to Use the Movable Alphabet
1.  The Movable Alphabet should be introduced after your child knows his letters and phonics. (Montessori moms, this comes after the sandpaper letters.)
2.  Show your child how the alphabet is ordered. Point out that every word has at least one vowel (blue). The other letters are consonants. If he knows how to spell his name, have him take out each letter and place it right to left.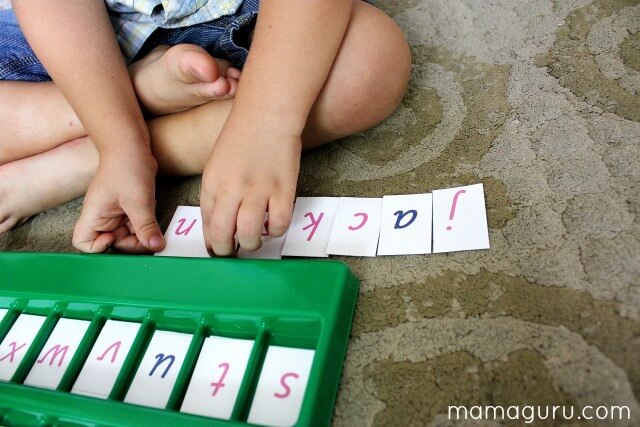 3.  Introduce word families, such as the –at family (cat, rat, mat, hat…). Put the -at together and then use letters from the alphabet to make words. As you form the words, use phonics: c (k sound) at (at sound), c–at, cat. Push the letters closer together as you sound out the word.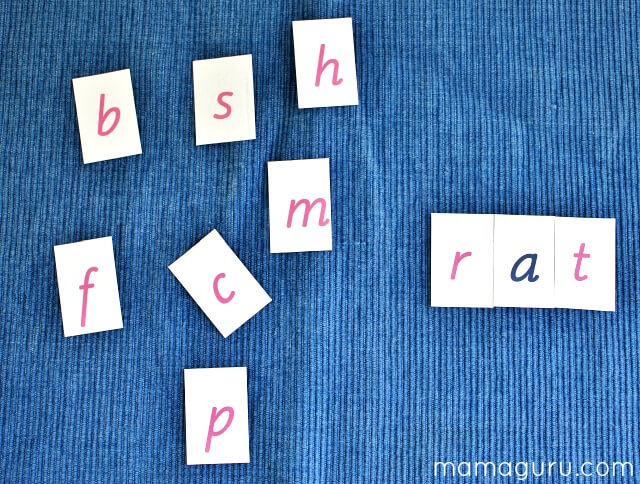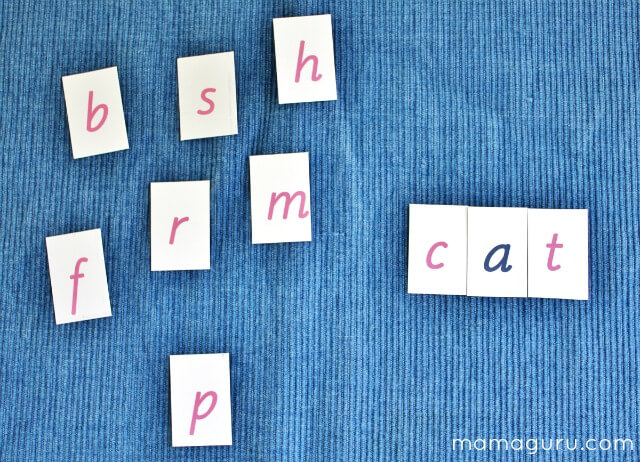 4.  Allow your child to experiment making his own words and sounding them out.
5.  As your child's reading advances, make larger and more complex words with alphabet. You can even write sentences. This is a great tool for children to experiment with language, spelling, and reading.