Here is a sweet DIY Project: A Scrabble Craft using family names. Use game tiles to form a crossword puzzle with family names. This makes a wonderful present that would be perfect for Mother's Day, Christmas or even a birthday gift. Scrabble players will go crazy for it! Sentimental people will too!
Mine was a gift for my mom's 60th birthday.  My sister and I are done having children, so the family she started with my dad has finished for this generation. This gift celebrates that fact.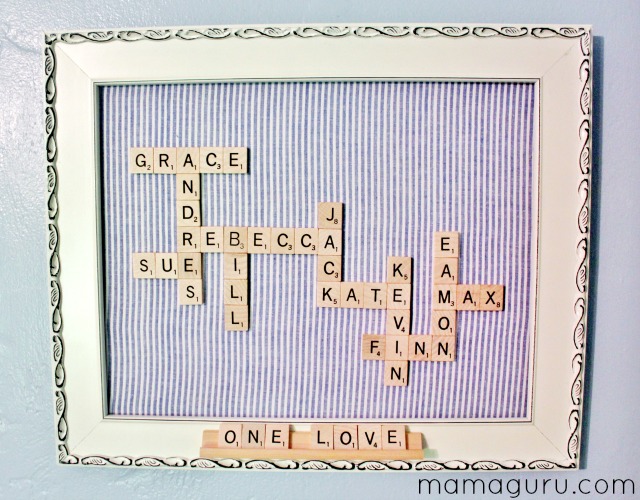 Scrabble Craft Instructions
The most time consuming (and fun) part of this project is figuring out how all the family names fit together. Practice on a table before you start gluing. If your family names just can't all connect, don't despair! You can use a central word like your last name, or family, love or another meaningful word. You can make it work!
Think about the pattern and color when choosing your background so it won't detract from the tiles.  The tiles have a yellow undertone, so a cool green or blue background will make them pop.
Connect the names of your family and glue the pieces on a frame. I backed my frame with fabric spray-glued to the back board. You could also use beautiful art paper.
Use craft glue to attach the tiles to a pretty frame.  I also attached a tile holder to the base of the frame with a few options of words to spell.
Craft Tips
If you have a game you don't use or you scour garage sales, this project can be practically free. To figure out how many tile sets you'll need to spell your family's name, use this link. I ordered two sets of replacement tiles from Hasbro for $6.50 each to make mine.
You must lie when you order the replacement tiles. I told them it was for a craft and they refused to send me some. What?! I had to call back and tell them it was for my game so they would sell me the tiles. Crazy!