Here are 4 excellent Preschool Activities you can do using small beads. Beads are a staple of a preschool classroom, whether that classroom is in a home or a school. They are an excellent tool to exercise the pincer grasp, which is oh-so-important when learning how to write. Just about any activity you can think of with small beads will give your child the opportunity to strengthen his fingers, so he can grasp a pencil with more control. A bag of assorted beads is inexpensive and an invaluable teaching resource.
Tools You Need
Feel free to use what you have, like ice-cube trays and egg cartons. If you are missing something or just starting your preschool, these are the supplies we used and loved. (FYI: these are affiliate links which means that at no cost to you I get a small commission if you use my link. Thanks, it helps keep Mamaguru going.)
bunch of small beads
children's chopsticks
tweezers
painter's pallet
pipe cleaners
craft trays
4 Preschool Activities with Small Beads
1.  Color Sort
A painter's pallet, an ice cube tray, an egg carton or a deviled egg platter all work well for this activity. Simply give your child a bowl of small beads to sort by colors. You can paint each section with the target color or just place one bead in each section to indicate that target.
2.  Bead a Bracelet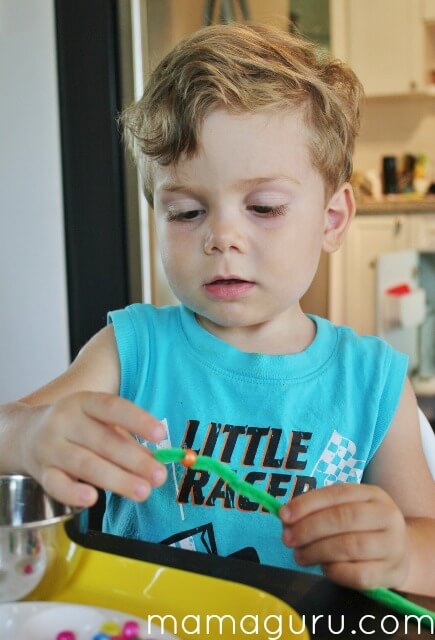 Give your child a pipe cleaner and a bowl of beads and let him make a bracelet. I was shocked by what a kick my kiddos got out of this the first time they did it. Stringing the beads requires concentration, determination and precision, three essential qualities for preschoolers to develop. Older children can create and/or follow a pattern for their bracelet.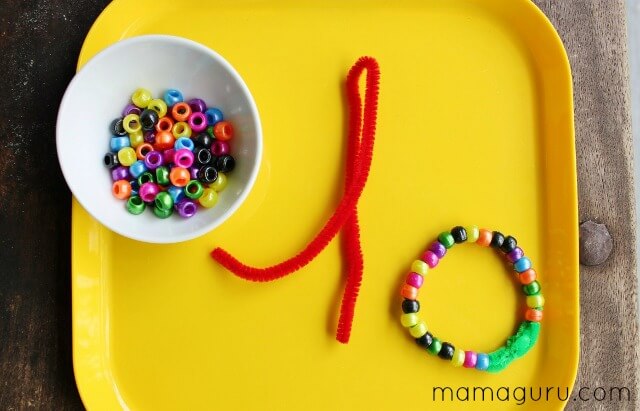 3.  Number Sort
Place numbers by small containers and have your child put the appropriate number in each bowl. Remember, if you are following Montessori, find ten containers and label them 0-9 to be consistent in your teaching. You also may want to write in the numbers in green to echo the Montessori Sandpaper Numbers.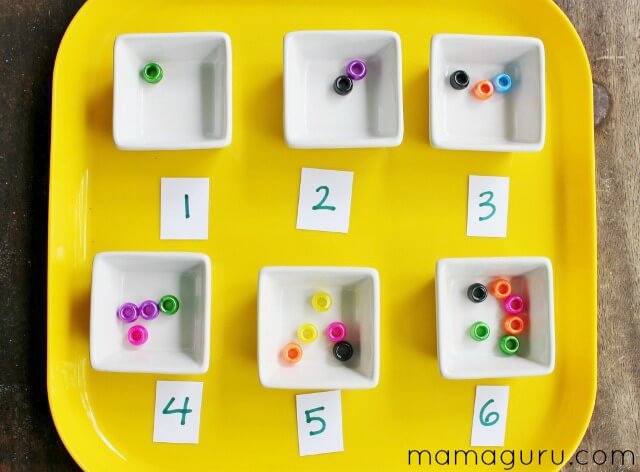 4.  Bead Transfer Activity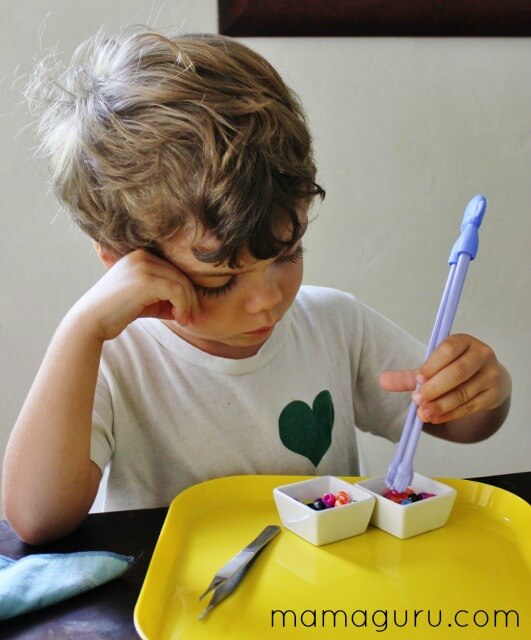 A more challenging activity for older children is to have them transfer small beads using tweezers or chopsticks from one container to another.  Younger kids can simply use their fingers to exercise that pincer grasp again.
This is just a small sampling of the activities you can do using beads. You can glue them to artwork or make fun shapes with pipe cleaners. If you know of another great activity using small beads, please share.