What happens to a child when Dad dies? Childhood is supposed to be happy. It's supposed to be carefree. Parents try to shield their children from the harsh realities of life, but there is no way to block the grief from losing a parent. The question is: Will that child be happy again? Really, truly happy? Unfortunately, I know better than most because I am a child whose father died way too soon.
Here I am with my sister on my Uncle Rick's boat.  I am the little girl in the yellow life jacket.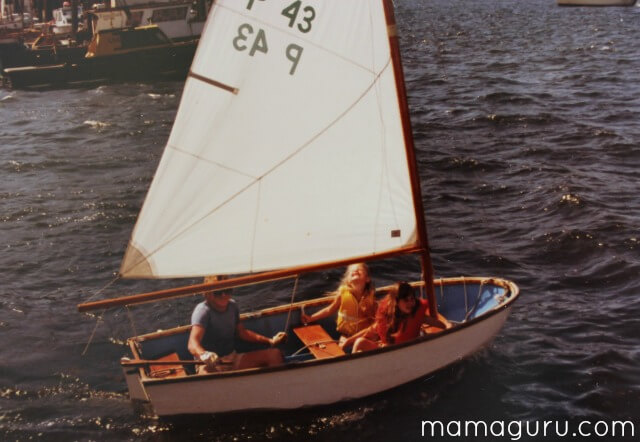 It is the early eighties.
How old am I? Six? Seven? Eight? Somewhere around there. I was at an age where I had lived half of my life with my father and half without. My dad died when I was three and a half. I don't have any memories, happy or sad, with him now. But back then, did I? Did I still have both parents in my head and in my heart? My adult memory begins two months after he passed, when were driving away from Virginia to Washington, south to north, east to west, to a new life.
Here I am, utterly free and happy. My head is tossed back, rushing in the wind, my eyes turned up to be blinded by sunlight. I always do that when I am happy: look up to stop seeing. Pure experience washes over me.
Yesterday I texted my husband, The kids finally broke mom.
Yesterday I texted my husband, The kids finally broke mom.
Click To Tweet
It was a bad day.
I used to cry a lot, but it is rare these days. Motherhood gave me a huge shot of joy and an even bigger shot of suck-it-up. It's not that I hold things in all the time; I just don't even feel like indulging negativity with expression. I don't have the energy to spare.
But last night you could find me heaving sobs at the foot of my refrigerator surrounded by burnt spinach all over the kitchen floor as my children looked on. My cries were the only sound that could cut through the nonstop screaming that had bombarded me all afternoon. I tried to block out my youngest's hollers, telling myself, Don't respond, he has to learn to use words. But after awhile, it wasn't just Jack screaming into my ears. It was me screaming inside my brain, SHUT-UP! SHUT-UP! SHUT-UP! JUST STOP! I CAN'T EVEN THINK!
Today, after two weeks of rain, we have a reprieve. One, maybe two days of sun, the forecasters hedge, but then it's back to the rainy season. Under this blue sky that is hard to imagine, just as during yesterday's downpour, I couldn't dream of this light.
Now, here's a close up of this old, blurry, dusty picture.  Through the haze I see only one thing: unbridled happiness.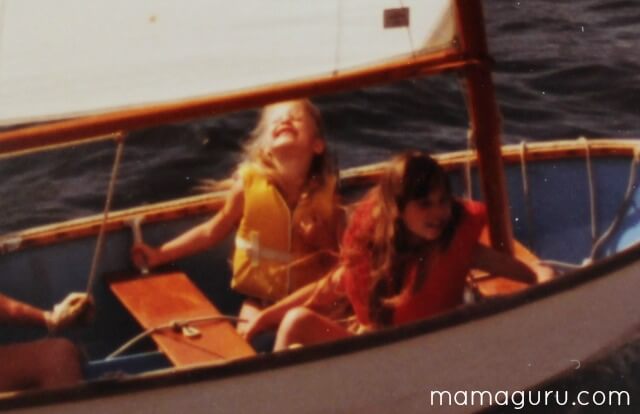 Photographic evidence that there is always a reprieve.
This summer, that's what I'm chasing.