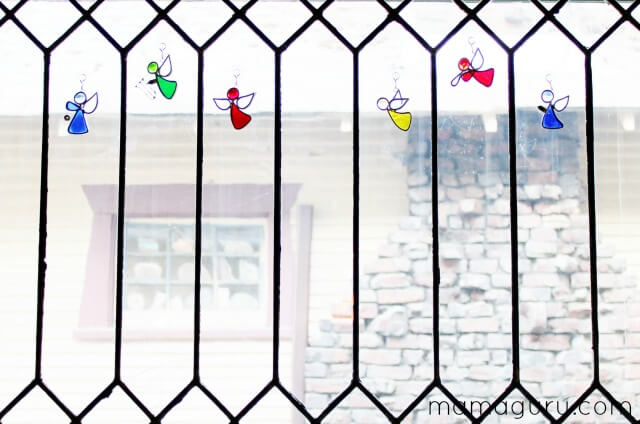 As a child, I spent hours, days, in the sunbeam that fell across our living room floor. It came from a high, leaded glass window above our piano and sheared down a diagonal path to our zebra wood floor which mama covered with a soft beige carpet remnant.
Besides being light, it was also dust.
I never ceased to marvel at all the little dots and squiggles that floated in the air. Inhale, and they invisibly enter the body. Exhale, and if you are in the sunbeam, you can watch the dust scatter and then settle into suspension in the middle of the air. It was hard to believe that the same dust was everywhere, even outside of the light, that I spent my life breathing in things I didn't see. Because all children long to fly and all children live the in the light, I found the sunbeam's magic irresistible.
I don't remember doing much in that beam. (Should I say those beams? Is it the same one that would come every Saturday morning or a unique one each time?) I'd stare at the dust, alternating a fierce breath with held breath, experimenting with how I could effect the air of the world. Sometimes I would roll in and out of the beam, hot-cold, hot-cold. I'm sure I brought a few lazy books into the light, and indulged my fingertips in the silky fur of my cat some days, some beams. But mostly, I got lost in it.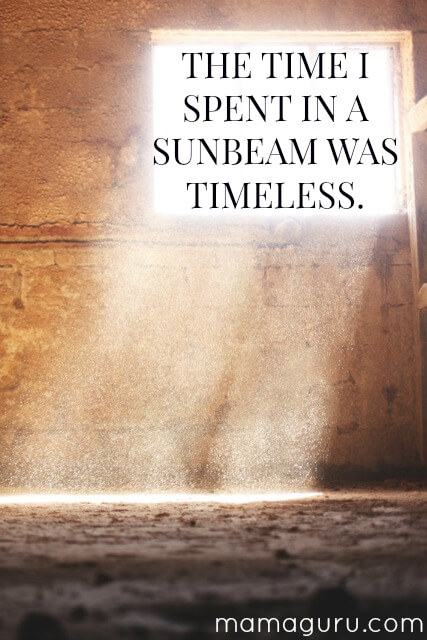 The time I spent in the sunbeam was timeless. It stretched forever. Nobody disturbed me. I thought my thoughts until they left me thoughtless in a cloud of illuminated dust. It was in the middle of a childhood that was allowed to be a childhood, a childhood unplugged. There was love and security, but also large swathes of free time to spend as I liked. I was given attention, but I wasn't always the center of attention.
There's a difference between giving children attention, and making them the center of attention.
Click To Tweet
I live in sunshine now. Officially, literally, the Sunshine State. It is rare for me to see sunbeams because our 1940s house was designed to let the sunshine and air in from all directions. We live in a flood of light. It is so beautiful; it blinds the eye to distinction.
Only when my husband drives on the freeway at dusk and my gaze is free to wander to the distant clouds miles away do I sometimes catch a sunbeam.  It is never alone and neither am I. Three or more rays splay out across the sky. My mother, with reverence, calls the sight Majestic, and you can hear her capital M when she says it. She is right, of course, sunbeams radiating light from behind clouds strikes the same chord of a soprano singing the glory of the Lord at midnight mass.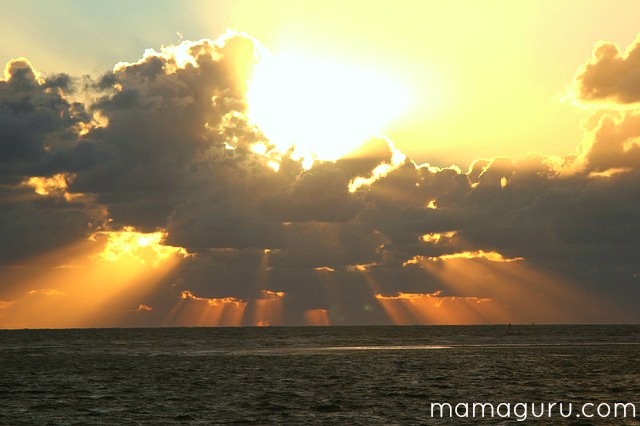 And yet,
to me it is almost sad. A part of my heart stirs at such an amazing sight, not in adoration of the gilded beauty of creation, but in longing for my own small sunbeam that wasn't remarkable enough to inspire anyone. It was just there, for a few hours, most days. It was largely ignored or walked through.
All it ever really did was show me the world
in light and dust.